Save Money On New Clothes By Learning How To Shop Your Closet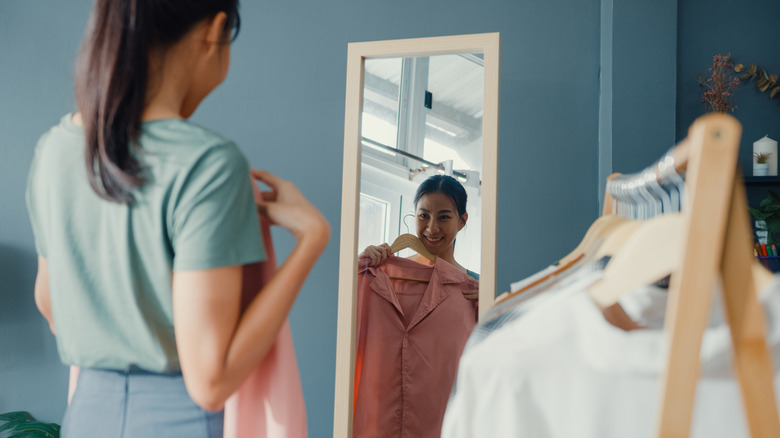 Tirachard Kumtanom/Shutterstock
Constantly shopping for clothes can negatively affect your wallet, self-esteem, and the planet. It is not only costly and unsustainable to shop around the clock, but it can also hurt your relationship with yourself. Knowing your style is an immense source of self-love waiting to be harvested.
There is also something truly rewarding about caring for your possessions and using them for a long time. Rarely can a new piece of clothing evoke the same feelings as a hand-me-down from grandma or finding a quality piece while thrifting. The vintage craze has been going on for quite some time, serving as a prelude to a more sustainable relationship with our clothes.
Let's take it a step further. What would happen if new clothing purchases were completely avoided? When it comes to following trends, it's all circular. Everything that was once popular fashion-wise is coming back and will continue to come back. Hence, maybe the pieces that will fashionably get you through spring are already in your closet!
The value of rewearing your clothes
The fact is, trends are prevalent, and fashion is constantly changing. From "westerncore" and "barbiecore," there will always be a new microtrend to explore. It's sure fun to play with a new aesthetic, but in many cases, it can be done with what you already own.
If you have a clothing item you truly enjoy using, like a shirt, the possibilities are endless. You can wear it unexpectedly and turn it into a completely different piece, like a skirt, or style it differently to experiment with a new aesthetic. Personal stylist Abigail Valentine shared her opinion with InStyle, stating, "Finding new ways to wear pieces you already own will help you maintain your personal style, optimize your closet, and reinvigorate your love for the items you already have."
In addition to saving money and learning about yourself, utilizing what's already in your closet is good for the planet. Frej Lewenhaupt, textile expert and co-founder of textile care brand Steamery, says, "If you buy new just for the sake of a new micro trend, you will end up over-consuming, which leads to tons of textile waste ending up in landfills."
Creating new outfits by utilizing the clothes you already own
The first step is to go through your clothes to identify the items you might've outgrown. If possible, you can try upcycling them into a completely new piece. Textile artist Francesca Capone tells Vogue, "Textile has this unique property that it's pliable and can have many lives. It can continue to be washed, dyed, torn apart, and reconstructed into something new." Rework your ill-fitting jeans into a low-rise maxi skirt! The possibilities are endless. If you're not particularly crafty, consider taking your garments to a tailor. For those that don't need the re-do but aren't doing it for you, try approaching them differently. Pair pieces you usually wouldn't or use accessories! In an interview with Tatler, style icon Iris Apfel highlighted the importance of good add-ons, saying, "Accessories are very transformative. You can have the same simple little black dress, for example, and by changing your jewelry and accessories, you can change the whole look. You can go from the office to a cocktail party."
Basics are also a great way to create an entirely new look. Wardrobe staples like a button-down never go out of style and are extremely versatile. "Try styling your workwear out of the office by pairing a tailored trouser with a chambray shirt for day and a leather jacket at night," Abigail Valentine tells InStyle.
Take some time and go shopping in your closet. You never know what you might end up with!