How Ask Your Salon For More Natural-Looking Eyelash Extensions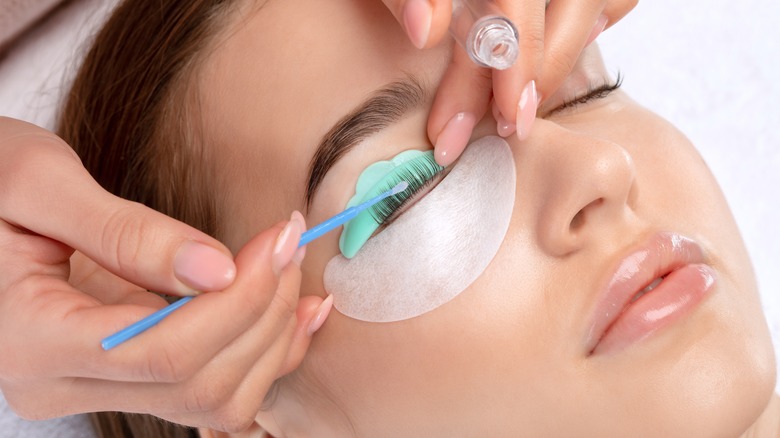 dimid_86/Shutterstock
Long lashes are everywhere right now. There's nothing like beautiful, long eyelashes to make you feel glamorous and put together. If you're tired of using eyelash curlers and applying layers and layers of mascara on without seeing any results, extensions could be the solution for you. Eyelash extensions are a simple way to elevate your makeup look and give you long, wispy lashes. In addition to giving your natural lashes length and volume, they are also much less time-consuming when you're getting ready in the morning. 
When getting extensions, the goal is to achieve lashes that look elevated but still have a very natural appearance to them. The last thing you want is to come out of your appointment with thick, out-there eyelashes that look the furthest thing from natural. Before getting your lashes done, you'll want to know exactly what questions to ask to avoid getting bad eyelash extensions.
Find a reputable lash technician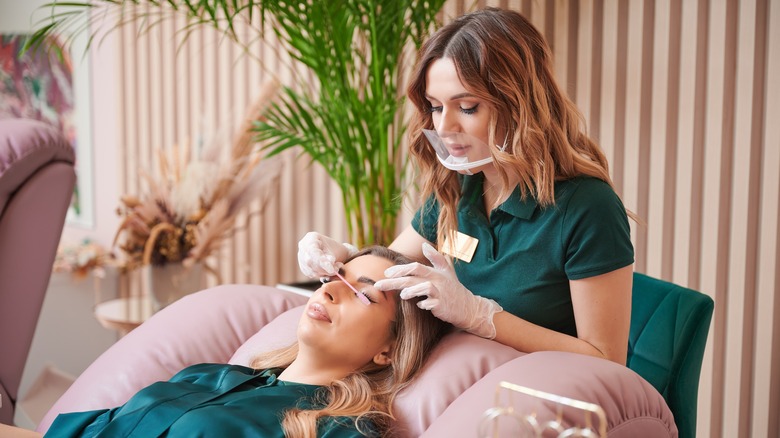 anatoliy_gleb/Shutterstock
Before you book an appointment, find a professional lash technician who has a solid list of recommendations and high reviews. Have a look through their social media pages including their Instagram for photos of their previous work to see if it matches your style. If the lash technician specializes in long, bold eyelashes, you may want to find someone who creates natural lash finishes. A lash technician who knows things like eye shapes is more likely to give you the lashes of your dreams, which is why Harper's Bazaar recommends finding someone proficient in makeup. 
You should also know what types of lashes your technician uses. There are three types of eyelash extension materials you can choose from: mink, synthetic, and silk. For a more natural look, opt for mink and silk lashes. Synthetic lashes, on the other hand, are thicker, darker, and are much more eye-catching (via Byrdie).
Ask for classic eyelash extensions for a natural look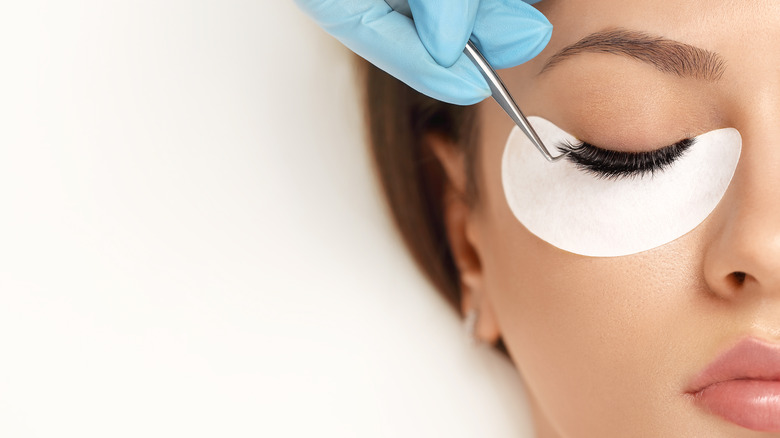 YURII MASLAK/Shutterstock
Ask your lash technician for lashes that have a soft, natural finish. Christian Zamora, a lash-extension expert, tells Allure, "[The classic application is] one extension applied to one eyelash, slightly longer and thicker than the natural lash." Zamora recommends this method, and also says to "avoid terms like 'volume' and 'fans' for the first time unless you're pretty daring and want the look of strip lashes." Although you want to add volume to your lashes, if you ask for volume or thick lashes, you could end up getting them overdone.
As per Booksy, the classic eyelash extension looks best when kept anywhere from 6mm to 12mm in length. Avoid getting a long lash with a curl, as this will make your lashes look dramatic and bold. The most important thing you can do is bring photos with you to show your technician exactly what you're looking for. Be honest and ask questions so that you know the truth about eyelash extensions and about what the process entails. It might be difficult to communicate wanting natural, wispy lashes without a visual image, and this will ensure both you and your technician are on the same page.