The Brown Roux Is The Easy, Trendy Color Update To One-Note Brunette Hair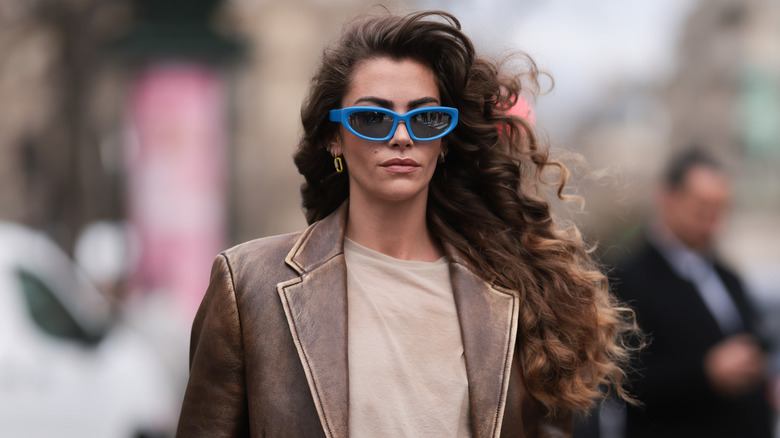 Jeremy Moeller/Getty Images
They say blondes have more fun, but the versatility of brunette hair is equally as fun. From rich, chocolatey brown to golden bronze, the hair color always looks absolutely beautiful. Whether you want to add copper highlights to your strands or choose the best brunette hair colors for your skin tone, brown is never a bad idea.
When it comes to switching up the color of brunette hair, it could be a bit difficult to dye dark brown hair on your own, especially when you're springing for a lighter color. Also, you may not want to drastically change your hair to bleached blond or even a fairer shade of brown. If that's the case, making a minor adjustment to your hair can help to elevate your look, giving it the oomph that it needs.
A brown roux will give you impeccable hair that looks natural without having to make a full commitment to dying your entire head of hair.
What is brown roux hair?
Also known as a "soft brown balayage," brown roux hair consists of warm brown or blonde highlights that are applied to the hair. While highlights are put onto the hair with the assistance of aluminum foil that helps the bleach or dye stay in place, balayage is applied using an old French technique. Meaning to sweep or scan in the language, the dye is put on in sweeping motions using a brush.
The result is natural, highlighted hair, almost as if you've been out in the sun all summer long. Instead of creating harsh lines, the hairdresser follows the natural flow of the hair, creating highlights where it would make the most sense. The key to a sunkissed-looking balayage is using a color that's that isn't drastically lighter than your natural hair color – this will make it look more realistic. Giving the hair dimension, balayage elevates hair that can look a little flat or monotone. It also grows out beautifully, not requiring the constant maintenance that a regular dye job or even highlights may bring you.
How to maintain a balayage
With a balayage, you don't have to constantly go back to the salon to get it dyed again. On average, you can go about three to four months without having to see your hairdresser again. However, you still need to take care of bleached hair in between appointments. To keep up the bright color of your balayage, try not to wash it everyday. Shampoo about three times a week, using dry shampoo to keep the scalp relatively oil-free.
Dyed hair can often get dry and break easily, so it's important to try and keep your hair as moisturized as possible. Use a good conditioner and apply hair oil to the ends of your hair. The Bread Hair Oil Everyday Gloss contains safflower and Kakadu plum oil, giving you glossy and moisturized strands without weighing them down.
If your balayage is on the blonder side, using a purple shampoo can prevent the brassiness that comes with bleached hair. Using it up to twice a week, leave the shampoo on your hair for about 5-10 minutes. The Moroccanoil Blonde Perfecting Purple Shampoo is a sulfate-free product that keeps your hair color intact, preventing brassy tones and orange streaks from popping up.