How To Prevent Your Jeans From Fading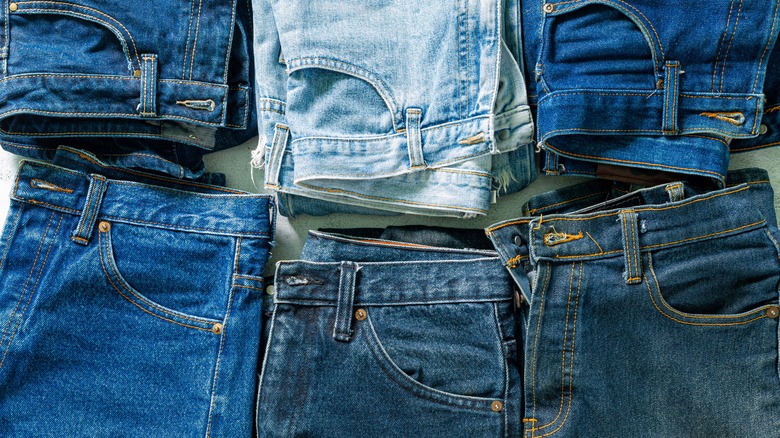 banjongseal168/Shutterstock
With fine denim comes a fine line between quality and wear. Meaning that for every investment you make toward a reliable pair of jeans, you run the risk of speeding through its life cycle by the way you put it through the wash cycle. It's one thing to make sure our denim stays structured and fitted, not stretched out or shrunk. It's another method entirely to ensure that the colors remain bold and unfaded.
The New York Times calls denim reliably low maintenance, emphasizing its superiority amongst other wardrobe items. The fabric is able to resist harsher elements and rougher terrain, especially amidst day-to-day lives. The busyness of our schedules and the demands of commitments such as errands, jobs, and cooking all contribute to threatening the cleanliness of our denim, making it more imperative than ever to maintain the lifespan of our jeans and preserve our $150 purchase. Thus, the way we wash and take care of our clothes stays an important aspect of daily life.
So, the next time you're about to throw your denim in the wash, think about these ways to keep your jeans from fading.
Clean the right way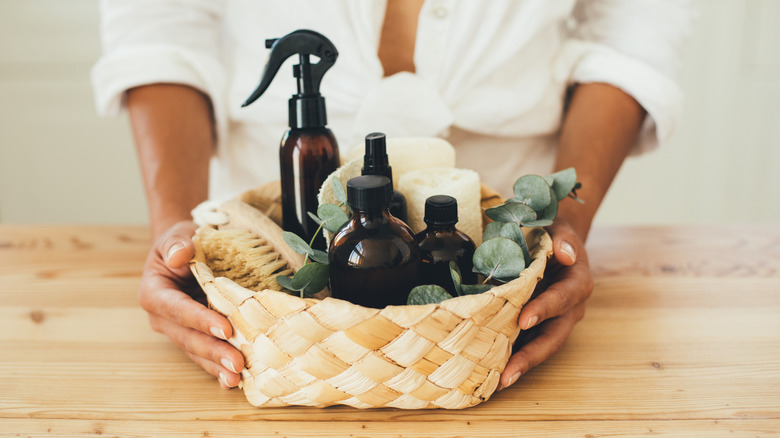 polinaloves/Shutterstock
Washing your jeans inside out is a great way to clean, maintain the fit, and keep the color of your denim looking brand new. Flip them inside out before putting them in the machine on a gentle cycle with cold water. You can also clean your denim jeans without washing them by using natural sprays like white vinegar or water. Also, make sure to let your jeans set before flipping them right side in again to avoid color bleeding on other surfaces.
If you're contemplating washing your jeans via spray bottle, it's best to research the sneaky truths before using natural cleaning products prior to your next load of laundry. Some cleaners, though they claim to be organic, contain harsh chemicals and dyes that can not only ruin the color of your jeans but also irritate your skin. Look for products containing distilled water, hydrogen peroxide, and castile soap. And whatever you do, don't use bleach on your jeans. Madewell claims that when bleach gets on jeans, the color of the denim — whether white, black, or indigo — immediately fades.
Depend on drying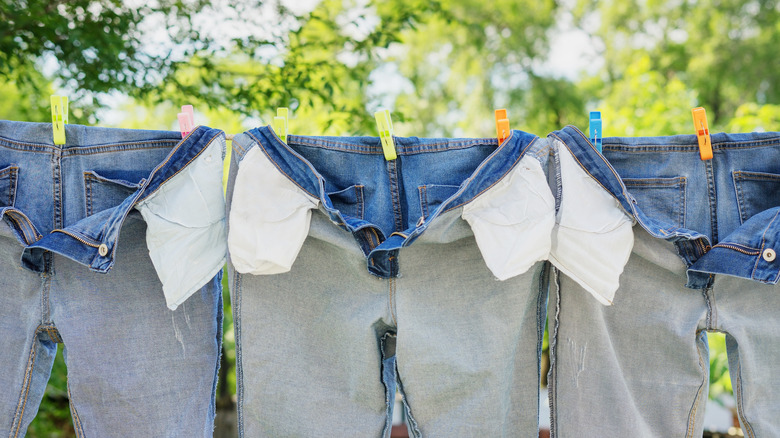 Another aspect of preserving jeans' color is keeping them out of the dryer. Heat is a natural catalyst for fading, which goes for hot air, or hot water: This is why you shouldn't wash your jeans in warm water. Air drying your jeans is best, though if you must dry them via machine, go for low heat, and tumble dry low. Don't forget to turn them inside out before air-drying!
The way you hang dry your denim can also help decrease the risk of fading. InStyle recommends using belt loops to dry your damp denim rather than metal clips, like the ones on hangers. Thicker pins can create waistband creases that are hard to get out by air drying alone. In fact, you would probably have to use an iron to smooth out the crinkle. This can spell disaster for your jeans because the heat from the iron will significantly increase the risk of your jean's color fading.