All The Details About Prince Harry And Caroline Flack's Relationship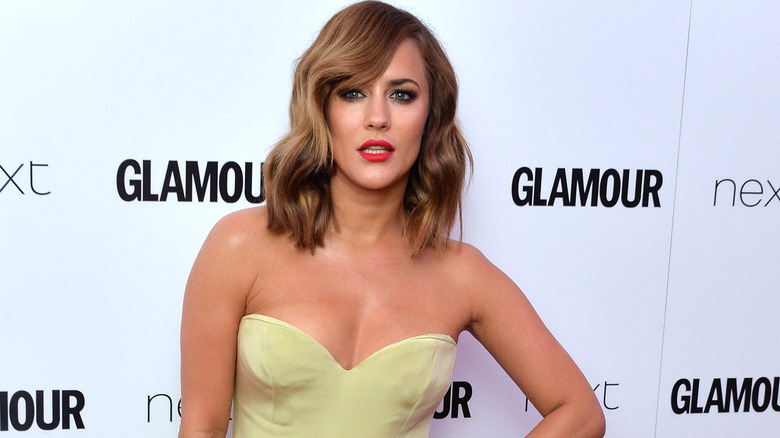 Anthony Harvey/Getty Images
The following article includes mentions of suicide.
Back in the late noughties, Prince Harry was still the crème de la crème of British society — the cheeky bad boy that everyone wanted to date. Prince William was happily coupled up with his longtime love Kate Middleton, now Princess Catherine, with an engagement looming just around the corner, so all eyes were on Harry. Who would the young prince end up with?
Many assumed Zimbabwean-born socialite Chelsy Davy would bag the royal ring since the pair had been dating since 2004. However, by January 2009, they had parted ways, leaving Britain's second in line to the throne without a leading lady — that is until the television presenter Caroline Flack caught Harry's eye. When he stepped out with the quirky London-born entertainer, the tabloids had a lot to say. After all, how did Flack, still a relatively unknown media personality at the time, snag England's most eligible bachelor? The romance may have been short-lived, but it certainly left a lasting impression on both of them. 
Flack spilled the tea on their relationship in her book, "Storm in a C Cup" published years before her death in 2020. As for Harry, he didn't scrimp on the details, either. He dubbed the brief tryst "tainted" in his memoir, "Spare." So, what exactly happened between the royal and the late "Love Island" host? What was it about this affair that made it so memorable for both of them? Let's dig into the details.
Prince Harry and Caroline Flack met through a mutual friend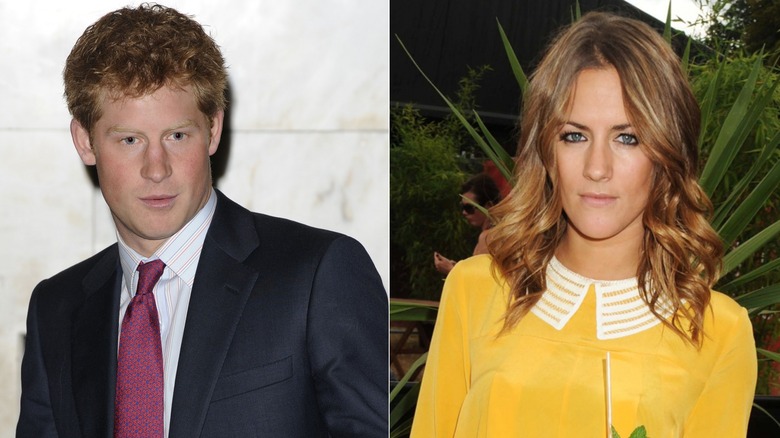 Dave M. Benett & Antony Jones/Getty Images
Entertainers and royals often rub shoulders after meeting at glitzy events and dazzling galas. Princess Diana had several A-list friends, spanning from Tom Hanks to Elton John. King Charles III also has quite the inner circle, counting Rod Stewart as one of his pals. While that much is true, Caroline Flack was still building her career in the U.K. when she met Harry. She had mainly hosted children's TV shows and was nowhere near the household name she would become in the decade that followed. However, Harry and Flack shared acquaintances.
According to their respective memoirs, they met by chance at a group dinner arranged by a mutual friend, Natalie Pinkham, and hit it off. As Flack wrote in "Storm in a C Cup," "I knew [Natalie] was friends with Prince Harry, and I'd never met him, so I thought, 'Oh that's quite exciting', and for a moment I perked up. So I was just sitting there and he arrived with a few others in tow and we all spent the evening chatting and laughing." At just 24, Harry was five years younger than the TV host, but the age gap didn't seem to bother them.
Harry was briefly broken up from Chelsy Davy when he met Caroline Flack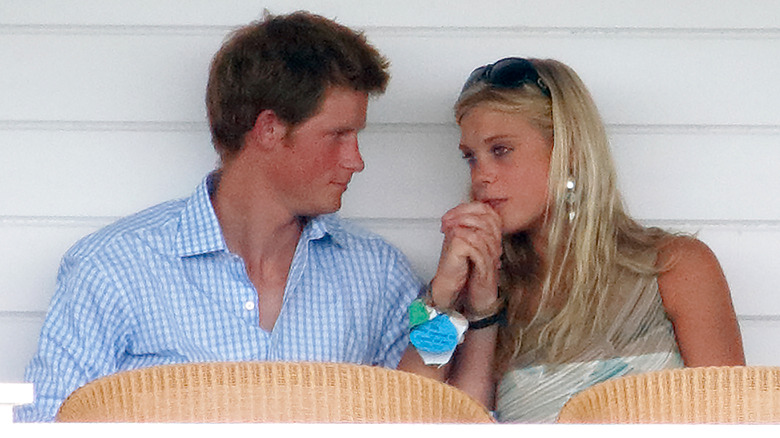 Max Mumby/indigo/Getty Images
Prince Harry met Chelsy Davy back when they were teenagers at the Berkshire Polo Club, but things didn't turn romantic until some time later. They made it official in 2004 after they met up during a trip to Cape Town while Harry was enjoying his gap year. In the years that followed, they were photographed multiple times together, with Davy even accompanying Harry to royal events. 
Although Harry confirmed in "Spare" that he and Davy split up for good in May 2010, the two were not dating when the prince met Caroline Flack (via Us Weekly). By the time they met in 2009, Davy and Harry's situation was on again, off again. It's unclear who Flack may have dated prior to the prince, as she was not a very public figure at the time. In fact, it wasn't until after this high-profile romance, and her controversial fling with Harry Styles two years later, that the tabloids started following her more closely.
They had fun getting to know each other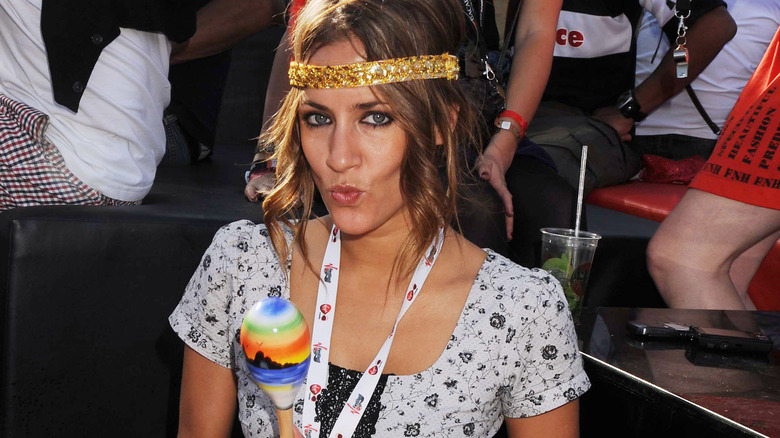 Dave M. Benett/Getty Images
Caroline Flack had a pretty traditional upbringing, growing up alongside two older siblings and a twin sister, Jody. In her memoir "Storm in a C Cup" Flack wrote, "The great thing about having a twin is that you always have someone to play with. During the whole of my childhood, from the moment I woke up until the moment I went to sleep, I never knew what it was like to be alone." Things were a lot different for Harry, who grew up under the watchful gaze of the entire world.
Caroline and Harry later spoke about how much fun they had in the early days of their whirlwind courtship. Harry called her "funny" and "cool," while Caroline admitted that meeting a real-life Prince was something that excited her. At the time, Harry was known for being a partier. Flack was also enjoying her time in London's social scene. In 2009, Marie Clare reported that one of their dates included a boozy night out at Troubadour in Fulham. They reportedly left together at 4 a.m. when they were driven back to Clarence House by Harry's bodyguard.
The news got out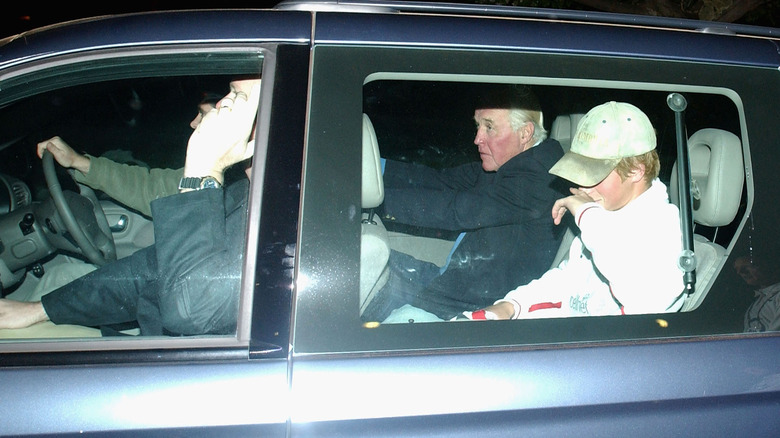 Jon Buckle/Getty Images
The British tabloids seem to have a sixth sense for new royal romances. Every senior member of the royal family has had their love life scrutinized under the microscope at some point. King Charles III took his fair share of heat when he reached 30 and still wasn't married, while Princess Catherine was dubbed "Waity Katie" by the press after Prince William still hadn't proposed after nearly a decade of dating. Prince Harry was no exception.
It didn't take long for the paparazzi to snap pictures of Harry and Caroline Flack together in London. And just like that, it went from an under-the-radar romance to a very public matter of interest. Harry likely knew what was coming, given his previous experience; however, this was a totally new experience for Flack, and it rocked her way of life considerably. As Meghan Markle knows, dating Prince Harry isn't for the faint of heart. It takes a particular type of person to put up with the invasiveness of the British press. Unfortunately, Flack found out the hard way when the couple's relationship suddenly became gossip column fodder that she couldn't get away from. 
A media frenzy ensued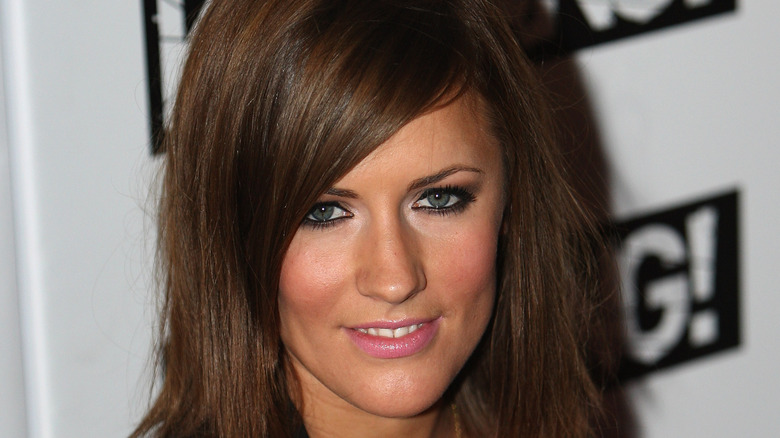 Dan Kitwood/Getty Images
Unsurprisingly, the media really did a number on Prince Harry and Caroline Flack. They managed to keep their relationship under wraps for a period of time, but they couldn't keep it a secret forever. Almost immediately after the news of their relationship broke, photographers gathered. As Harry explained in "Spare" (via Yahoo!): "Very soon after [the media] papped me and Flack, those photos set off a frenzy. Within hours a mob was camped outside Flack's parents' house, and all her friends' houses, and her grandparents' house." It didn't just stop there, either.
Publications pointed out that Flack came from a different type of background than well-to-do Harry, which didn't sit well with the prince. Of the press' reaction, he wrote in his memoir (via Hello!): "Are we really such a country of insufferable snobs?" Despite all of the adversity, the couple initially decided to stick it out and carry on with their relationship, braving the scrutiny.
The beginning of the end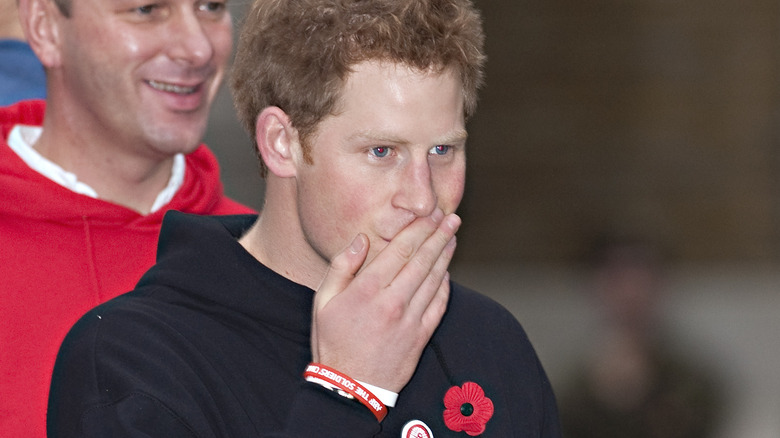 Antony Jones/Getty Images
Ultimately, once the news of their romance broke, Prince Harry and Caroline Flack's relationship became too much for them to bear. The media had even gone so far as to call Flack "Prince Harry's bit of rough." Caroline later detailed how her public persona changed after things went stratospheric. "I was no longer Caroline Flack, TV presenter, I was Caroline Flack. Prince Harry's bit of rough," she wrote in her memoir (via Us Weekly). "Once the story got out, that was it. We had to stop seeing each other." 
Something that started out as a fun chance meeting and a playful romance turned into something much uglier and untenable. It was a problem for them both, with Harry later writing in "Spare," "I remembered how [Caroline's family] all suffered for her mortal sin of going out with me." It wasn't long before the couple ultimately decided to part ways. 
Were there any hard feelings?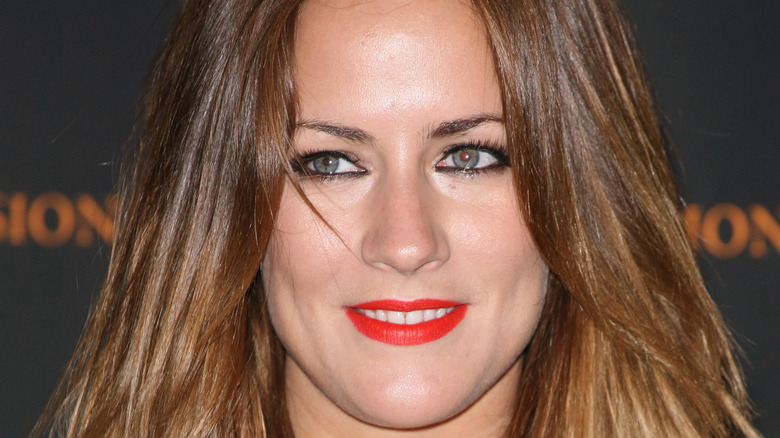 Featureflash Photo Agency/Shutterstock
When royal romances end, it's a huge deal. Even if they are short-lived trysts, the world is constantly wondering if the relationship will end in a proposal that alters the course of history. At the end of the day, even Princess Catherine started out as Prince William's girlfriend, and now she's the future queen and the mother of the future monarch. Obviously, when Prince Harry and Caroline Flack split, it wasn't the ideal outcome for their relationship. But did Harry and Flack actually manage to salvage a friendship out of the whole circus?
Once they called time on their connection, the TV host and the spare were never pictured together again, so it's probably unlikely that they became best pals. However, it seems like it ended pretty amicably. After all, Harry didn't have a bad word to say about their relationship in his book, and neither did Flack in hers.
So, while it's definitely true that romances go sour all the time (especially high-profile ones), it seems as though Prince Harry and Caroline Flack managed to end things on a good note. Regardless of if you're in a famous pairing or a run-of-the-mill "situationship" with your Average Joe, managing to keep things easy isn't always civil. We tip our hats to Flack and Harry for managing to move forward with grace ... at least until they went their separate ways and found other love interests. That's when things got really interesting.
The relationship impacted Caroline's career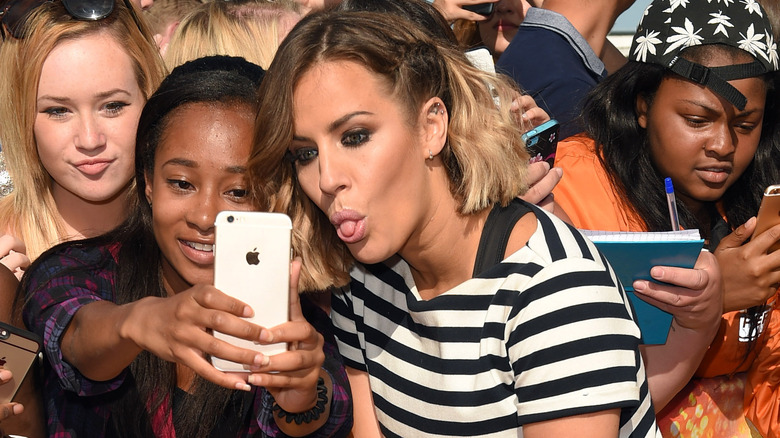 Karwai Tang/Getty Images
Let's be honest, dating Prince Harry was always going to garner some attention, even if it ended up being a short-term dalliance. Caroline Flack was still finding her feet in the industry in 2009. While she had been part of several TV shows by this time and her stardom was growing organically, it really took off after her time with Prince Harry. She presented several mainstream shows in Britain and became a TV staple, working on "Dancing on Wheels," "The Whole 19 Yards," hosting the "BRIT Awards: Backstage," and more in the coming months.
By early 2011, Flack had landed her biggest hosting gig to date as the co-presenter of "The X Factor" sister show, "The Xtra Factor." Producers liked her style and audiences warmed to her vivacious bubbly personality. Career-wise, things were looking up for Flack. The offers weren't drying up and with her royal ex firmly behind her, she was free to look on toward the future. While the impact getting involved with Prince Harry had on her career wasn't intentional, no one can deny that it helped the British public warm to Flack. She wasn't a total unknown anymore or "that girl from the TV." She was Caroline Flack, the woman that hosted some of Britain's biggest television shows. In an incredibly competitive industry, this wasn't something that was easy to achieve. Flack's natural charisma helped her beat her way to the top.
Harry found his way back to Chelsy Davy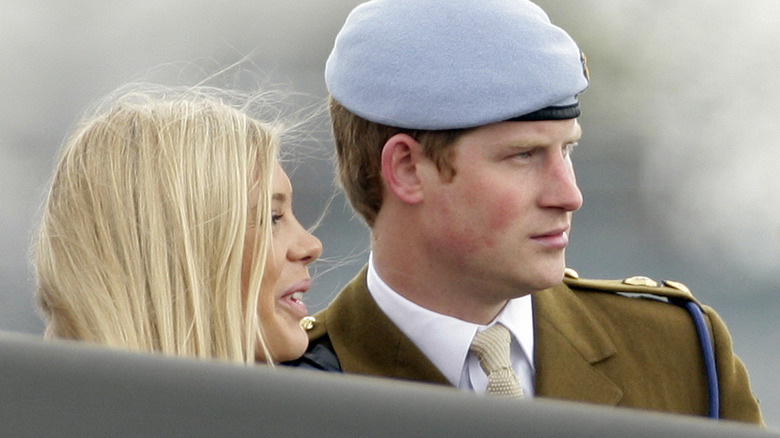 Max Mumby/indigo/Getty Images
Usually, when someone breaks up with a long-term partner and makes the decision to see other people, that's the nail in the coffin. However, Prince Harry really surprised royalists when he reconciled with Chelsy Davy at the end of 2009, months after they seemingly said goodbye for the final time. Whether it was something the pair saw coming is something only they know, but normal service was resumed and they were pictured together on several more occasions. Davy also attended the wedding of Prince William and Princess Catherine in 2011 but wasn't destined to walk down the aisle with her own prince.
The lovebirds finally parted company in 2011 but it wasn't quite as simple as it looks on the surface. In his book "Spare" (via the Independent), Harry indicated that Davy wasn't always approved of by the rest of the firm. "I loved Chels' ease ... She didn't care what anyone thought. She wore miniskirts and high-heeled boots, danced however she wanted, drank tequila like me, and all of this made me really happy. I couldn't help what my grandmother thought about it. ... And the last thing I wanted was for Chels to change to please them." 
Harry went on to explain that Davy wasn't entirely sure she could cope with life under the microscope, which he fully understood having gone through the same thing with Caroline Flack.
Caroline's other Harry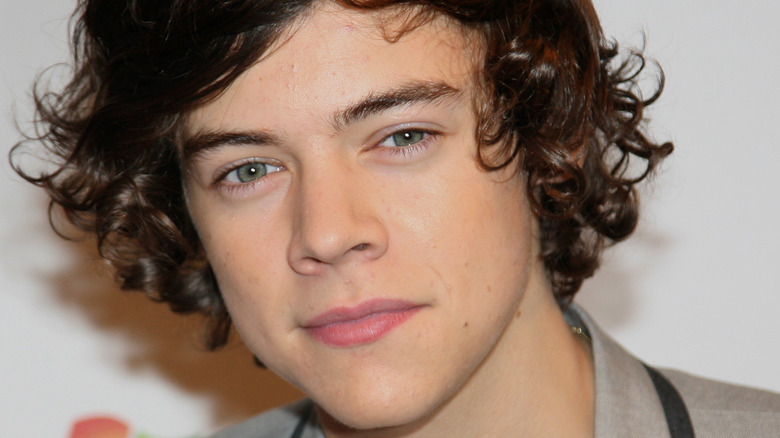 Featureflash Photo Agency/Shutterstock
If you know who Caroline Flack is, you'll probably remember that Prince Harry wasn't the only famous Harry she was caught out on the town with. Flack went on to have a very highly publicized and controversial romance with Harry Styles. The pair met through their "X-Factor" ties after Harry competed in the main series with his band, One Direction. At the time, Harry was just 17 while Flack was 31. Just like her royal relationship, this entanglement seemed to be doomed from the beginning.
In her book, "Storm in a C Cup" (via the Independent) Flack explained that it was all fun and games in the beginning, though they had decided to keep it private. "I've never felt I was much older than Harry. I still feel 18 and I probably act that way half the time. Although it was just a bit of fun we decided it was best to keep it to ourselves as we were both working for Simon Cowell," she elaborated. 
However, things took a turn when he was photographed making a hasty exit from Flack's house one morning. Going into further detail in her memoir, Flack explained that she was berated by the media for dating a teenager, but she would never apologize for dating Harry because nobody got hurt and it wasn't "serious" (via the Daily Mail). Needless to say, it wasn't something that the press easily let go of, and the relationship wasn't destined for longevity.
The tragic end of Caroline's story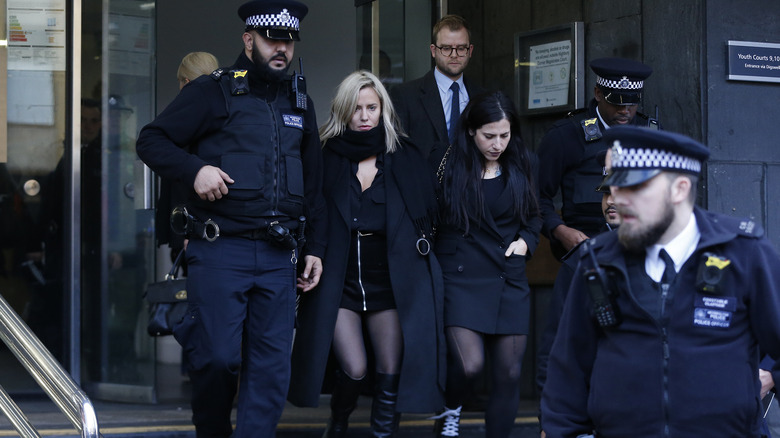 Hollie Adams/Getty Images
Despite having a successful career, Caroline Flack's life didn't have a happy ending. She should have been at her peak in 2019 as the host of one of the biggest dating shows, "Love Island." Tragically, her own love story with Lewis Burton would be her last. The pair had been dating for some time when an altercation resulted in the police being called. While reports of the events are varied, Flack was charged with assaulting Burton. Although Burton didn't want to pursue the case, it was taken out of his hands by the authorities.
Subsequently, Flack released a statement explaining that she would be giving up her "Love Island" job: "There have been a significant number of media reports and allegations in regards to my personal life ... I can't comment further on these matters until the legal process is over" (via The Guardian). "In order to not detract attention from the upcoming series [of "Love Island"] I feel the best thing I can do is to stand down for series 6." 
Two months later, Flack was found dead in her home on February 15, 2020. An inquest found that she had died by suicide. Caroline Flack's death had a huge impact on her family, friends, and fans, many of whom tweeted out their condolences.
If you or anyone you know is having suicidal thoughts, please call the National Suicide Prevention Lifeline​ by dialing 988 or by calling 1-800-273-TALK (8255)​.
Prince Harry discussed Caroline in his memoir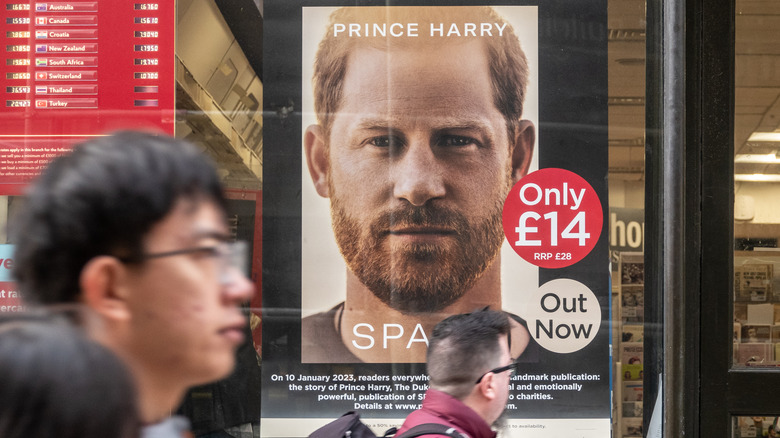 Matt Cardy/Getty Images
Prince Harry didn't publicly speak about Caroline Flack until his 2023 memoir. Talking about such private matters can be tricky, especially when the other person is no longer around to comment on it. Flack's former agent, Alex Mullen, wasn't very happy about Harry's mention of her. Mullen had worked with Flack for years, right up until her untimely passing in 2020. Even though Prince Harry spoke highly of Flack, Mullen felt that it was in poor taste.
"Gross for Prince Harry to reveal such private details about Caroline Flack. The way the press spoke about her at that time and the reason they split are both very sad and it's gross he's using her name to help sell his book," Mullen wrote on Instagram (via the Daily Mail). Clearly not a member of #TeamSussex, Mullen continued: "The Royal Family need to strip him of all his titles NOW." 
On the flip side, some of Flack's friends actually thought that it was nice of Prince Harry to talk about their beloved pal in such a flattering light. Two of Flack's closest girlfriends, hairstylists Sam Campbell and Lou Teasdale, thanked Harry for his comments, with Teasdale even calling him "Prince Charming" on her Instagram story (via the Mirror). For the most part, it looks like the reaction to Harry's retelling of their romance was largely positive, and let's not forget, the presenter spilled the beans on their time together first in her 2015 memoir.
What the relationship really taught us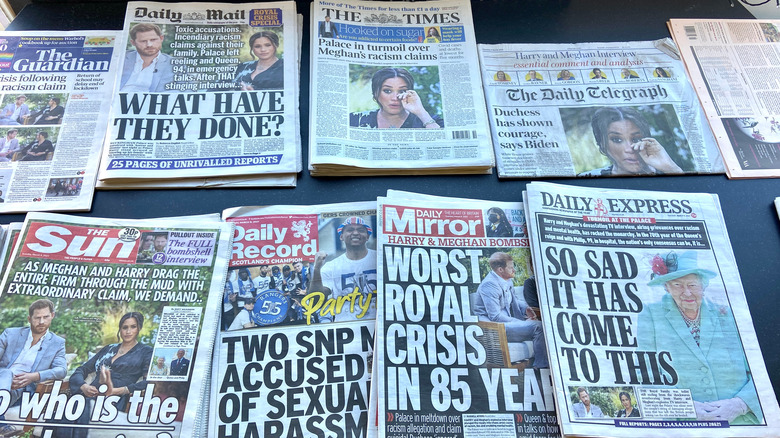 Lorna Roberts/Shutterstock
Looking back on it now, what lessons did we learn from watching the rapid rise and fall of Caroline Flack and Prince Harry's relationship? For a start, 2009 was a time of major change within the media landscape. Social media was on the stratospheric rise, and while the appetite for royal gossip had never really waned, it had found a new platform. Harry was still known as the party-hard royal, the mischievous "spare" to the throne that wouldn't quite play by the rules — he was hot property.
While it may not be to the same extent, there are parallels that can be drawn between Prince Harry and Caroline Flack and Prince Harry and Meghan Markle. Like Flack, Meghan wasn't the sort of polished and aristocratic debutante royalists envisioned Harry marrying. Both were strong career women capable of standing on their own two feet, and both were hung out to dry by the press. For Harry, it was a warning shot that love was never going to be easy for him. For Flack, it was the beginning of a tumultuous decade full of highs, lows, humiliating headlines, and a devastating loss. 
The tale of the prince and the presenter is long over, but their involvement seemingly changed the course of both of their lives forever. Harry and Meghan would go on to wage their own battles with the British press and emerge triumphantly. Something tells us Caroline Flack would've been cheering on from the sidelines.