Rose Hanbury: 11 Things To Know About The Woman Linked To Prince William's Cheating Rumors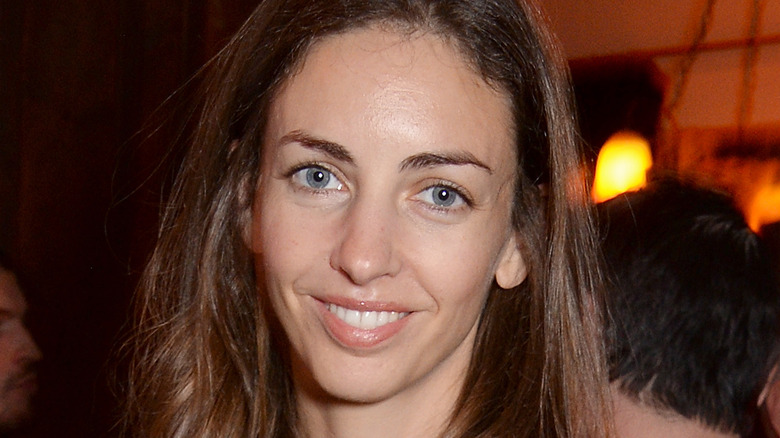 David M. Benett/Getty Images
Rose Hanbury, the Marchioness of Cholmondeley, became something of a public figure because of allegations of her affair with Prince William. The rumors began circulating in 2019, after the Daily Mail published a report that Catherine, Princess of Wales, had a falling out with Hanbury. Allegedly, Catherine "banished" Hanbury from their rural circle of friends in Norfolk, when the Wales family was living at Anmer Hall. The circle of aristocratic women living in the area got the nickname "the Turnip Toff," with Catherine and Hanbury among them. As Richard Kay wrote for the Mail, Catherine was "phas[ing] out" Hanbury, and naturally, people began rummaging for reasons why.
The royal family is no stranger to rumors and are frequently the primary focus of global gossip. In this case, the whispers about William and Hanbury's affair allegedly strengthened the bond between William and Catherine. An insider told Us Weekly, "It forced her and William to sit back and examine their relationship, which they realized they should have been doing more often." While this is good news for them as a couple, the rumors also made Hanbury a very famous woman, but not in a good way. Reports circulated that Hanbury was isolated and cut out of her social circle.
Despite this rocky period, there's a lot more to Hanbury than the alleged affair with William. She's had an interesting life, and has an illustrious marriage herself to David Cholmondeley. Here's what we know about her.
Rose's grandmother and Queen Elizabeth II had a special connection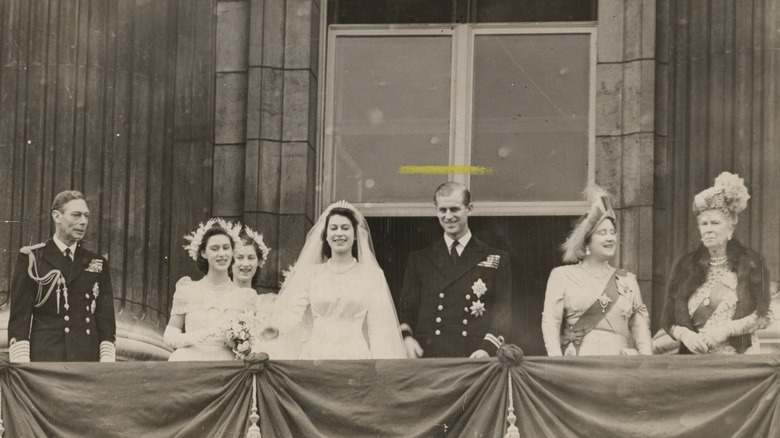 Evening Standard/Getty Images
Rose Hanbury isn't the first in her family to have a connection to the royal family. Her grandmother, Lady Elizabeth Lambert, was a childhood friend of the late Queen Elizabeth II. Lambert's father, the 10th Earl of Cavan, was close friends with King George VI. Lambert joined the Girl Guides who gathered at Buckingham Palace so that Elizabeth and her sister, Princess Margaret, could participate in the right of passage for young girls. The group — which included the two princesses and 14 other girls, made up of cousins and friends — practiced first aid, made campfires, and hiked. But it wasn't just outdoor activities that bonded these two. Lambert and Elizabeth also took dance lessons together at Madame Vacani's studio.
As the two women grew up, they celebrated their weddings together. Lambert was one of the eight bridesmaids who escorted Elizabeth on her wedding day to Prince Philip in 1947. When it was Lambert's turn to get married to Mark Longman, Elizabeth, Margaret, and the Queen Mother all attended the nuptials.
The friendship between the two women spanned through their years as mothers as well. Elizabeth became the godmother to Lambert's eldest daughter, Caroline Longman, and had their daughters continue the tradition of meeting at Buckingham Palace as Girl Guides. Caroline even briefly dated the then-Prince Charles, so it's safe to say that Hanbury's family has a long and close relationship with the royal family.
Rose's education and modeling career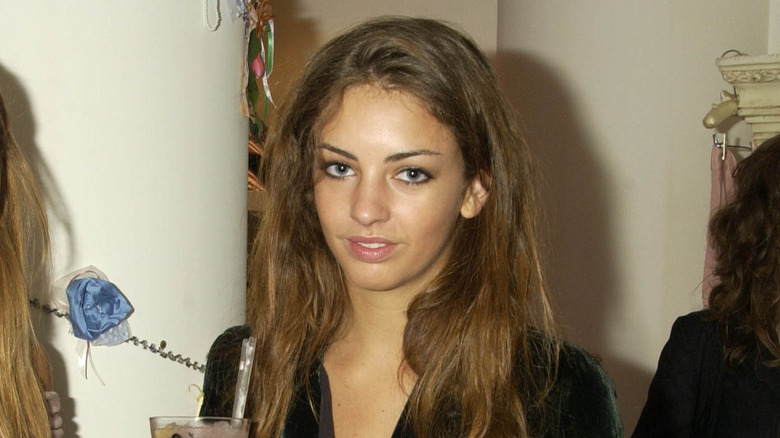 Dave M. Benett/Getty Images
Rose Hanbury attended Stowe School, one of the most reputable schools in England. Many of its students continue their education at Oxford and Cambridge University. Sir Richard Branson is another famous alumni. Rose continued her schooling at The Open University in England.
Rose then became a model for the agency Storm, signing with them at age 23. While Rose's modeling career didn't reach the echelons that fellow Storm alumnus Kate Moss did, the two women had an interesting connection later in life: Rose's illustrious home, Houghton Hall, which she shares with her husband David Rocksavage, the Marquess of Cholmondeley. Their home was used as a location for one of Moss' photoshoots, and Rose later shared the photo on Instagram when she wished Moss a happy birthday.
Rose and her sister, Marina Hanbury, both famous socialites, became the talk of the town when they were photographed wearing pink bikinis in Italy with the former Prime Minister of England, Tony Blair. This wasn't her only brush with politics, though. Rose became a researcher for the Conservative Member of Parliament, Michael Gove, but had to quit her job because of severe morning sickness when she became pregnant with twins. After Rose was taken to the Queen Charlotte's Hospital in London, Marina told the Daily Mail: "Rose is absolutely fine now. It was one of those complications you get with twins. Hopefully, she will be allowed home today or tomorrow." That marked the end of her research job.
Where does Rose live?
Rose Hanbury's husband, David Rocksavage, has two homes. The first, Cholmondeley Castle, is located in Cheshire, England. The castle itself was built in the 19th century, but the land itself has been in the Cholmondeley family since around 1100 A.D. The gardens are open to the public, so tourists can take in the famous Rose Garden, the Temple Garden, and a carefully cultivated path called the Lavinia Walk.
While the castle is a jaw-dropping piece of English history, Hanbury and her family live in the second property, Houghton Hall in Norfolk. It is frequently called a Palladian hall due to its classical architecture, influenced by the Italian architect, Andrea Palladio. This home also has a lot of history. It was built for Sir Robert Walpole, the first Prime Minister of Great Britain. The home itself is absolutely outrageous. It boasts 106 rooms and houses a museum-worthy collection of both classical and modern art. The home is as expansive as it is opulent and, like Cholmondeley Castle, curious visitors can book tours to explore the grounds and even parts of the interior from April until October each year.
Houghton Hall actually has its own Instagram page, with several candid shots of Hanbury, her husband, and their children, so it's safe to assume that Hanbury has a hand in the social media presence of her famous home. It's also very close to Prince William and Catherine, Princess of Wales, when they take up residency at their Norfolk home, Anmer Hall.
Rose's husband, David Rocksavage, the 7th Marquess of Cholmondeley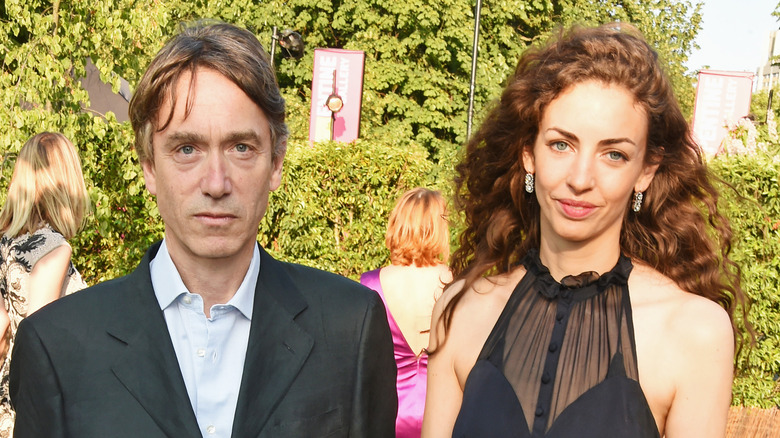 David M. Benett/Getty Images
Rose Hanbury's husband is a man with many titles, so buckle up. His name is David George Philip Cholmondeley and he's the 7th Marquess of Cholmondeley. At birth, he was the Viscount Malpas; he later became the Earl of Rocksavage, which might be the greatest name we've ever heard. 
In 1990, Cholmondeley became the Lord Great Chamberlain, a prominent role that also involves walking backwards as the monarch attends the State Opening of Parliament. However, after Queen Elizabeth II died, the role was handed on to Lord Carrington, so Cholmondeley has ceased with his task of carrying the queen's crown on a cushion, when her crown became too heavy for her to wear. Cholmondeley was also a filmmaker in his day, working both as a director and an actor. He directed "Other Voices, Other Rooms" in 1995 and "Shadows in the Sun" in 2009. In 2012, he produced the film "Una noche."
Cholmondeley met Hanbury in Italy in 2003 at a party hosted at the Villa Cetinale, but he had a reputation for bachelorhood, and no one expected them to settle down (not least of all because of their 23-year age gap). However, they did away with these expectations in 2009. They announced that they were engaged; the next day, they announced that they were pregnant. One day after that, they got married at the Chelsea register office. Afterward, they moved to Houghton Hall, where they now live with their children.
Rose's three children love the grounds at Houghton Hall
Rose Hanbury and her husband, David Cholmondeley, have three children. When the couple announced that they were pregnant and got married the day after, the world didn't know that Hanbury was pregnant with twin boys. Their sons are Alexander, Earl of Rocksavage and heir apparent, and Oliver, Lord Cholmondeley. 
There was an interesting way in which they decided who the heir would be, which is no small decision, since he inherits the title as well as a multi-million dollar estate. Per The Telegraph, since the sons were born almost exactly at the same time via C-section, they chose the heavier of the twins. "They have decided that the eighth marquess will be the boy who weighed more at birth," a friend told The Telegraph. "There was only eight ounces in it, but they will be a very significant eight ounces." They later welcomed a daughter, Lady Iris.
On Hanbury's Instagram account for their home, Houghton Hall, she also shares photos of her kids. She shared a photo of Iris in the garden with the caption: "Iris enjoying the best smell in [the] world – wisteria." In another photo, Hanbury shared a photo of her sons driving around in an antique car. "Taking a spin in the 'Red Bug' ...over a hundred years old yet still working perfectly," she wrote. She shared another photo of her kids with horses, so it's clear that their children love taking advantage of the grounds at Houghton Hall.
Rose's tableware collaboration
Just because she's rich and famous now doesn't mean that Rose Hanbury doesn't get involved in collabs and projects. On May 4, 2022, Hanbury shared a series of photos on Instagram announcing her collaboration with interior design brand, Cabana, linked with her home, Houghton Hall. "A night to remember: a candlelit dinner in the Marble Parlour at Houghton Hall to celebrate the launch of the #cabanaxhoughton tableware collection," Hanbury captioned the photo. The photos showed an exquisitely laid table with long, taper candles, and elaborate flower arrangements.
On Cabana's website, they explained what was so special about their work with Houghton Hall. "Owing to a mutual passion for interiors and true artisanal craftsmanship, together Rose, The Marchioness of Cholmondeley, and Martina Mondadori have created a tabletop collection; inspired by original [artifacts] at Houghton Hall," they wrote. The tableware included plates, jugs, tablecloths, napkins, and water glasses. While they're beautiful, they don't come cheap. One water glass costs $210, a tablecloth costs $495, and a rather ornate piece called the Houghton Hall Silver Swan Vessel costs $1995. In the photo, the swan is holding a handful of cigarettes, just to get a sense of the size. But the pieces are all historically rooted in Houghton Hall. "The collection includes table linens inspired by Rose's 18th century hand painted silk bedroom wall covering," the website notes, so it's a way to get the glamor of Houghton Hall in your own home.
Rose gets dubbed Kate's 'rural rival'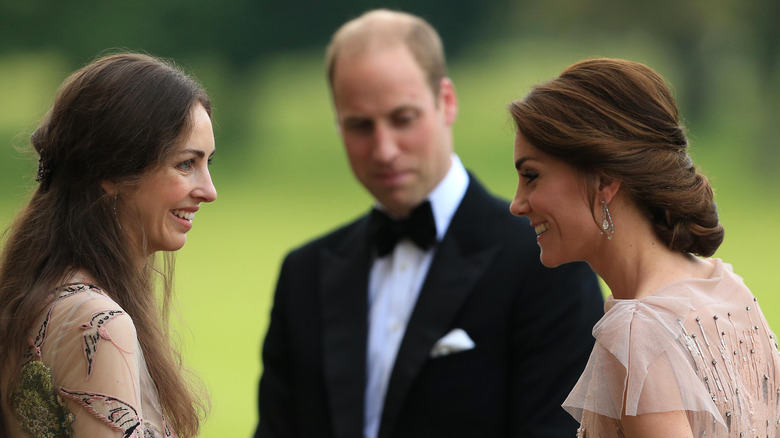 Stephen Pond/Getty Images
It's a tale as old as time, unfortunately, and one we saw played out in the literary landscape in Nathaniel Hawthorne's novel "A Scarlet Letter": While there's no confirmation that Rose Hanbury had an affair with Prince William, she's certainly been punished for it, prompting the age-old and ever-unanswered question of why a woman bears the shame for these rumors.
In 2019, The Sun published a piece claiming that there was a feud between Catherine, Princess of Wales, and Hanbury, dubbing the latter Catherine's "rural rival." This rumor began because both families lived in Norfolk, with Hanbury at Houghton Hall and Catherine and William in their country home, Anmer Hall. They were less than three miles apart, and The Sun reported that Catherine wanted William to put distance between himself and Hanbury.
The scandal was hard on Hanbury, who suddenly became the talk of the area and, quite quickly, the rest of the world. Some turned on Hanbury, leaving her lonely and isolated. The Daily Mail reported, "The most loyal friends are sticking by her but others, they haven't" (via Hollywood Life). Her reputation and her social standing were hit hard by these rumors, to the point where they allegedly disrupted even her marriage. Shortly after, in June 2019, when Hanbury attended a state dinner at Buckingham Palace in honor of former President Donald Trump, she wasn't wearing her wedding ring.
What the 'Prince of Pegging' trend had to do with Rose Hanbury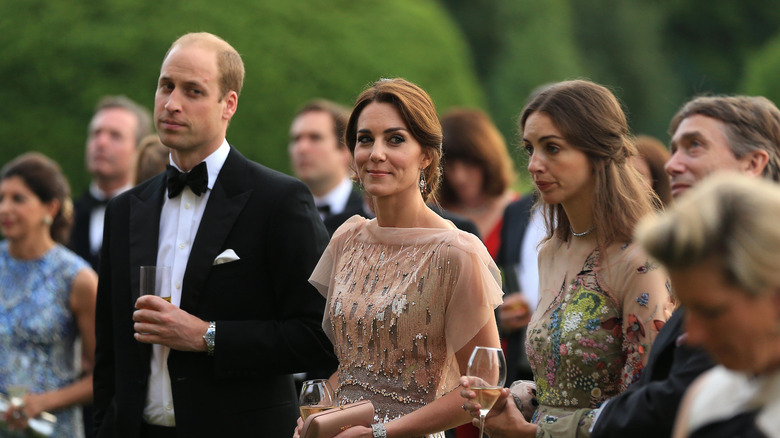 Stephen Pond/Getty Images
Here's where things get juicy and, it's worth noting, largely unsubstantiated. However, the story gained so much traction that it merits mentioning in a story about Rose Hanbury. 
The hashtag #princeofpegging became an internet trend in the late summer of 2022, after the Instagram account DeuxMoi posted a story from an anonymous source, claiming that a British royal was having an ongoing affair. According to a screenshot shared on Twitter, the source went on, "I was told the real reason for the affair was the royal's love of pegging, which the wife is far too old fashioned to engage in. The wife doesn't mind her and in fact prefers her husband getting his sexual needs fulfilled elsewhere..."
While it's hardly possible to confirm that the royal in question is Prince William, that the wife is Catherine, Princess of Wales, and the other woman is Hanbury, the titillating story gained oh so much attention. The pegging hashtag started to pop up next to #princewilliamaffair. This likely happened because there had already been rumors about William and Hanbury in 2019; since the anonymous source said that the affair in question was "an open secret in London," many assumed it was just the next chapter in an ongoing story. 
The Wales family has not commented on this particular story. Nor has Hanbury or her husband, David Cholmondeley. However, royal lawyers did get involved.
Royal lawyers tried to shut down affair rumors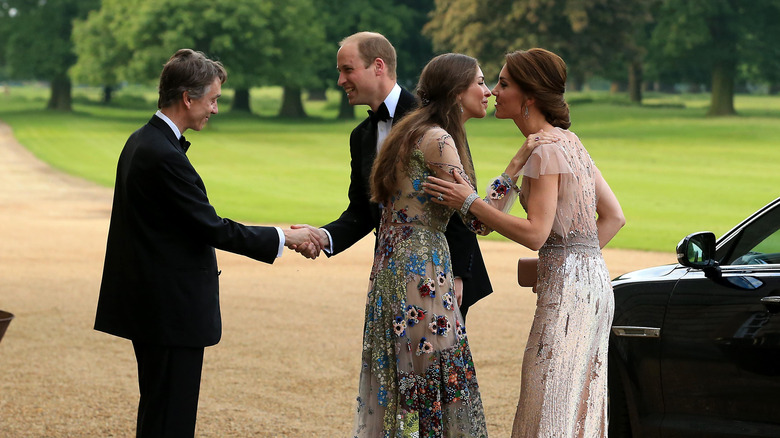 Stephen Pond/Getty Images
While it's the royal way to never complain, never explain, the rumors about Rose Hanbury and Prince William's affair reached such a fever pitch that both sides claimed to consider legal action, Richard Kay wrote in the Daily Mail. At the time, however, Kay claimed that both families stalled on the idea because none of the outlets reporting on the affair had anything substantive with which to back up their stories, but it had certainly spread. Giles Coren, a writer for the Times of London, even tweeted about it, but deleted it after Buckingham Palace hassled him about it, according to Page Six.
The problem was, of course, that the affair besmirched both the marriages of Prince William and Catherine, Princess of Wales and that of Hanbury and her husband, David Cholmondeley. Not only were Catherine and Hanbury friends before the scandal, but William and Cholmondeley were also allegedly friends, and the situation became increasingly awkward.
At last, and somewhat surprisingly, the royals did take action, turning to the London law firm Harbottle and Lewis, who sent a letter to a British publication (per the Daily Beast). "In addition to being false and highly damaging, the publication of false speculation in respect of our clients' private life also constitutes a breach of his privacy pursuant to Article 8 of the European Convention to Human Rights," the letter read. Nevertheless, this hasn't stopped countless publications from covering the story.
Rose is still involved in royal life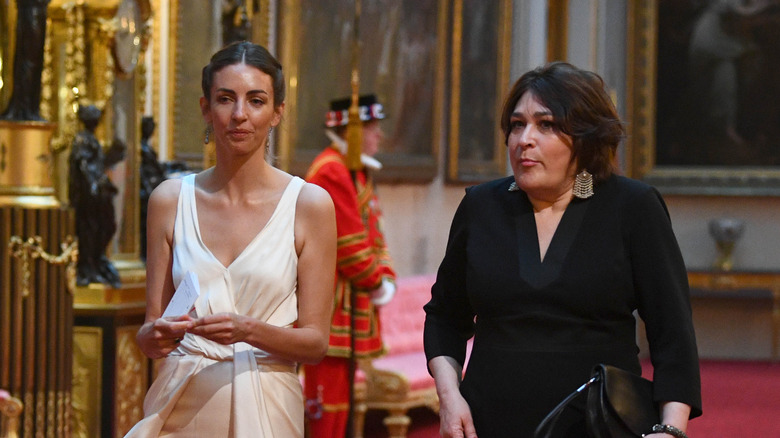 Wpa Pool/Getty Images
The rumored affair certainly made life harder for Rose Hanbury, but that hasn't stopped her from participating in royal events. Before the gossip broke, she was a familiar face at Buckingham Palace, like when she attended the Spanish State Dinner in 2017 and sat next to Prince Harry. Then, of course, there was the state dinner for former President Donald Trump in June 2019, where Hanbury was present sans wedding ring.
In March 2022, Hanbury and her husband, David Cholmondeley, attended the memorial service for the late Prince Philip at Westminster Abbey. She wore a black pillbox hat and a long, black coat dress to honor the late prince. In September 2022, when Queen Elizabeth II died, Hanbury also attended her funeral, arriving before the procession of the immediate family, which included Prince William and Catherine, Princess of Wales. Part of the reason for this was because Cholmondeley's role as the Lord Great Chamberlain came to an end when the queen died. Tradition is that with each new monarch, the role gets passed to a different aristocratic family, so Cholmondeley's time was up and King Charles III had a new person to become the Lord Great Chamberlain. So despite the affair rumors, Hanbury and her husband are still very much involved in royal life.
She's a patron at the same hospice as Kate Middleton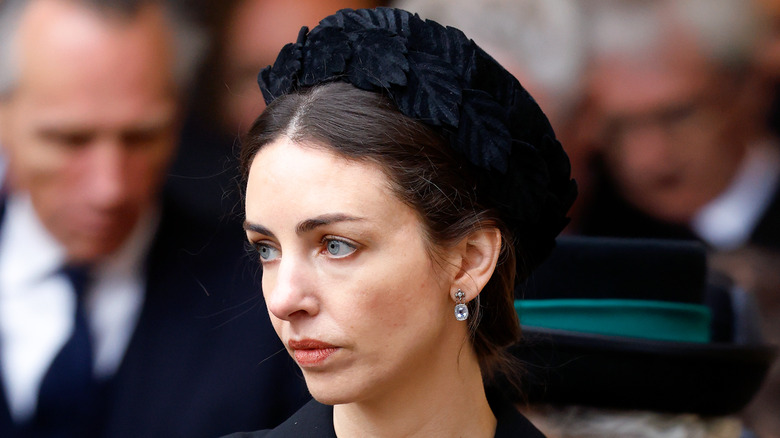 Max Mumby/indigo/Getty Images
Rose Hanbury is involved in several charitable organizations. In fact, she and Catherine, Princess of Wales, are patrons of the same organization for East Anglia's Children's Hospices (EACH). Catherine is the royal patron, while Hanbury is listed among the regular patrons. Hanbury joined EACH as a patron in 2018, and she was photographed visiting build sites for the hospice's new location. "I feel honoured to become a Patron of EACH, that provides incredible care and support for children and families in our region," she said, according to the Cambridge Network. "It's vital to raise funds every year to continue this, and to build the much-needed new hospice, and I look forward to helping in any way I can."
In fact, it was this patronage that linked Catherine and Hanbury in 2016, when the latter hosted a charity gala dinner at her home, Houghton Hall, to raise money for EACH. Catherine and Prince William attended, and were greeted by Hanbury and David Cholmondeley. The event was glamorous, with five Michelin-star chefs cooking dinner for the guests. EACH Patron Emma Deterding addressed the guests, thanking both couples. "I would like to thank Their Royal Highnesses The Duke and Duchess of Cambridge for agreeing to join us for this amazing evening," she said, per the Daily Mail. "Special thanks are also due to The Marquess and Marchioness of Cholmondeley for so generously offering us Houghton Hall as a venue." Both women, regardless of their relationship, continue to support the hospice.