The Right Way To Rip Your Jeans For An Artful Grunge Look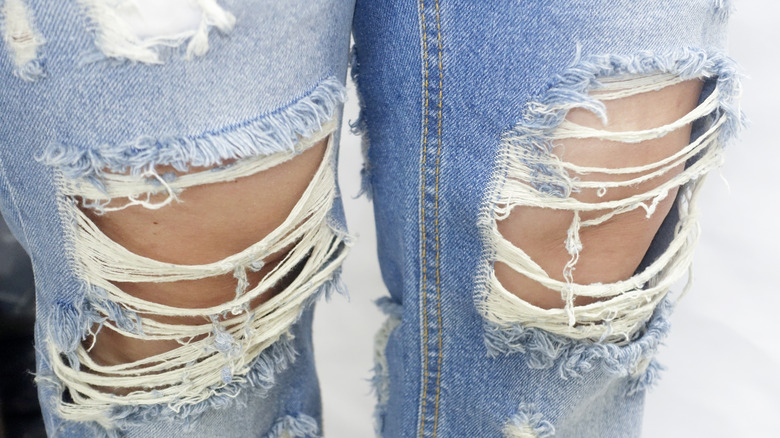 Engin Ozber/Getty Images
Decades after grunge reached its peak in the 90's, the fashion that accompanied the era of bands like Nirvana and Bush is making a major comeback. From plaid shirts to bedhead bob haircuts to ripped jeans, the grunge look can once again be spotted everywhere from the runway to the club to Main Street USA. And if you're looking to get in on the nostalgic trend, a solid pair of authentically worn-out jeans is a great place to start. 
Sure, you can absolutely buy pre-ripped jeans new at most stores right now, and there's nothing at all wrong with doing that. But if you happen to have a pair of jeans that's been sitting in your closet for a while because they are just too worn and tired to look "nice," then you could have the perfect opportunity to create an on-trend closet staple that looks and feels more authentic than something you grabbed off the rack. Plus, it'll save you some money. 
And the transformation from tired has-been to trendy staple is easier than you might think!   
What you should know before ripping your own jeans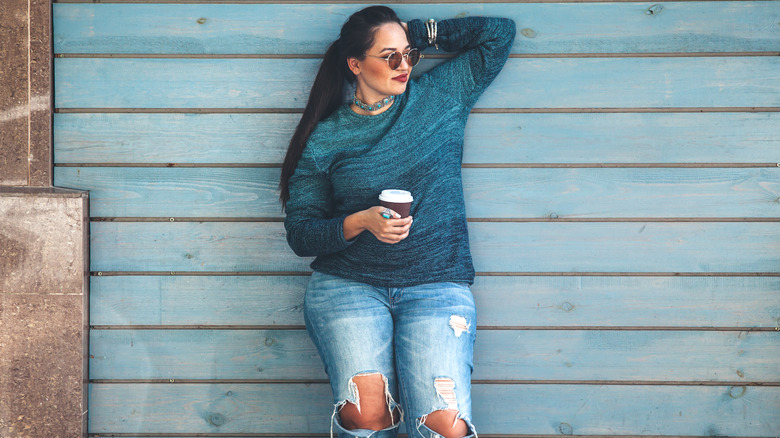 Alena Ozerova/Shutterstock
If you've got an old, well-worn pair of jeans, it's likely they are already thinning out and possibly starting to tear in a few places like the knees, the back pockets, and possibly around certain seams. These already-worn spots are the ideal starting places for your project! 
Denim expert Kelly Harrington told ELLE UK that, "Resourcefulness and frugality go hand-in-hand with craft and DIY aesthetics: upcycle deadstock denim, patch up vintage jeans and get creative." In order to learn the best way to do this, Elle spoke to Jill Guenza, VP Women's Design at famous denim company, Levi's. "Wearing ripped jeans is a completely personal style preference. Some of my favourite jeans have distressing and rips simply from wearing them for years and years," Guenza says. "But not all rips have to be original to be cool. Rips and shreds add attitude and tell a story, no matter how they were created."
You'll want to keep a couple things in mind before you get started. The first is that jeans without stretch are easier to work with where it comes to adding strategically-placed tears and rips. Another notable tip is to start small; if you keep the rips and tears fairly small and conservative, you can always expand them after you've tried the jeans on. In other words, you can always add more or bigger rips, but you can't really make them smaller once you've created them.  
A few easy steps to perfectly distressed jeans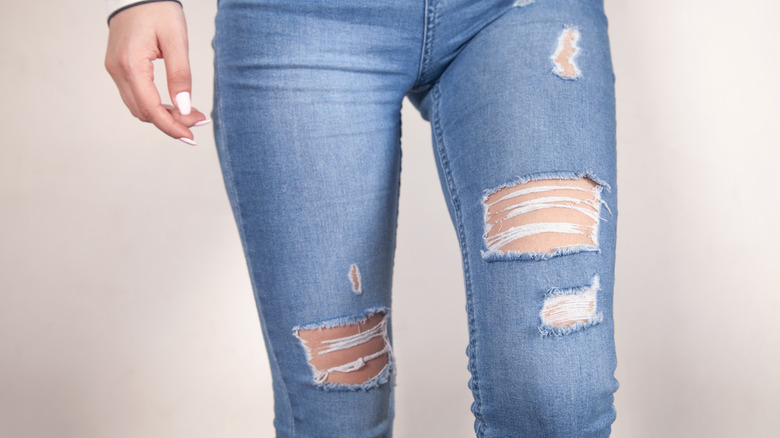 Andranik Hakobyan/Getty Images
The best way to pick exactly where you want to add rips is by putting your jeans on, and then marking the places with something that is easy to wash off, like chalk (via Elle). This way, you can make sure the tears will fall at exactly the places on your body you want them to. Next, take the jeans off and place a piece of cardboard between the laters of fabric so that you don't accidentally cut through to the other side of the pants. 
Then, take scissors and scrape horizontally across the places you want to tear. You can also use a razor blade for this (via Style Craze). Keep scraping until you see white thread, at which point, switch to tweezers. Use your tweezers to fray threads here and there across the scraped area. At this point, if you want to, you can use your scissors to cut a little bit in this area. Before doing any more, try the jeans on to make sure you like how the process is going. Keep in mind that even a small hole will eventually stretch out and grow as you wear and wash the jeans. 
That's it! Now you've turned old jeans you weren't wearing into an updated grunge look that would fit perfectly in the 90's and just as perfectly out and about today.