Shower Foam Is The Body Wash Alternative That Can Give You A Deeper Clean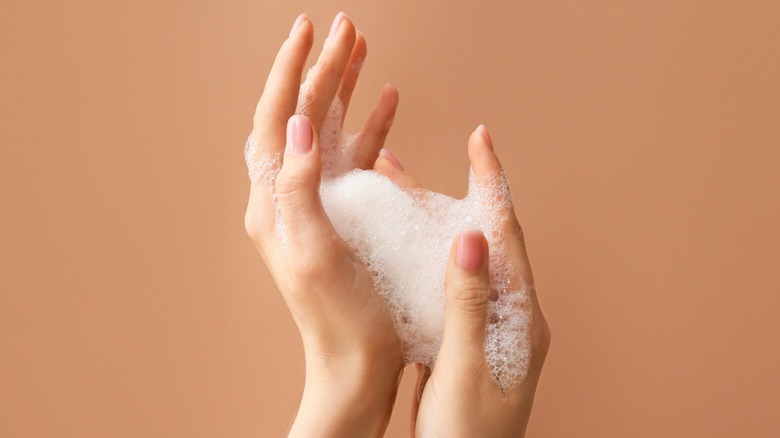 Pixel-Shot/Shutterstock
It's hard to think of something more aggravating than showering and still not feeling clean enough. You may find yourself using more of your soap or body wash to get the desired foamy lather and sensation of cleanliness, which may be harder to rinse off. Plus, using multiple pumps of body wash in the same shower will cause you to run out more often and spend more money replacing the product.
If you have often compared bar soap and body wash and still aren't sure which is best for you, or if you are sick of the usual shower gel and soap suspects, there is an alternative for you to try: foaming body wash, also called shower foam. Shower foam is already bubbly. That way, you don't have to work as hard to build up a lather and don't have to use as much of the product each shower. It's also easier to rinse and will give you a great clean.
Shower foams are better at cleaning and hydration than regular soap
Shower foam has been a popular product since 2017 and is more substantial than other shower gels and soaps. Because of its formulation, it leaves your skin cleaner after a shower and can be more moisturizing than other body wash products due to its intensity.
Dove sells Instant Foaming Body Wash, a shower foam meant to help with skin hydration. The product is said to " ... support your skin's natural moisture barrier as you cleanse." If you struggle with dry skin and are constantly looking for the best lotion, a shower foam with such capabilities could be good to try.
When interviewed by Allure, Ginger King — a chemist that has been creating beauty products since 1995 — said that foams provide users with a " ... sensorial experience." She added, "Foams denote feelings of luxury, and it's that experience that makes consumers crave for more and repeat the purchase." So, in addition to the practical benefits of shower foam — it cleans and hydrates your skin well — its lavish nature can help you feel good mentally too.
Shower foams come in many scents
If you are ready to ditch your usual shower products and branch out with shower foam, there are various options for you. As mentioned above, Dove has a collection of instant foaming body washes. They have the non-scented deep moisture option, or you can choose from their bank of scented shower foams, with options such as Mango Butter, Cucumber, Green Tea, or Lavender.
Sundae Body produces a line of whipped shower foams that come in cans, like most shaving creams. The Sundae Body brand foams also have different scent options, like Pomegranate Fizz, Orange Crush, and Coconut Cream. Sundae Body also has an exfoliating shower foam with a Green Tea scent. You can even purchase a themed bundle of foams or build your own bundle with your shower foams of choice.