The Top Hydrating Body Lotions For Super Dry Skin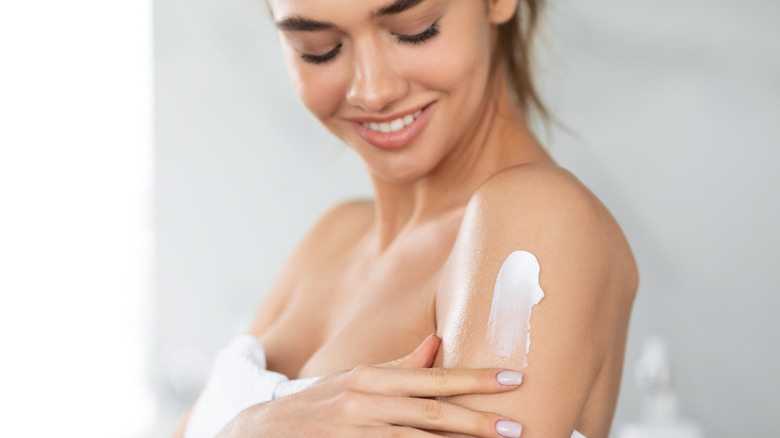 Prostock-studio/Shutterstock
Dry skin can be irritating and sometimes even painful. Although such severity only happens in winter for some, dry skin is a year-round condition for many others. There are many ways to treat dry skin, but the main solution to be mindful of is making sure you are using the right body lotion. 
It can be a minefield trying to figure out the best choice for you, but ultimately, you should opt for lotions that won't just soothe surface of the skin but prevent future dry skin outbreaks, too.  As recommended by several dermatologists who spoke to The Strategist about dry skin lotions, ceramides and humectants are the way to go. Ceramides are ingredients like glycerin and skincare buzz product hyaluronic acid, both of which contribute to skin moisture without causing irritation. Moreover, you should consider whether your extremely dry skin may require a balm or ointment instead of a lotion — the thicker, the better.
Armed with the basics, you can start to look out for products that will really benefit your skin. From scaly patches to overall skin that never seems to be quenched, you're sure to find your new fave body lotion below.
For dry skin, you need a lotion that really locks in moisture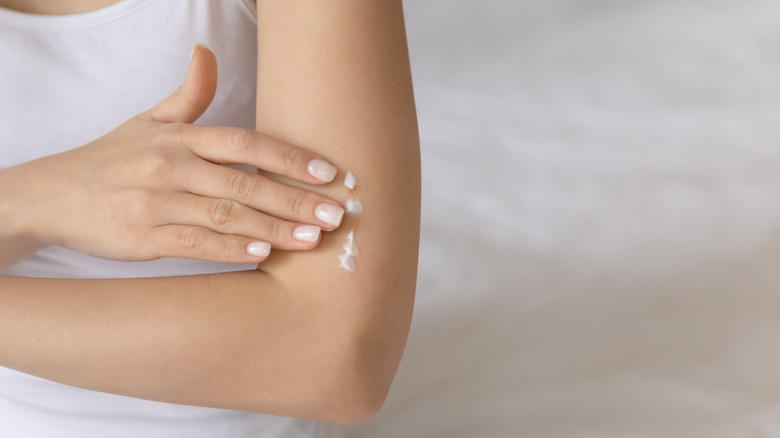 fizkes/Shutterstock
Dry skin requires lotions that will support your natural skin barrier and sink in, rather than sit on top of your skin. According to MindBodyGreen, a firm favorite amongst those with dry skin is Biossance Squalane + Caffeine Toning Body Lotion. Though its name may seem a little intimidating, this lotion has many benefits. The caffeine is derived from green tea, which will soothe and revitalize skin as well as tone, whereas squalane is derived from cane sugar and is designed to work with your skin as though it was produced by your body. To finish, superstar ingredient niacinamide will help smooth over any texture you have.
Another great option is African Botanics Svelte Cream. It has a goosebumps-inducing price of $160, but is recommended for mature skin that doesn't respond well to other lotions. Its hefty price tag is matched by luxury and unusual ingredients like milk thistle, horsetail, and marine red seaweed extract. Amongst the other ingredients are guarana and spirulina, too, both green plants that will improve the firmness and softness of your skin. This cream also purports to sculpt the skin, hence the word 'svelte' in its name.
A dry skin lotion doesn't have to break the bank to be effective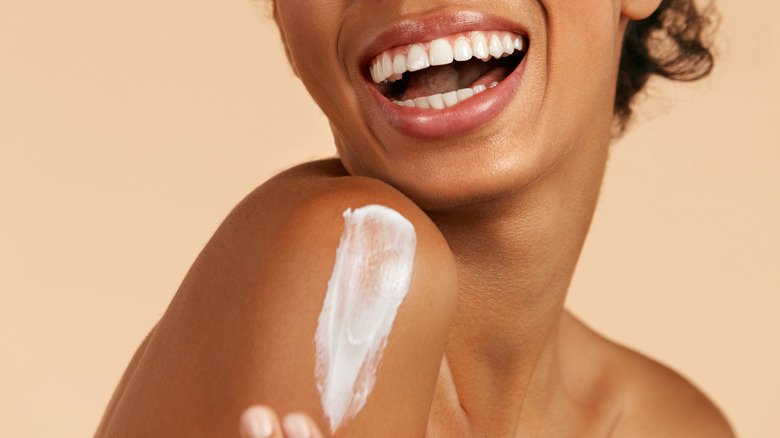 puhhha/Shutterstock
Whilst the above are both wonderful options, you may be looking for an option with a more affordable price tag. Luckily, MindBodyGreen recommends some more purse-friendly lotions that will still soothe your dry skin. 
Weleda's Skin Food lotion costs only $12.50, though it does only come in a small bottle. A cult favorite, its skin-loving ingredient list includes a heady mix of oils and plant extracts to really seal moisture into your skin. Due to the smaller size, it is also a good choice for carrying around or taking on vacation. If you want something bigger for your money, Pipette Eczema Lotion is full size and is only $15. Specifically formulated to be gentle even on your sorest dry spots, it features 1% colloidal oatmeal.
Woman & Home reports that one of the most well known products for dry skin is Aveeno Daily Moisturizing Lotion. Containing colloidal oatmeal and glycerin, it contains no irritating fragrance and will sink in quickly, unlike some other thicker dry skin lotions. Aveeno has brought out other formulations over the years that offer more relief for extra dry skin, but the original still holds up. 
Now you have all the info you need, you can get out there and live your best glowy skin life even if you are prone to dryness.