Is A Sequel Wedding The Right Choice To Keep You Relaxed On The Big Day?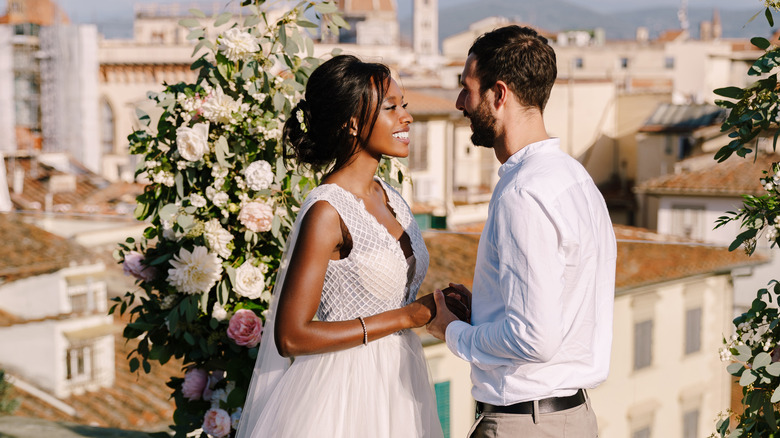 nadtochiy/Shutterstock
You know what they say — the sequel is never as good as the original. It applies to movies but definitely not weddings. Social distancing and travel restrictions from the COVID-19 shutdown sparked an increase in sequel weddings. Partners did not let pandemonium stop them and opted for micro-weddings and Zoom ceremonies before later tying another knot. The practice stuck around after bands were lifted, and we no longer had to be six feet apart. It's joined the list of wedding trends for a memorable occasion.
A few famous faces have gotten hitched twice too. Pop-rock star Joe Jonas and actress Sophie Turner exchanged vows in Las Vegas before sealing the deal again in London. TV personality Porsha Williams and businessman Simon Guobadia had a customary celebration, and the following day did it again but more elaborate. Acting duo Zoe Kravitz and Karl Glusman did their secret union before creating a second wedding anniversary in Paris. Everyone seems to be joining in on the double "I do's." Is a sequel wedding right for you?
The sequel wedding is just as good as the original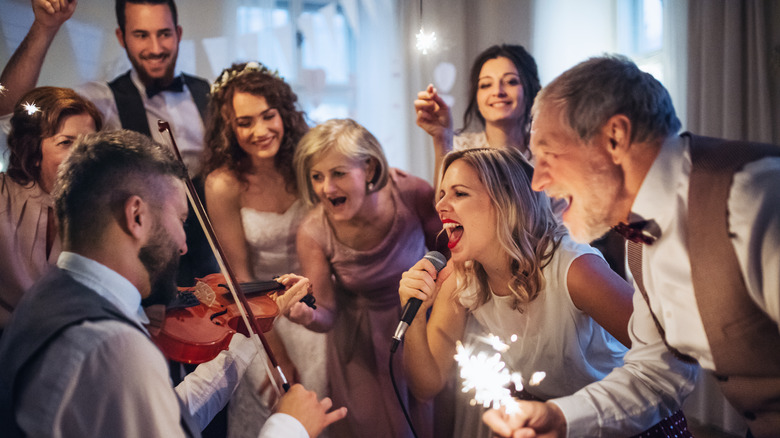 Halfpoint/Getty Images
A sequel wedding is like a traditional matrimony but split into two parts. It's the same couple and covenant but separate days and events. Every couple chooses sequel weddings for a different reason. Some pairs merging cultures opt for dual celebrations so all traditions can shine. For others, their big day was so nice they did it twice. Doubling up on the nuptials can be a lovely opportunity to accommodate all family members and honor every ritual. It is similar to previous trends of couples eloping before setting a date for the reception.
The two-part hitch can also ease political situations. Expert event planner Lindsey Shaktman tells The Knot, "We've worked with clients who've hosted intimate at-home ceremonies in order to begin the lengthy and arduous process of finalizing marriage immigration documents." This way, couples are all set for their honeymoon after the second wedding. Dividing the ceremonies can offset wedding pressures and anxiety. It also prevents financial limits from disturbing making your union official. Couples can become legally married while saving for the second wedding. And it's easier than you think to plan two spectacular nuptials.
Tips for perfecting both weddings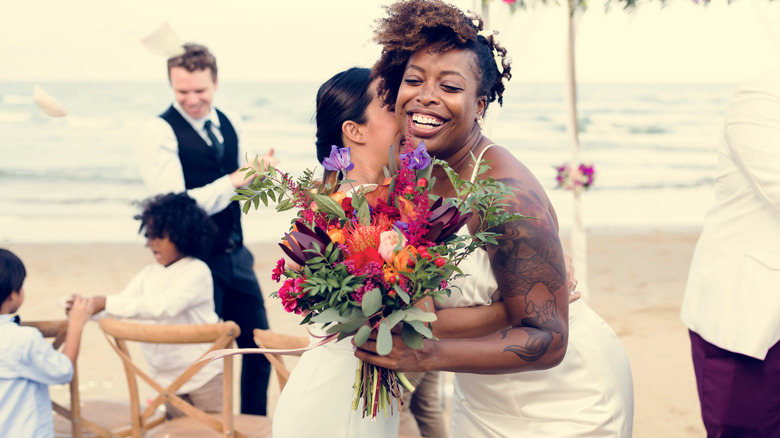 Rawpixel.com/Shutterstock
To have both weddings tied for party-of-the-year, keep them distinct. The idea is different visions, not a rinse and repeat. Focus on why you're choosing sequel weddings. Is it to have both an intimate and grand celebration or incorporate two distinct traditions? Hone in on your first wedding being small and personal. You can opt for ceremonies at a courthouse, backyard, or local establishment.
Even virtual nuptials are a way to make your vows. Sharmin Asha and Nazmul Ahmed shared with The Washington Post that they said their "I do's" in the Animal Crossing video game. Your large sequel ceremony can be grand — a destination wedding with a huge guest list. But jumping the broom twice doesn't have to cost an arm and a leg. Stick to clever hacks to plan a wedding on a budget for a double celebration that won't put you in debt.
Don't forget time is of the essence. The sequel wedding should be within a year of officially tying the knot. Wedding expert Elaine Swann tells Brides, "I wouldn't go beyond that because that becomes an anniversary party, which has a whole other meaning." Most importantly, have fun. The sequel should be a low-pressure event since you're already a couple. So celebrate how your heart desires and break traditions if you please. It's all about the newlyweds' take two.