What Is A 'Minimony' - And What Makes It Different From A Micro Wedding?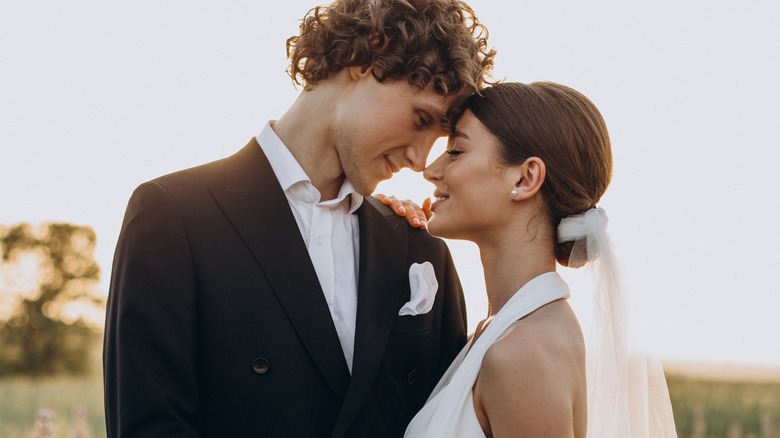 PH888/Shutterstock
It's no secret that weddings can be stressful. The planning process alone often takes at least a year, and many couples spend a small fortune on a ceremony and reception. Of course, this is a worthwhile investment for some people who have dreamed of their wedding day for years. However, those more apathetic about the elaborate nature of weddings tend to look for alternatives to the typical excess of engagement season.
It can be easy to justify larger purchases and various indulgences when the overall price of your nuptials is already high. Luckily, there are many reasons why traditional wedding celebrations are becoming a relic of the past. Couples can save a lot of money with so many alternatives to the classic, traditional wedding ceremony. Whether it's just not in the budget to have a reception with over a hundred people or the thought of having that many eyes on you is anxiety-inducing, cutting down the guest list can make all the difference.
Choosing a micro wedding could be perfect for couples still wanting the normal wedding day routine of a ceremony, cocktail hour, and reception. Micro weddings have all the classic bells and whistles of a normal wedding but with a much smaller guest list: usually less than 50 people. This is much more intimate than the typical 100 to 200-person guest list, but it's not the only alternative option out there.
Why do some couples scale down a micro wedding?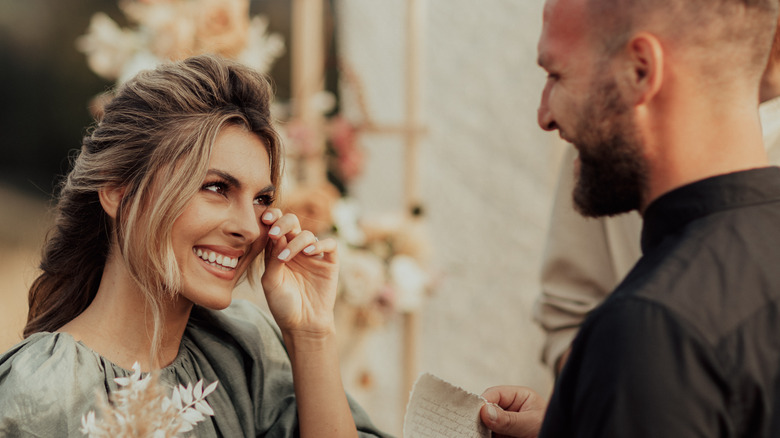 Doralin Samuel Tunas/Shutterstock
While micro weddings are quite small compared to a normal wedding, they are not the most private option. Micro weddings have a limited number of spots open; however, there is often still room for extended family members and some friends.
On the other hand, the stress of deciding who gets to come to a micro wedding can cause some couples to opt for a "minimony" or a mini wedding ceremony instead that only includes their immediate family. This intimate event usually entails about ten people but still honors the process of a wedding. According to The Knot, couples can still include all the major experiences they envisioned, like having a photographer, saying their vows, doing a first dance, and even cutting a small cake.
Interestingly, anyone can choose to go the "minimony" route, but the pandemic times caused a resurgence because many couples wanted to keep their original wedding date but needed to abide by the various social distancing guidelines. This led to a new version of the "sequel wedding" trend where couples followed up their "minimony" with the wedding they had previously planned for. The idea of having a second wedding isn't new, especially for those who want to represent various religious or cultural traditions with distinct ceremonies. Of course, if a couple doesn't need a second, more elaborate wedding, a "minimony" will definitely suffice.
How to decide on a 'minimony' instead of elopement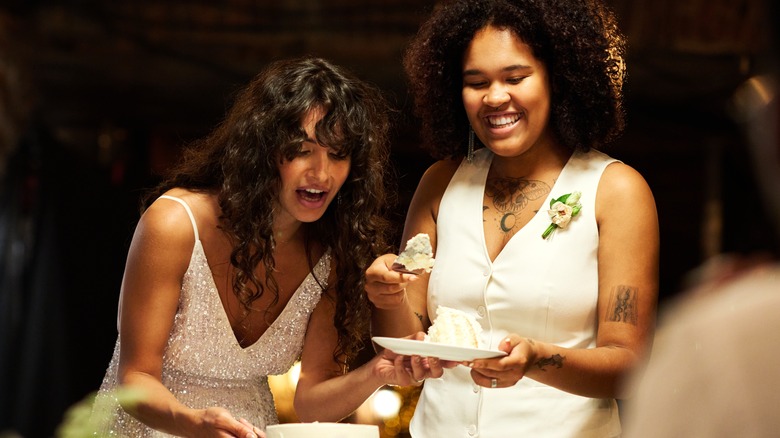 Pressmaster/Shutterstock
For a long time, it seemed like those getting married had to choose between a traditional wedding ceremony with a reception or an elopement. While micro weddings and "minimony" ceremonies try to find some middle ground, elopements are quite different because they are usually centered around spontaneity.
According to Simply Eloped, the lack of preparation is often what gives couples the freedom to make decisions that feel right for them at that moment. Instead of focusing on guest lists, seating charts, or wedding favors, the couple can focus on each other. Often, the couples don't bring anyone beyond their officiant to their elopement ceremony, which is usually a more unique destination than a traditional venue. However, occasionally, a few loved ones may stand by the eloping couple as they say, "I do."
Once you get engaged, there will likely be many opinions on how you should approach a wedding. However, planning a ceremony that doesn't feel right for you may leave you feeling anxious and wondering if pre-wedding anxiety is common. At the end of the day, getting married is a huge step in a couple's journey and should be celebrated how you feel most comfortable. Whether with 50 people at a micro wedding, ten people at a "minimony," or just the two of you eloping, finding the ceremony type that feels right for you on your wedding day is what matters.