Zoned Priming Is The Skin Care Hack That Can Correct Your Oily Complexion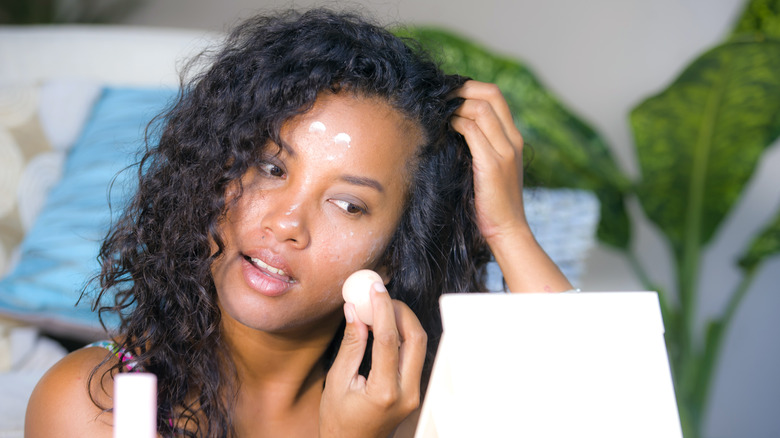 Marcos Calvo/Getty Images
You've heard of walking a mile in someone else's shoes, but what about giving their skincare routine a try? Probably not so smart. Whereas dry skin is treated with hydrating serums like ceramides, squalene, and hyaluronic acid, oily skin often benefits from salicylic acid, clay, and benzoyl peroxide spot treatments — all ingredients that can make sensitive skin even worse. What's more, oil production can fluctuate depending on the season, hormone levels, and dietary changes. Sometimes stressful life events can even result in a breakout. Given all these variables, it makes sense that so many of us struggle to find the right balance of products.
Combination skin is the best — and sometimes the worst — of both worlds. Whereas one part of your face can feel like it's swimming in oil, you might be dealing with dry patches on another. "There are certain areas of the skin on the face that may be more prone to higher oil production and thus more prone to acne production," Dr. Mona Sadeghpour, MD, FAAD, explains to Today, pointing to the T-zone as a particularly oily area. "In people who have combination skin, the cheeks and areas around the eyelid may in contrast be dry and easily sensitized," she elaborates. If this describes you, it's important to build a skincare routine that isn't overly drying or moisture-heavy — a Goldilocks happy medium. For starters, the viral phenomenon known as "zoned priming" will help you create a uniform base for your makeup. Here's how to perfect the technique.
Zoned priming requires two different products
After applying a lightweight moisturizer to your face — water-based formulas usually work best for combination skin — it's time to prime. As the beauty creator Amelia Olivia demonstrates in a viral TikTok, this technique works best if your start with a tacky primer on your cheeks and follow it up with a mattifying primer on your T-zone. Before going in with makeup, it's absolutely essential to let your primer dry. Otherwise, you might notice signs of pilling or even feel your foundation sliding off.
"Zoned priming lets you address specific areas on your skin for their own concerns," celebrity makeup artist Neil Scibelli explains to Well + Good. Like Amelia Olivia, he recommends using a mattifying primer on your nose, forehead, and chin and opting for a more hydration option on the rest of your face — if you're in a bind, moisturizer alone can do the job. "A lot of supermodels will want to be matte in the T-zone, but then they say, 'Don't mattify my cheeks, because I want that to look glowy,'" adds Scibelli. If you're going for that runway-ready look, Elf's $10 Matte Putty Primer is a great affordable option. Meanwhile, the NYX Aloe & Cucumber Extract Hydrating Jelly Primer ($17 a Ulta) is great for dry parts of the face.
Think about zoned moisturizer while you're at it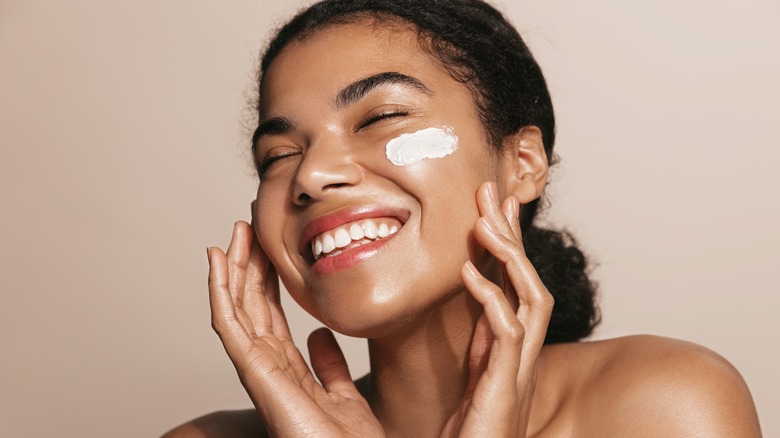 Lyubov Levitskaya/Shutterstock
If there's a dramatic difference between the skin on your nose and the skin on your cheeks, you might also benefit from two different moisturizers. Vancouver-based dermatologist Dr. Katie Beleznay (@drkatiebeleznay) recommends applying a hydrating salicylic acid in the T-zone and a thicker moisturizer on the rest of your face.
Although using two different moisturizers is pretty easy, achieving the same effect with a cleanser or exfoliant is a bit more difficult. As dermatologist Joshua Zeichner, MD, warns Byrdie, "The wrong cleanser can rub your skin barrier, leading to inflammation (or it may not do an effective enough job)." Even if you struggle with excess sebum and acne in your T-zone, an overly-stripping formula can do more harm than good. Dr. Daniel Sugai (@drspf on TikTok) recommends CeraVe's Hydrating Cream to Foam Cleanser, which can restore your skin's barrier while also adding moisture. Target specific areas of concern directly with pimple patches, spot treatments, or oil-blotting papers. Since physical exfoliants can be irritating on your drier patches, stick to alpha-hydroxy acid and beta-hydroxy acid-based treatments.