The Great Tiara Debate: Will Kate And Other Royals Wear Them At Scaled Back Coronation?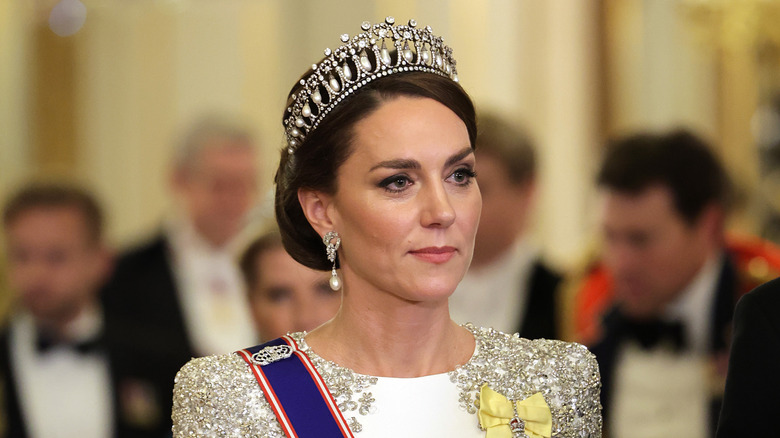 Chris Jackson/Getty Images
Millions of royals fans across the globe are eagerly awaiting King Charles III's coronation — which you can watch on most major news channels, the BBC, and its affiliates. The excitement is growing as more details slowly emerge: We now know that Prince Harry, Duke of Sussex, will be attending solo; young Prince George will hold an important role as a page; and Camilla, Queen Consort, will drop the "consort" after her name once she is crowned. But there are still some things about the historic event that haven't been disclosed by the palace, such as the outfits the royal family will be wearing.
In his determination to prove that the British monarchy is still important and relevant, the new king has broken with tradition in certain aspects of the coronation, including the dress code. Instead of donning silk breeches and stockings — soooo 16th century! — he is expected to wear his military uniform. He also requested members of Parliament not wear their opulent coronation robes. Because Camilla will also be crowned, her Bruce Oldfield couture gown will be long and formal. But the dresses for the other royal women, particularly Catherine, Princess of Wales, are still a mystery. Will the royal dressmakers be styling them in sensible church-appropriate daytime wear? And if so, can they still wear tiaras?
Tiaras are special occasion accessories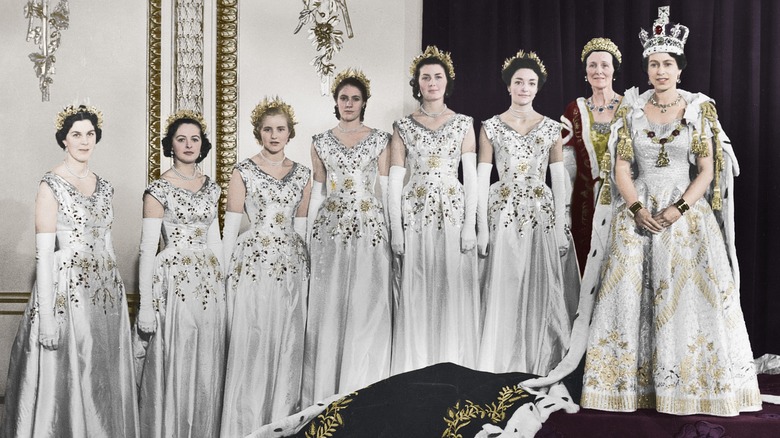 Print Collector/Getty Images
As with other rules the royals have to follow, there are protocols involved with wearing headpieces. For women of the royal family, tiaras — which differ from crowns – are traditionally first worn on their wedding day, after which they can wear them to formal palace events and state visits. While tiaras are normally evening wear, they're acceptable for a formal daytime event, like a wedding. But one would never wear the headpiece with anything other than a long gown, which calls into question the dress code for King Charles's crowning. 
Queen Elizabeth's 1952 coronation was a highly formal affair. Her maids of honor all wore matching floor-length white embroidered gowns, long gloves, and glittering tiaras. Her oldest son, on the other hand, is calling for a "scaled-down" event. It's been rumored that guests have been asked to wear formal daytime dress, and there's speculation that Princess Catherine and other royal women may be forgoing gowns and tiaras in favor of shorter dresses and fascinator hats. A royal jewelry expert recently told People, "[W]e could still see some grand jewels, like necklaces, brooches, and earrings, but no tiaras." 
Kate has worked hard to maintain an approachable image. Her public appearances have been marked by relatable moments, such as the time she stopped by a local pub to ask if her daughter Princess Charlotte could use the bathroom. Opting for an understated look for the coronation could work in her favor when her own time as queen consort eventually arrives.