For An Elegant-Casual Ceremony, Look No Further Than A Picnic Wedding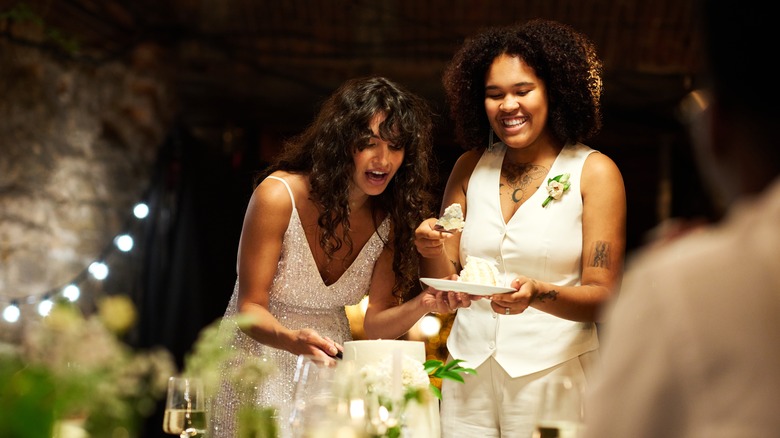 Pressmaster/Shutterstock
There's no denying it — weddings can be one of the most stressful events of your life when it comes to planning. Between the cake, the dress, the venue, the guests, the floral arrangements, and everything in between, your dream day can easily turn into a logistical nightmare. If none of that sounds like your vibe, why not consider a minimalist wedding instead? Not only is it easier to plan, but a minimalist wedding can reduce your bridal stress and save some serious cash.
A perfect example of a minimalist wedding and one of the 2023 wedding trends that will make your magical day even more memorable is a picnic wedding. A hybrid between an ultra-casual signing of the marriage certificate and a planned-out ceremony, a picnic wedding combines a timelessly elegant aesthetic with a pared-back rustic vibe. Picnic-style weddings are also a great option if you want something small with your favorite people instead of a large and pricey affair.
Whether you're planning on having your picnic wedding in your backyard, at a park, or by the seaside, we've gathered up some inspiration so you can pull off the elegant-casual day of your dreams.
Carefully cultivate a relaxed vibe so guests feel at home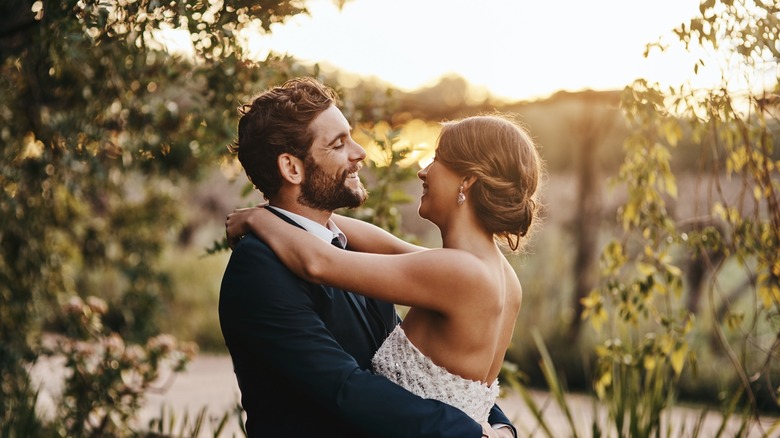 PeopleImages.com - Yuri A/Shutterstock
If you're trying to gather some inspiration for your own picnic wedding, look no further than the wedding of Sarah Schreiber, associate editorial director for MarthaStewart.com. Referring to her big day as a "Victorian garden picnic by the sea," Sarah knew exactly the sort of whimsical experience she wanted. Everything was specifically chosen to fit in with the garden party theme, from the venue (a Gothic revival mansion in Cape May called The Abbey) to Sarah's dress (a sweet and stunning eyelet gown with puffed sleeves and a square neckline), and the afternoon tea-style food (cream cheese and cucumber sandwiches alongside oysters and a variety of other hors d'oeuvres).
Though of course your special day should be unique to your tastes, a few common threads will run through every picnic wedding. For example, using large urns filled with beautiful wildflowers instead of carefully-crafted centerpieces will tie in with the back-to-nature theme that's tantamount to a laidback picnic wedding. These small touches that utilize the beauty of your outside environment will give your wedding a relaxed vibe that's perfectly on theme. As far as entertainment is concerned, think about what kind of yard games or other activities you may want to include for your guests to enjoy. The point of a picnic wedding is to keep things sweet and simple, so don't worry about everything looking perfect.
Make your picnic wedding unique and true to you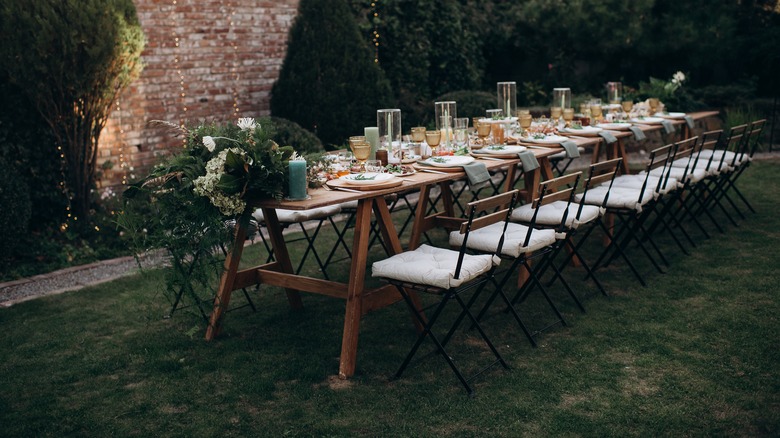 juliachernetskaja/Shutterstock
Instead of aiming for perfection, focus on the main aspects of what will make your picnic wedding live up to its namesake. As with a true picnic, guests will probably be sitting on benches, but you'll want to put down plenty of cushions as well as rugs and blankets if they will be sitting on the ground. Another good thing to think about is extra blankets if the day takes a sudden chill. 
When it's time to eat, you can make the picnic setting completely your own with a personalized tablecloth or place settings. Typical picnic-style food is usually sandwiches and other small items of food, but this can be tricky when working out how much of everything you need to buy, especially if you're hosting more guests. To solve the issue, take a page from bride Sarah Schrieber and her husband Zach, who opted for a mix of picnic food like tea sandwiches alongside heartier dishes like chicken, lamb chops, and grilled mahi mahi. This way there's something for everyone.
Overall, picnic weddings offer a stylistically timeless look, and, due to their community feel, are ideal if you're looking to avoid the fuss of a traditional wedding.