Is A Couples Road Trip A Good Idea?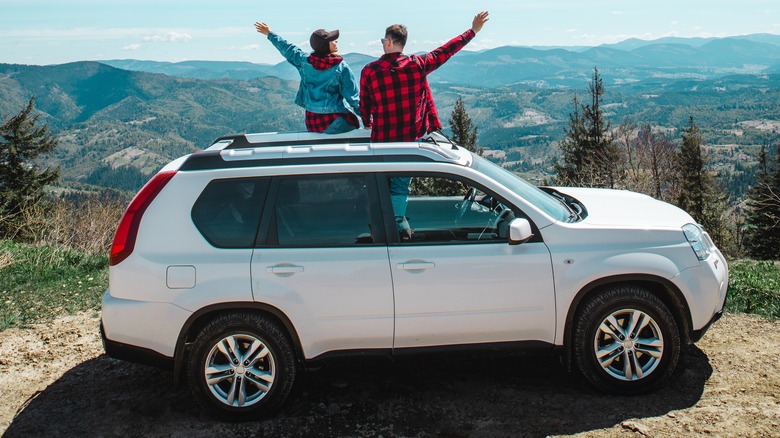 Vera Petrunina/Shutterstock
For over 100 years, Americans have taken road trips to explore the country and its vast beauty. Despite the convenience of airplanes, travelers continue to hit the road in their vehicles. In April 2022, a survey conducted by The Vacationer found that 80% of Americans were planning to take a road trip during the summer that year. While planning a road trip can be hectic, it's arguably the most flexible way to travel. You can plan all the stops you want to make and how long you want to be in one place. In addition, you don't have to worry about pesky airline baggage fees. 
On the downside, you could go stir-crazy in your car and spend a lot more money than you intended on hotels or accommodations. But if you're in a relationship, a survey from the U.S. Travel Association states that travel of all forms is beneficial for a couple. However, experts report that road trips, specifically, could make or break your relationship. Here's why you should or shouldn't consider a road trip with your significant other.
A road trip is a learning experience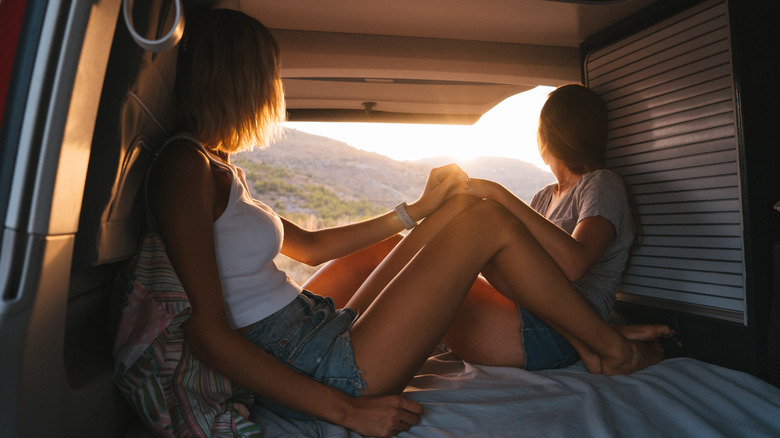 Manu Padilla/Shutterstock
A couple's road trip can be eye-opening. Being in a new environment away from work and other responsibilities could shine a new light on your relationship and your significant other, especially if you haven't been in a relationship for long or don't live with them. You'll learn about the type of music they like, if they're punctual, their sense of direction, and even some more embarrassing things like how many bathroom breaks they need. A road trip can be full of highs and lows. These same things could cause disagreements, and you'll pick up on how you and you and your partner work things out or don't. 
However, adversity could strengthen your relationship. In a 2015 article for The Shorthorn, Grace Winslow, a student at the University of Texas, Arlington, explained how a road trip with her boyfriend changed her relationship for the better after the couple was involved in a fender-bender. She said, "That experience made us bond more as a couple since we had to problem solve and deal with this on our own. I'm not suggesting that every couple do this, but if it happens to you, take it as an experience that will bring you closer together."
Ultimately, being in a car with your partner for hours on end can be a crash course on all their nuances and yours. A couple's road trip could have you come out stronger on the other side with memories to share.
Things to keep in mind while planning a couples road trip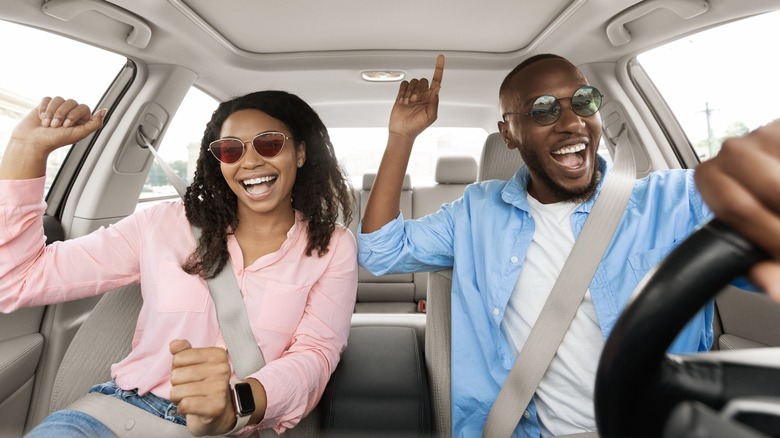 Prostock-studio/Shutterstock
Here's what you need to know before going on a road trip. First and foremost, pick a location you want to visit together. You can choose a national park, a big city, roadside attractions, or more; the country is massive, and the possibilities are endless. Planning a couple's road trip can provide insight into your relationship and teach you how to compromise. Amy and Nathan Hartle, the founders of the travel blog Two Drifters, gave DatingNews their advice on planning a couple's road trip.
"For some people not having a predetermined route would be incredibly stressful. If you're road-tripping as a couple, it's important to make sure you're taking both partners' approaches into account," they note. "I personally think the ideal road trip would be a mix of the two: an overall set structure with some room for spontaneity." Some other things you can do to make a couple's road trip even more memorable include working together on a playlist and spending time apart. For example, maybe you and your partner want to see or do different things at one location.
It's OK to experience things solo before coming together again and discussing them with each other. Amy and Nathan told DatingNews that couples should "have patience with each other" in all aspects during a road trip. Other tips include settling prior arguments before hitting the road and taking care of your body during a road trip to ensure you feel your best.