How To Take Care Of Your Body During A Road Trip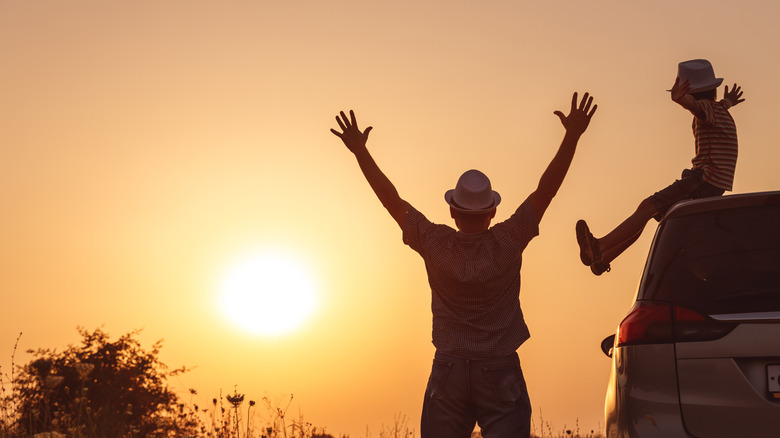 Shutterstock
Long hours in the car can be great fun when you're singing along with the radio and catching up with friends. Unfortunately, road trips also come with inevitable hiccups — like having to go to the bathroom and craving a good stretch of the legs. By planning ahead, you'll feel great as you travel the country.
Hydration often tops the list of important items in overall health, especially when you're on the road. Thrive Global suggests steering clear of caffeinated beverages like soda and coffee during your trip, as these can be tough on your nervous system and dehydrate your body as you travel. Fill your reusable water bottles before you leave to ensure that you have high-quality filtered water no matter where you are during your trek. The outlet also suggests freezing a few of the bottles and letting them thaw as you drive so you have cold water later in the drive.
Of course, with all of the water, you may need to make stops to go to the bathroom — which is okay! The outlet recommends taking frequent breaks as you drive to keep your mind and body feeling their best. Do a few stretches for best results and to stay alert no matter where you are on your journey. 
EveryDay Health reminds travelers to pack their own snacks as well as a way to avoid the less-than-healthy options at gas stations and vending machines.
Use mindfulness techniques during your road trip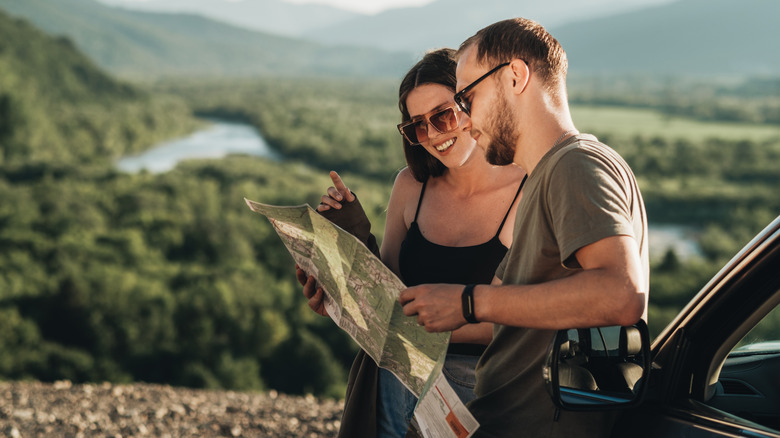 Shutterstock
Driving can be tough on your nervous system. With constant attention to the road and long hours in a seated position, your body and mind can start to feel it a few hours in. Since driving can be stressful, EveryDay Health recommends coming armed with breathing techniques that help you calm down and feel your best. Especially when you're in traffic, simple deep breaths and other mechanisms may mitigate stressful thoughts. Take breaks and switch off with a driving partner to ensure that your system gets the rest it needs as you travel.
Additionally, your sunscreen should stay in the front of the car so you can reapply as you drive. Especially if your road trip is taking place during the summer, keeping your skin protected is imperative to avoiding sunburn and potential issues down the road. U.S. News and World Report suggests a minimum of 30 SPF to use every few hours. Keep your sunglasses close as well to avoid sun damage near your eyes as well.
With the right tools and snacks with you, the rest of your drive should be fun! Queue up your favorite songs, play road games and enjoy — just be sure to listen to your body and take breaks when you need to.