How To Do Your Lashes When You Have A Narrow Face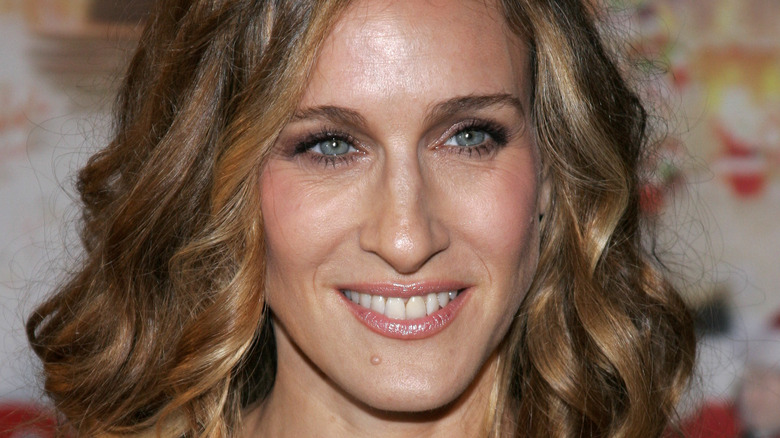 Tinseltown/Shutterstock
Have you ever watched a makeup tutorial, dutifully following along, only to end up with results that look nothing like what the host is rocking? You may be using the wrong techniques for your face shape. For example, even with the best highlighter for your skin tone, applying it down the middle of the nose and the length of the chin can make a narrow face look gaunt instead of sculpted. 
Slightly altering your makeup application to fit your face shape will make a big difference. If you have a narrow face, your forehead, chin, and cheeks will likely all be similar in width. Those with an oval or rectangular face, sometimes called oblong, can fall into the narrow category too. Many oblong faces have a wide jaw that can be pretty striking. Additionally, due to their lovely chiseled features, many individuals with narrow faces can skip the contouring altogether (jealous much?).
However, having a face that is longer than it is wide can sometimes make you feel like your appearance has too much length. There are plenty of tricks you can employ to draw an observer's gaze upwards, making your face look wider than it actually is, such as highlighting the high points and creating strategic shadows with bronzer. But after spending time on the lovely canvas of your face, you may be tempted to skip more subtle areas, like your lashes. Here's why we would urge you not to.
Why you need lush lashes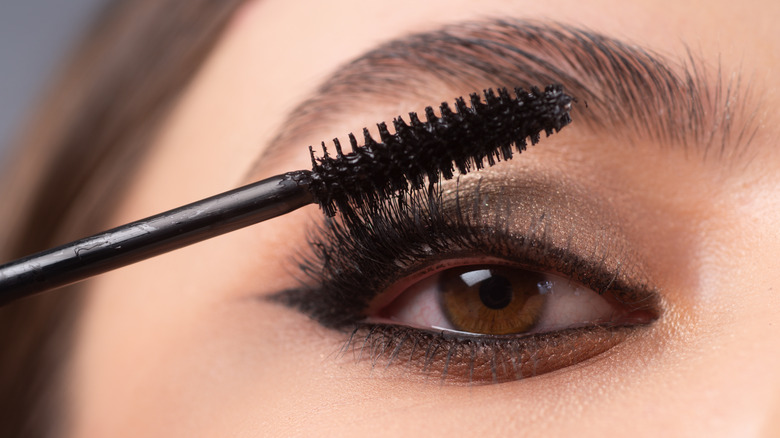 Volodymyr TVERDOKHLIB/Shutterstock
So you've shadowed, highlighted, and lined your eyes perfectly. But if you think you're good to go, reconsider, because if you have a narrow face, your lashes can help add some crucial heft to your appearance. Adding a bit of bulk is good for those with an oblong shape, as narrow faces can sometimes look just a touch drawn out. Blush works wonders to increase the fullness of your cheeks, and the same can be said for your lashes.
If you're looking to draw more attention to the upper third of your face, instead of light, piece-y babydoll-type lashes, aim for full, lush, full-coverage ones instead. Bold lashes help make your face look fuller, with increased volume throughout. Sweeping your eyelid fringe outwards can also help accentuate the eyes. As we mentioned, playing up your eyes helps to draw an observer's gaze skywards, detracting from the length of your face.
How to go big and bold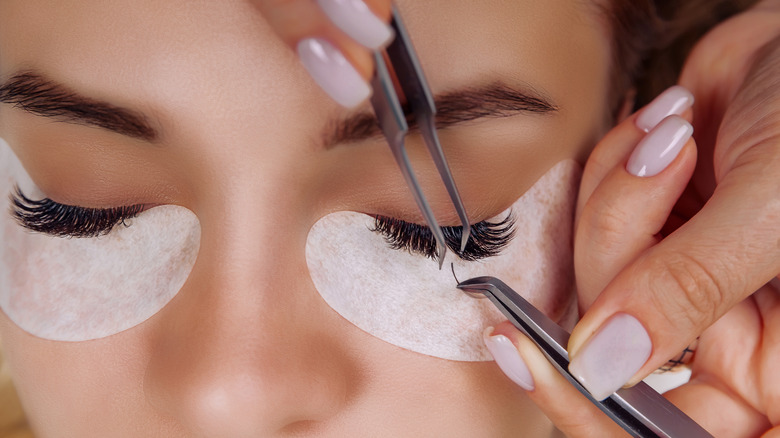 Aliaksandr Barouski/Shutterstock
You have a few options to nail the voluptuous eyelash criteria, including mascara, falsies, or even extensions. Mascara is the most effortless way to instantly increase the length and volume of your eyelashes. Look for a formula that promises extension plus thickness. Buildable types, such as Macstack Mascara Superstack, usually check both boxes. An eyelash curler and a skilled wand technique can further help to coax your lashes upwards and outwards. 
Though fake eyelashes, or falsies, come with a bit of a learning curve, they're another surefire way to quickly add both volume and height. You can opt for a full set if you're purely after all-over boldness. However, if you want to add thickness and length just to the outer edges, go for a half set or smaller clusters. Finally, for fuss-free lashes, you might want to consider extensions. A beauty professional will know exactly where to place the individual fibers to help add width to your face while ensuring they still resemble natural-looking eyelashes. 
Usually, they focus on the outer third of the eyelid, clustering them near the arch. Eyelash extensions can be great if applying mascara is the last thing you want to do after bronzing, blushing, and concealing. Nevertheless, the point stands that if you're a narrow-faced gal, don't overlook your lashes — show them a little love and you might discover a whole new appreciation for your unique angles!