What Amanda Wong Was Grateful To See In Her Hallmark Show, When Calls The Heart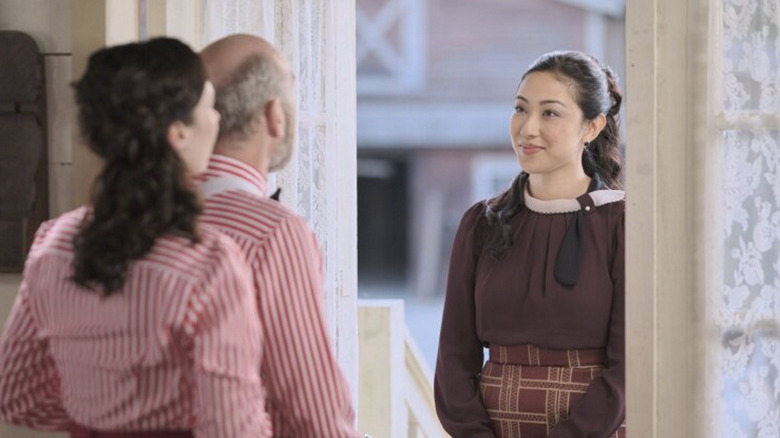 Hallmark/Crown Media
Racial representation has never exactly been Hollywood's greatest strength, and it has real-life consequences for people of color. According to a 2021 Paramount Insights study, 59% of people of color surveyed about the issue said that lack of representation made them feel "unimportant and ignored." They also said it negatively impacted their self-esteem and even their opportunities in life. Though this remains a huge problem in the TV and film industries, Hallmark is working to accomplish change in this area.
British Columbian actress Amanda Wong is breaking down representation barriers in the Hallmark world. Her character, Mei Suo, became the first-ever Asian character featured in the series "When Calls the Heart." Being outstanding is nothing new for the actress, who also happens to be a talented singer, athlete, and pre-paramedic. Not only that, but she also has a master's degree in journalism from The University of Hong Kong and has worked at a variety of top news organizations. Here's why Wong felt so grateful for "When Calls the Heart" and her groundbreaking role in it.
As a kid, she didn't know her dreams were possible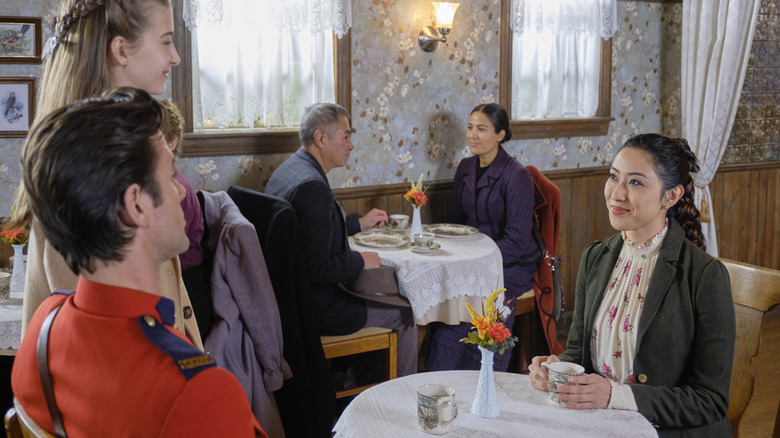 David Dolsen/Crown Media
During an interview with Daily Planet, Amanda Wong opened up about the importance of representation and why she didn't always believe it was possible to get to where she is today. "Growing up, I didn't really see myself represented in the media much, especially in period dramas," she explained. "I think even for myself, when I was thinking about 'When Calls The Heart' ... I mean, every actor and actress in Vancouver knows about the show and would love to be on it, but I guess I never really thought it was an opportunity that I could pursue."
She emphasized that Asian people should be represented in period pieces because they existed and lived full, colorful lives that are just as worthy of representation and of having their stories told. "You look at these types of films and it seems Asian people don't have a place in the narrative, even though that's not true," Wong added. "There were Asian people at that time but they are never really highlighted in any type of way."
Mei Suo is strong and intelligent
Amanda Wong made Hallmark history with the smart and multi-dimensional Asian character she portrayed beautifully in "When Calls the Heart." In January 2022, the star spoke to Entertainment Tonight about the special opportunity to play a woman like Mei Suo. "I'm excited that a strong, intelligent, Asian woman is arriving in Hope Valley, but I feel extra lucky that I get to be the one to play her," she said. 
When asked more about her character, Wong had lots of complimentary things to say about Suo. "Mei is truly a spectacular woman," the actress gushed. "She's got courage of conviction, she's strong and intelligent, loves animals, and is super passionate." The "When Calls the Heart" star noted that the character does have some human flaws. However, they're what make her more three-dimensional and relatable. You can catch Wong in the Hallmark drama series on Peacock TV, Amazon Prime Video, or Hallmark Movies Now.