The Best Eyeshadow Color Palette To Use At The Beach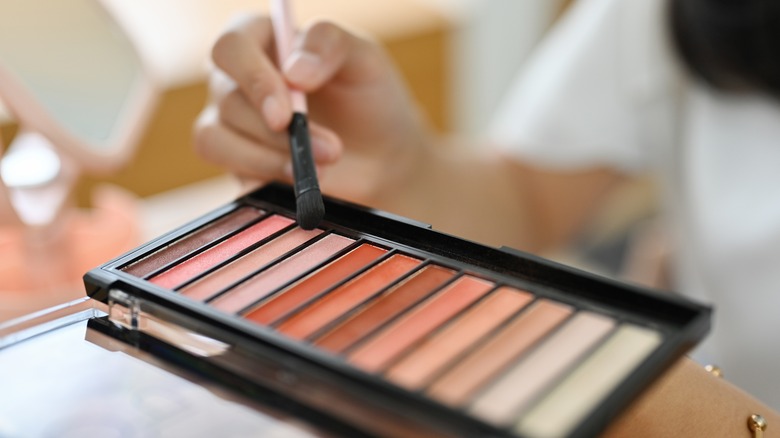 BongkarnGraphic/Shutterstock
Wearing makeup at the beach can go one of two ways: either you nail the vibe and have a gorgeous sun-kissed look that lasts the day, or your makeup melts and creates a sweaty, smudged mess. You'll need to use the right products and know how to reapply sunscreen without ruining your makeup to avoid the latter from humidity, UV rays, sand, and other elements.
Celebrity makeup artist, Fiona Stiles, tells Byrdie: "There's a lot of makeup happening in the world right now, but that plus humidity, plus 90-degree temperatures—not good. Keep it minimal, and let your skin show." Just because you should keep your makeup minimal at the beach doesn't mean you can't experiment with fun color palettes for your eyeshadow. Eyeshadow is an essential makeup staple for many, and it can add a pop of color or glow to your look. This is our favorite eyeshadow color palette to help you get beach ready.
Bright pastel eyeshadow palette
When it comes to makeup on the beach, less is more — so why not get the most out of your look with colorful eyeshadow? A bright pastel eyeshadow palette is the perfect blend of colors for a relaxing day spent soaking up the sun. Pastel colors are trending and can be seen all over the runways, red carpets, and social media. Celebrities like Lucy Hale, Lily Collins, Margot Robbie, and Lupita Nyong'o have rocked the soft, flirty pastel eyeshadow look.
 Pastel hues like pale green, baby blue, pink, peach, and teal are just some colors you can combine and experiment with. This eyeshadow palette color isn't too bright or glam, making it the perfect balance of soft and romantic. It's versatile and easy to match, and there are plenty of lipstick shades to pair with pastel eye looks so that you won't be short on makeup ideas. We recommend using the Natasha Denona Pastel Eyeshadow Palette. With 15 delicate and playful shades, this palette will make getting ready for the beach a breeze.
Opt for a sun-kissed eyeshadow palette instead
If you're after a radiant glow and want to match the vibe of the beach, try a dewy sun-kissed eyeshadow color palette for your next outing. A sun-kissed eyeshadow palette is all about light, creamy, bronze, and golden colors that complement one another and will leave you with a dewy finish. Think of how highlight and bronzer can give your skin a Hailey Bieber-inspired donut-glazed shine — this palette will help you achieve the same results. You can even use an eyeshadow palette with a touch of sparkle or shine to maximize the glow of your skin.
This palette color focuses on a natural finish that will make your skin look sun-kissed, bronze, and beachy. We recommend the Patrick TA Major Dimension Eyeshadow Palette. This palette color includes metallic and soft matte eyeshadows, luminous cream bases, and shiny pearl colors for a gorgeous glow.