The Best Lipstick Shades To Pair With Pastel Eye Looks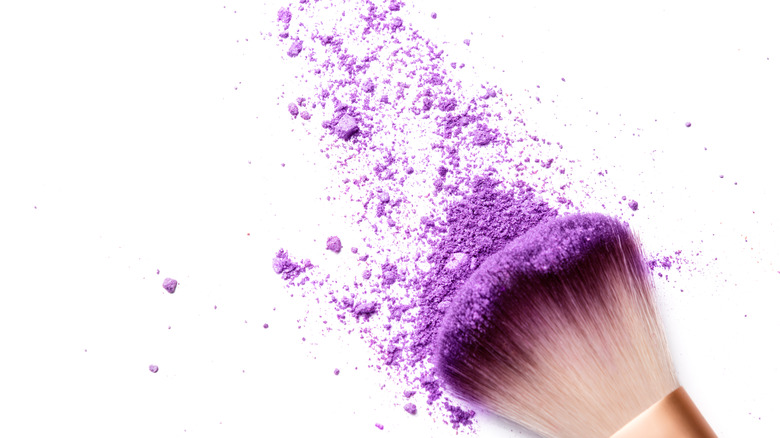 Shutterstock
Colorful eye looks are making a major comeback right now. If you want to try putting a pop of color on your lid, but are unsure of how to work with non-neutral colors, pastel eyeshadow and eyeliner are a great way to introduce yourself to bolder colors. Beauty guru and YouTuber Allie Glines prefers pastel eyeshadows to brighter ones and made a YouTube video to explain the ease of the lighter shades. "I feel like pastels are a little bit of a safer route for me if I'm trying to branch out with color. It's just a little bit softer and more approachable for me," she said. Pastel-colored eye looks are wearable, yet they will make you stand out in the best way possible.
In fact, beauty content creator Jackie Aina talked to Harper's Bazaar about the latest 2021 trends in makeup, including pastel eye looks. Aina said, "Soft pale pink has been popular for quite some time now, but I feel like we're now moving into more muted colors like tans, sage greens, pistachios, and baby blues." As for how to style your lids, Aina added: "Everything is also really nostalgic right now, so I'm seeing a lot of graphic liner looks, white eyeliner, and baby blue eyeliner." If you want to know how to pair pastel eye looks with the perfect lipstick shade, keep reading.
Highlight your pastel eye look with a neutral lip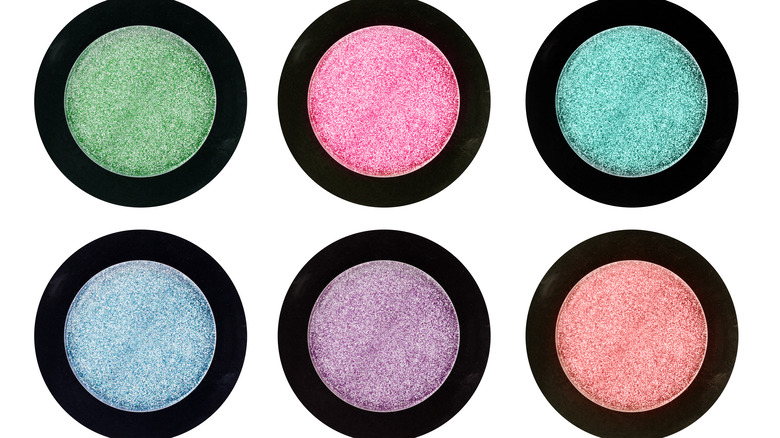 Shutterstock
Perhaps the most effortless way to pull off a pastel look is to pair baby pink eyeshadow with a pinky-nude lipstick for an elegant and timeless monochromatic look, via Byrdie. Even Meghan Markle had a pastel monochromatic moment for her guest TV appearance on CNN's Heroes last December, by pairing lilac eyeshadow with a mauve lipstick (via Get the Gloss). One of The Fashion Spot's recommendations was going for a monochromatic peach look by pairing peach eyeshadow, blush and lipstick, as a fresh take on neutrals. 
YouTuber Allie Glines demonstrated a look that had pink eyeshadow in her crease and aqua eyeshadow on the lid with black winged eyeliner. She kept the attention on her eyes by using L'Oreal Colour Riche Shine Lipstick in Sparkling Rose, a sheer pink glossy lipstick. "I just love the pink lipstick with the blue eyeshadow," said Glines. Get the Gloss noted that no matter what pastel eye shade you choose, you can't go wrong pairing the look with a tinted glossy lip. 
The Fashion Spot also recommended pairing an iridescent lavender eyeshadow with a dab of frosted lip gloss. Or you could use a clear lip gloss with pastel eye looks to keep the focus on the eye, especially recommending it to be paired with bubblegum pink eyeliner or robin's egg blue-colored eyeliner. Another look The Fashion Spot suggested is blending lilac and peach eyeshadow and completing the look with clear lip gloss. 
Pack a punch with pastels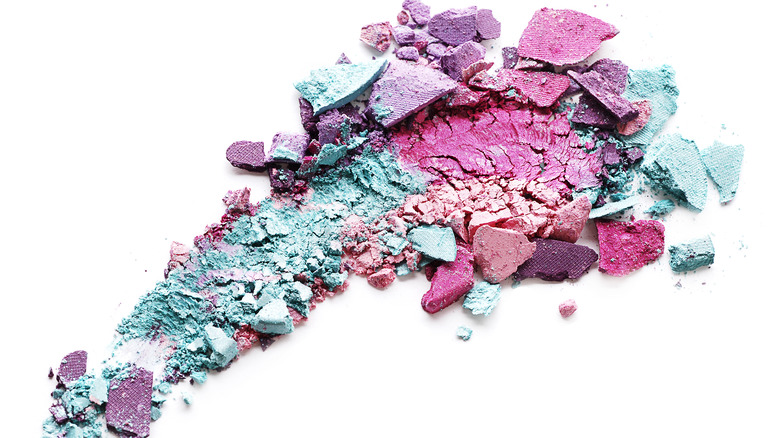 Shutterstock
Going monochromatic doesn't always have to be the safe choice. Beauty maven Jackie Aina proved that when she showed two different eye looks in her YouTube tutorial on how to wear pastel eyeshadow on darker and deeper skin tones. Using the Huda Beauty Pastel Obsessions Eyeshadow Palettes, she demonstrated a lavender eyeshadow look with mint green winged eyeliner on one lid, as well as a mint green eyeshadow look with lavender eyeliner on her other lid. She paired the look with a lavender lipstick and a sheer mint green shimmery lip gloss that added an iridescent reflect. 
Byrdie suggests pairing a turquoise eye look with a cotton candy pink lipstick for a groovy "'70s vibe." While it may sound intimidating, the two colors don't compete against each other, as they are complementary colors. 
Makeup artist and YouTuber Lisa Eldridge demonstrated a multicolor-pastel eyeshadow look applying mint green eyeshadow on the inner-third of the eyelid and lilac eyeshadow to the outer-third of her eyelid. She blended the two colors by applying pastel pink eyeshadow in the middle. To top off the look, Eldridge used the No7 Nourishing Lip Shine in Pink to apply a sheer, healthy tint that doesn't overpower the eyes. 
It looks like no matter what pastel eye color you choose, going with a lighter lip color is key to making your look cohesive.