Princess Anne's First Wedding Dress Took A Cue From Queen Elizabeth - But Not The One You Think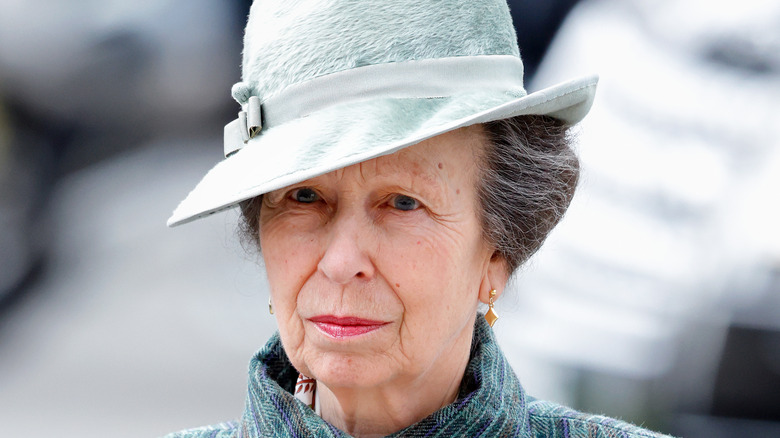 Max Mumby/indigo/Getty Images
In her lifetime, Princess Anne has been a bride not once but twice. Her first marriage to army captain Mark Phillips was an international spectacle. An estimated 500 million viewers tuned in to watch the wedding on TV. Anne, the only daughter of Queen Elizabeth II, met the fellow equestrian in Mexico City in 1968. The pair became engaged in May 1973 after Phillips proposed with a pricy round blue sapphire ring. They married on November 14 of that year in a lavish ceremony. This date holds significance in two ways; it was also King Charles' 25th birthday.
The wedding was held in Westminster Abbey, and Prince Edward acted as the page boy. Anne paid tribute to her mother by wearing Queen Mary's Fringe Tiara. Queen Elizabeth wore this tiara at her 1947 wedding to Prince Philip. The tiara was designed in 1919 for Queen Mary, Queen Elizabeth's grandmother. Before it was Queen Mary's Fringe, the tiara was a necklace Queen Victoria gave Mary on her wedding day. Queen Mary later gifted the tiara to Queen Elizabeth, the Queen's mother. However, the tiara was not the only aspect of Anne's wedding ensemble inspired by past royalty. Anne's dress reportedly paid homage to the Elizabethan Era.
The Princess chose a Tudor-inspired look
One of Princess Anne's most iconic outfits ever is her 1973 wedding dress. Maureen Baker, the chief designer of Susan Small, created the dress. Per The Guardian, Baker had designed clothing for Anne since 1968, which prompted her to tell Baker, "You will, of course, be making my wedding dress." Anne asked Baker for an Elizabethan era-influenced dress reimagined for the '70s. The Elizabethan Era is, of course, named after Queen Elizabeth I, who ruled England between 1558 and 1603. Elizabeth I is one of England's most legendary monarchs. Amongst her many accolades, she is known for unifying her country.
During the Elizabethan Era, aristocratic women wore intricate dresses with long bell-shaped skirts. The bodice would have long sleeves that were adorned with pearls and more. Baker obliged Anne's request and created a minimalistic wedding dress inspired by history. Although the silhouette was simple, the rest of the dress was not. Baker designed it to have a high collar and Tudor-style embroidery. The sleeves were essential to this look. Specialists at Steven Stone Jewellers told the Daily Express, "Full-length trumpet sleeves and huge cuffs reminiscent of Elizabethan ruffs became one of the most memorable parts of this royal wedding dress."
Her second wedding dress was much simpler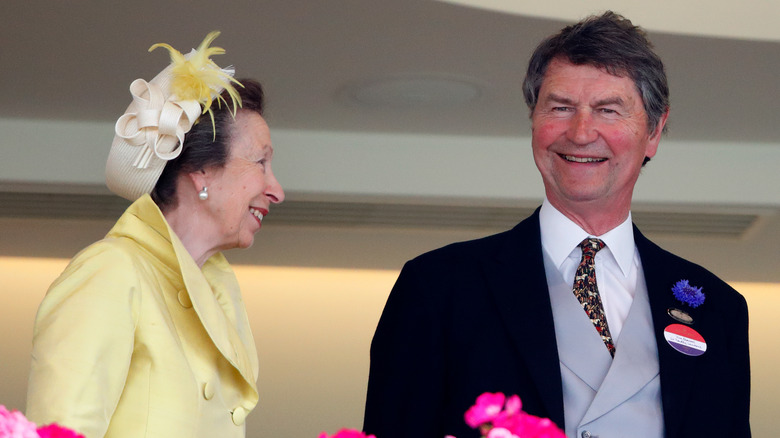 Max Mumby/indigo/Getty Images
Other details that make Princess Anne's wedding dress unforgettable include a seven-foot train and a floral design on the back. In addition, pearls embellished the bodice and the undersleeves of the dress, along with jewels. While undersleeves were made with silk chiffon, the rest of the dress was silk. Despite the fanfare about the wedding and the dress, Anne's marriage to Mark Phillips did not last. The pair went on to have two children, Peter Phillips and Zara Tindall, before separating in 1989. They divorced in 1992. The real reason why Princess Anne got divorced was due to allegations of infidelity from both parties.
Nevertheless, both went on to remarry. Anne tied the knot with Vice Admiral Sir Timothy Laurence, a formal navy officer, in December 1992. Unlike her first wedding, Anne's nuptials to Laurence was a small family-filled occasion. Her parents, Queen Elizabeth II and Prince Phillip, attended the wedding. Anne's children and her siblings, King Charles and Prince Andrew, were also there.
Under the Church of England, Anne, as a divorced individual, was not allowed to get remarried in England. Thus, Anne and Laurence married in Scotland, where this rule did not apply. Instead of a gown, Anne wore a white suit ensemble that featured a mid-length dress with a high neck. A white jacket and black shoes completed the look. Both of Anne's wedding looks were far from traditional and accentuated her fashion-forward style.