Want A Timeless And Elegant Wedding Day? Behold The Wine-Wedding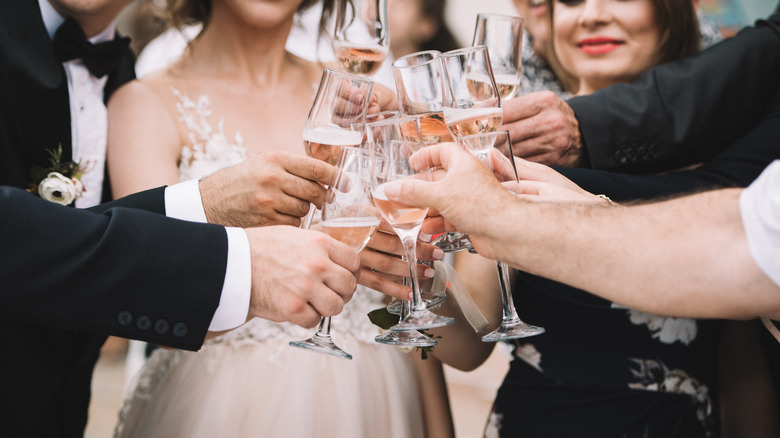 Kristiangjorgjiev/Getty Images
We may receive a commission on purchases made from links.
Does your idea of a great date involve a drive to wine country for an afternoon in the tasting room? Does your living room have at least one pillar vase filled with corks? Did your beloved have a bottle of your favorite Riesling on hand when they proposed? Do you appreciate what wine does for your body as well as your soul? Then consider planning your wedding around your favorite fruit of the vine.
Unlike some other wedding themes, which can feel dated or cheesy over time, a wine wedding is both classic and classy. In her 2022 book "Wine Weddings: The Ultimate Guide to Creating the Wine-Themed Wedding of Your Dreams," New Hampshire winemaker Amy LaBelle explains, "Winemaking is an art, a labor of love. And its timeless nature can convey a sense of elegance to your wedding day." LaBelle adds that choosing this theme from the start makes it easy to plan all the little details, saying, "Every single decision can be made through the lens of wine."
The key is consistency. Once you've decided on wine as your theme, don't muddle it by adding other concepts, advises LaBelle. You and your partner may love the Green Bay Packers or "The Mandalorian," but you'll lose the whole vineyard aesthetic if you put football helmets and Grogu figurines on the reception tables along with the bottles of Pinot Noir. By incorporating wine into your décor, menu, and finery, you'll create a romantic wedding day that everyone will be toasting for years to come.
A winery wedding is romantic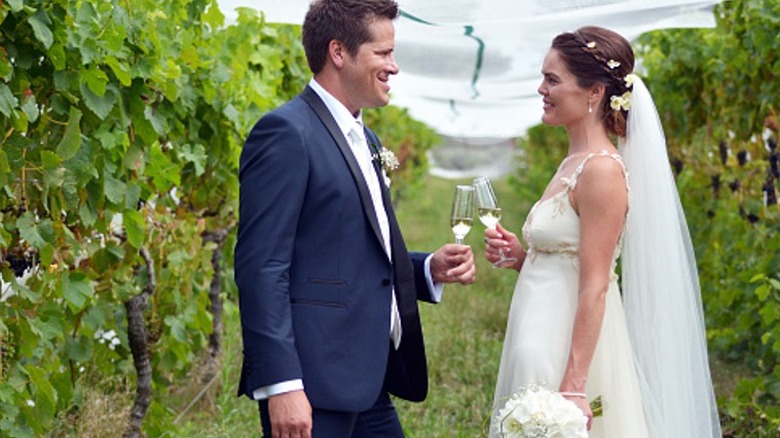 Chameleonseye/Getty
The easiest way to hold a wine-themed wedding, of course, is to rent out a winery for the whole wedding, or just the reception. Granted, it's not a cheap option. A venue in a popular wine-country destination such as Napa Valley might set you back $22,000 or more — and that's before you factor in costs such as music and photography. But if you can swing the price tag, you'll be treated to a super-romantic setting, beautiful photo ops among the vines and fields, great food (wineries work with experienced caterers), and of course, excellent reds, whites, and sparkling varieties for the festivities. Some larger wineries even offer an option of lodging for the wedding party and a morning-after breakfast. 
When looking for venues, consider your personal style. Are you into the casual feel of a rustic barn or the elegance of a Tuscan villa? Take a look at the wineries' photo albums to get an idea of your options. Does the site have outdoor dining as well as indoor rooms? Does it look as good in winter as it does in summer and fall? Whatever your need, you should have no trouble finding the ideal winery for your special day.
Use wine as your color scheme inspo
EugeneShchegolsky/Shutterstock
Even if you're holding your wedding at a catering hall or your backyard instead of a winery, you can still maintain the vino vibe by using a wine-inspired color palette for the day. Think burgundy red, rose, and champagne shades for your bridal party, perhaps opting for a darker shade for your honor attendant. (Dark red also works well for a male bridesmaid's outfit while keeping your aesthetic.) Carry out the colors with bouquets and floral centerpieces. Choose a merlot background for your wedding invite, or tie a wine-colored ribbon around the invitation packet. To really carry out the vineyard motif, include some green detailing and leafy vines in the flowers and invites, or incorporate grapes into the table décor. 
Use wine in your ceremony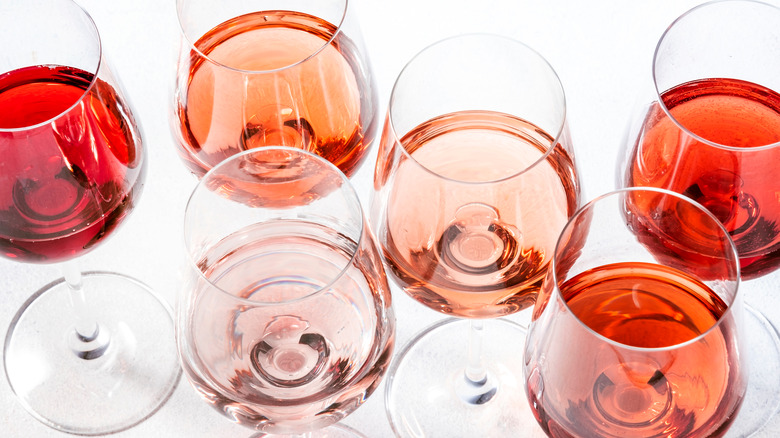 5PH/Shutterstock
Depending on your background, wine may already be a part of your wedding — all the more reason to opt for this theme. For instance, at a Jewish wedding, the bride and groom drink from two cups of wine. Holy Communion with wine is an important part of many Christian services. In the Japanese Shinto ceremony, the couple takes three sips each from three cups of rice wine, and then all the guests take a sip as well. But if your faith traditions don't normally involve drinking, consider the popular trend of including a wine ritual in your ceremony.
Similar to lighting a unity candle or blending two colors of sand, a wine ceremony represents the joining of two families. Some couples opt to drink from cups of dry and sweet wine, symbolizing the promise to be together through bitter and happy times. Another variation has each partner taking a glass of wine and pouring it into a larger carafe which they then sample. You can also include your parents in the ritual by having each set come forward with a bottle of wine. The moms and dads offer their own toast before pouring a glass for the bridal couple to share. 
Yet another suggestion, per Brides, is a wine box ritual. Couples place a bottle of wine in a box, along with personalized messages or other mementos, then nail the box shut. The wine is kept for drinking on the first anniversary or another significant milestone.
Bottle it up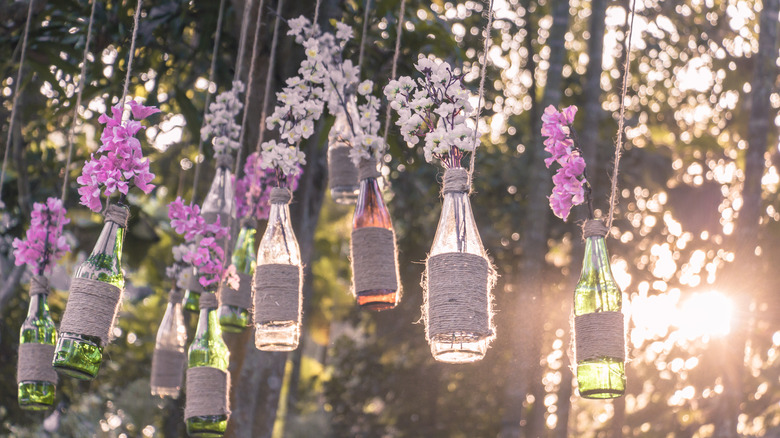 DmitryCh/Shutterstock
Naturally, your wine wedding will feature plenty of the actual drink, but don't ditch the bottles! Upcycle the empties by using them in your décor. Rustic Wedding Chic suggests some fun options: Use clear wine bottles as candle holders, vases for the aisles or tables, direction signs ("This way to the ceremony/reception"), or menu holders. Wrapped in twine, bottles take on a casual country feel; covered in spray paint or chalkboard paint, they become canvases for a couple's initials, table numbers, guest signatures, or quotes about love. 
That's not to say you can't use full wine bottles, as well. Full-sized or miniature bottles with personalized labels make a perfect wedding favor, or a thoughtful invite option for your bridal party.
Don't skimp on the corks
No wine wedding would be complete without corks (please spare us the speeches about screw-caps and boxed wine). To carry out the wine theme, look for inventive ways to use the familiar stoppers. Collect corks of your own to use as place-card holders, or find a specialty crafter, like @corkeycreations, who can stamp corks with your monogram, wedding date, or a special message. Fill glass vases or pitchers with corks as an alternative to floral centerpieces. Etsy sells wine cork holders shaped like alphabet letters. Order some with your initials or first names, then fill them and display them on a reception table. Finally, giving personalized cork wine stoppers as favors is a memorable and practical way to cap off (ahem) the day.
Bring wine into different foods and drinks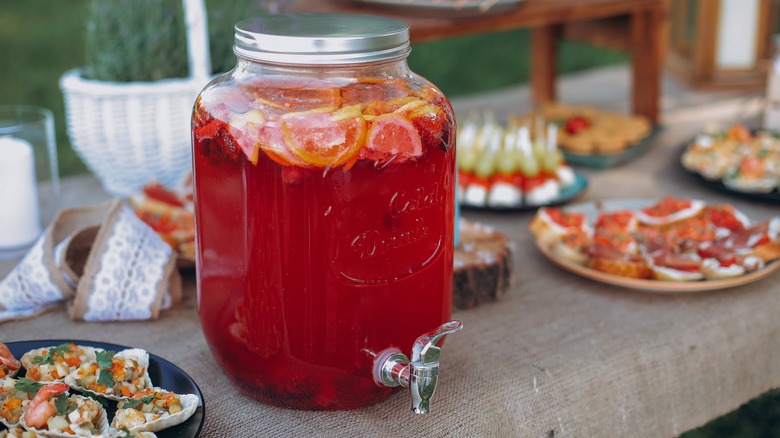 SERGIOKAT/Shutterstock
You're probably already planning to offer a choice of red or white wine for your dinner or luncheon. But don't stop there! Talk to your planner or venue about options for other wine beverages. For instance, for a summer wedding, a container of sangría would be refreshing; a winter date calls for warm spiced red wine. Offer cocktails like aperol spritz or frosé, or ask your bartender to create two or three specialty drinks based on the personalities of you and your intended. Look to TikTok for ideas, too. This sweet cocktail from @swanbranduk looks delish: Fill the bottom of a wine glass with muddled strawberries, then add one part raspberry vodka, three parts white wine, and a splash of lemonade. Top with a sprig of mint, and drink up! 
For guests who don't drink, offer some beverage options that go beyond soda and water. Sparkling cider, berry punch, and mocktails with nonalcoholic wines all keep to the theme without adding the buzz.
If you're holding the wedding at a winery, the menu will almost certainly feature meal items with a vineyard flair. If you've chosen another venue, talk to the caterer about dinner options such as filet mignon with red wine sauce, or salmon with white wine and garlic. 
Offer wine-y sweets
The wine theme doesn't have to stop when the coffee comes out; there are plenty of ways to use the grape in your desserts. Ask your bakery or cake provider if they can make a pink champagne cake for one or all of the layers. Or, if you're planning a dessert table, you could include options such as champagne truffles, red wine-poached pears, wine cupcakes (like these from TikTok's @bamdesserts), wine sorbet, or cakes decorated in wine-colored frosting. 
One caution: If you're serving wine-based desserts, be sure to present a sign labeling the treats as such, and offer plenty of nonalcoholic alternatives. Because alcohol doesn't completely evaporate out of baked goods, cakes with wine aren't safe for children or anyone who doesn't drink. 
No matter how you choose to do it, having a wine wedding will guarantee a beautiful day for everyone involved!