Jumbo Scrunchies Are The Hair Accessory To Have On Hand All Year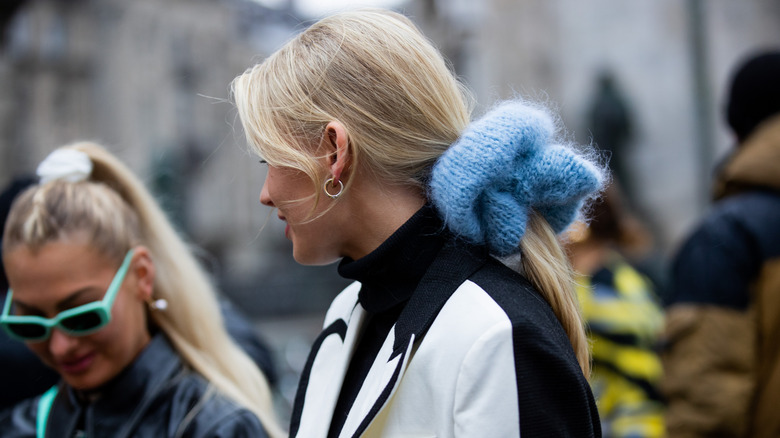 Christian Vierig/Getty Images
Hair accessories can turn your hairstyle from drab to fab. Silk scarves, headbands, barrettes, claw clips, and hair threads are just a few decorative pieces we love, but the list of stylish options goes on and on. Professional hairstylist Justin Toves-Vincilione shared with Today, "From the popular Y2K butterfly clips to press-on rhinestones, hair is becoming a playground for fun accessories." Hairpieces are fabulous for long, short, curly, or straight strands. They refresh any hairstyle. And one can't-be-missed accessory is the jumbo scrunchie.
Regular hair ties will always be essential for their functionality, and mini scrunchies had their shine on the ends of ponytails and braids, but jumbo scrunchies are taking over and claiming their place center stage. These beauties are super comfortable pieces that elevate any outfit, and cleaning your scrunchies is no sweat. Whether you're keeping it casual or need a look that is boardroom-ready, a jumbo scrunchie will do you justice. 
Giant scrunchies are a must-have hair accessory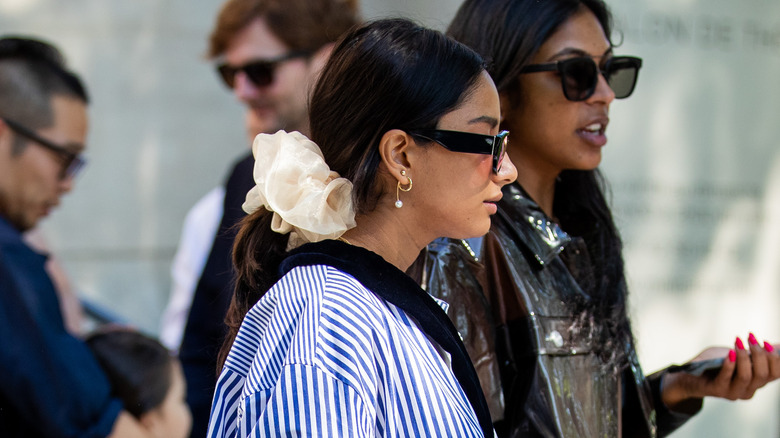 Christian Vierig/Getty Images
An oversized scrunchie instantly adds dimension to your hairstyle. With a jumbo scrunchie, a messy bun suddenly doesn't look like bedhead hair, and your post-workout mane doesn't have to hide under a hat. Celebrity hairstylist Nate Rosenkranz told Popsugar it's all about "extra large scrunchies in decadent, lush, or unconventional fabrics." You can find giant hair ties in lace for a vintage vibe, tulle for a Cinderella touch, silk for a polished finish, or even textiles like sherpa or velvet for a funky look.
Rosenkranz explains this hair accessory is trending because people "are looking for these small yet impactful ways to express their creativity." Not only are giant hair ties in various fabrics, but colors and patterns, too. It's like a wardrobe for your luscious locks. And when your scrunchie isn't in your hair, it can double as a chic bracelet. Embrace this bigger-is-better accessory and level up your hair game.
How to style your oversized hair ties
A simple way to style jumbo scrunchies is replacing those bland hair ties with its larger-than-life version. Well, you're not entirely replacing them. You'll still want to create your buns and ponytails with regular elastics, then place your stylish jumbo scrunchie over it. This way, you won't stretch out the giant scrunchie. You can mix and match these accessories by layering them. Add two, three, or more scrunchies to your ponytail, braids, or buns. It's just like pulling off the barrettes stacking trend.
Your extra large scrunchie can be a statement piece. So, you might not want to crowd your mane with claw clips and headbands while you're wearing one. You can maximize your outfit's cohesion by matching your scrunchie to colors in your attire or other accessories. Matching your shoelaces and scrunchie or the buttons on a blazer to this decorative tie adds intention and depth to your ensemble. It is an inexpensive accessory perfect for all hair types all year long.