How To Pull Off The Barrette Stacking Trend For A Quirky Hair Look
One precisely placed barrette can add an extra touch of glamour to your hairstyle — so imagine what positioning two, three, or eight hair accessories could do for your mane mojo — a whole lot, as demonstrated by singer Carly Rae Jepsen. The barrette-stacking trend is here, and tresses everywhere are rejoicing.
As a fashion statement, using multiple barrettes or hair clips can add sparkle, color, or a creative vibe to any hair look. The best part is you can choose how many to use and what kind to achieve the look you want. Slide in a matching set of rhinestone barrettes to get some twinkle power, or load in a half-dozen rainbow-bright clips for an energetic and quirky finish. Mix or match the accessories, pick a theme, or go random, and keep stacking them until you're satisfied.  
Not only will stacked barrettes up your fashionability but they can also up your styling game. Want to wear your hair behind your ears, but have all kinds of face-framing layers? One barrette will never hold them all back, but four or five will definitely do the job (one for each layer). The same goes for upsweeps — why use boring old bobby pins that blend in when you can dazzle with six pretty barrettes to keep strands in place. All you need is a little mane inspiration...
Do a little elegant stacking
Try a matching set of rhinestone barrettes if you want a simple way to ease into the trend. Sweep hair away from the face, then slide in three clips, equally spaced. If you start just above the ear and use open-oval barrettes to follow the curve of the ear, you'll have lots of sparkle power all down one side. This look works exceptionally well for brides or any special occasion that calls for a little more glam.
One plus one, plus one, plus one...
Three plus one more for good measure equals a total of four barrettes taking your mane moves to the next level. Each accessory is a little different in color or texture, but what brings them all together in a cohesive look is the size, which is the same for all four barrettes. They're also in the same color palette, firmly stationed in the neutral category in white and brown tones. The first barrette does the heavy lifting by keeping hair off the forehead, while the extras add backup reinforcement.
Bold, bright and beautiful
Less may be more, but more has its merits, too. How can you up your color game when you're already on point with the wardrobe? With hair accessories, of course — and in this case, lots of them. A simple row of white pearls adds a little extra something, but six or seven rows of multi-colored gems and beads add a whole lot of extra special. While the casual-bun style doesn't need any structural help, adding stacked barrettes along one side is a must for fashion purposes.
Make a statement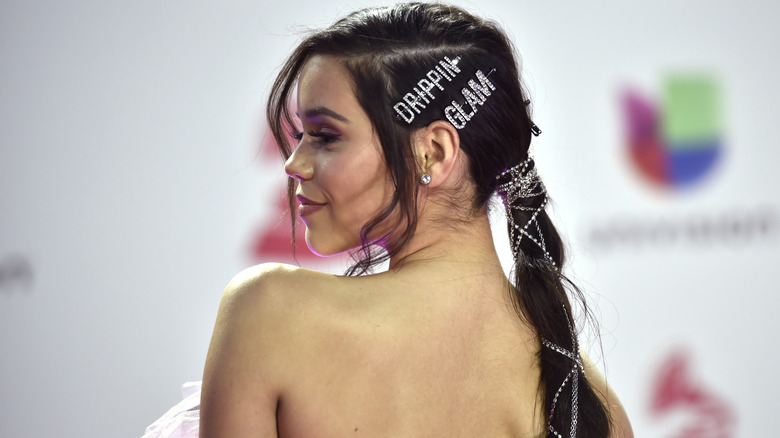 David Becker/Getty Images
No doubt actress Jenna Ortega is doing precisely what her two stacked barrettes announce — drippin glam. Word barrettes have always been popular, but the stacking trend gives you the opportunity to announce a whole sentence. Instead of just drippin, you can be dripping glam (or maybe glam drippin?). Your vocabulary is only limited by the space allowed by your hairstyle. You'll mostly find word hair accessories in rhinestones, which is a-okay since there's nothing wrong with adding some twinkle to your statement. 
Pick a theme and go for it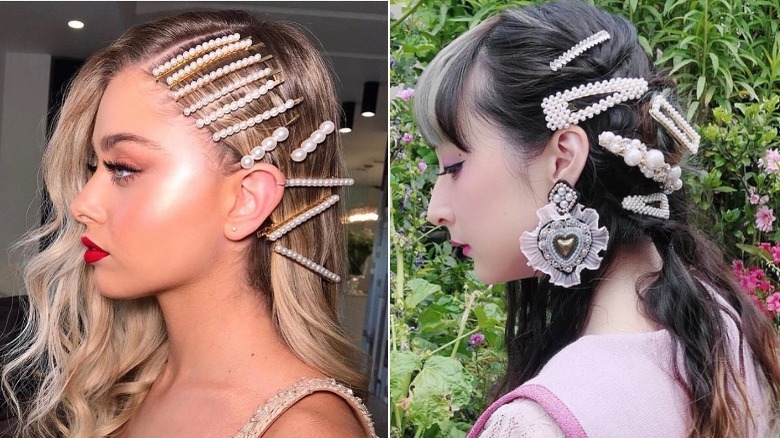 Instagram
Love pearls? Really go for it. Try nine matching skinny barrettes mixed with two fatter ones for a total of eleven hair accessories in one hairstyle. Or maybe just five barrettes will work for you, each in a different style and size. Stacked barrettes are always a creative and unique look, but you can also decide what other adjective to throw in the mix. Keeping bar barrettes aligned on one side emits elegance, while randomly scattering different shapes leans toward charming and quirky.
Divide and conquer
Got curly hair? Stacked barrettes will be your new favorite hair-accessory trend. A full-curl look is gorgeous for any occasion, but there may be days when you want to tame a few wayward spirals — especially when you want to show off the new sunglasses. Simply part hair down the middle, then use three small barrettes on each side to help keep curls contained. While most stacked-barrette looks usually stick to one side, you have full permission to split the stacks whenever you want.
Pretty with a purpose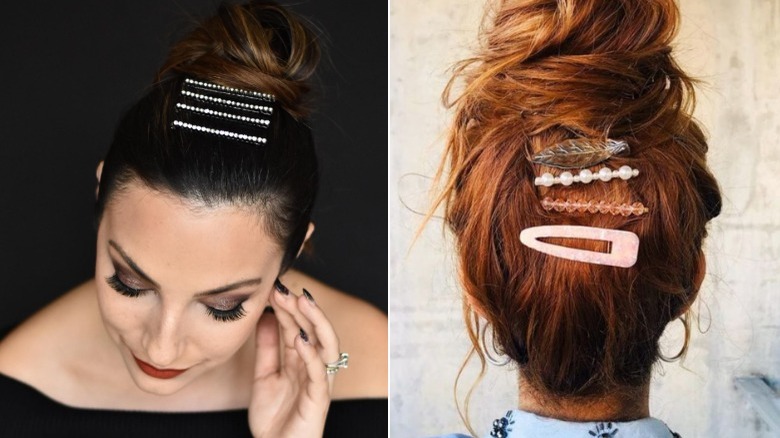 Instagram
You know how when you try to pull all your hair to the top of your head, there are always strands that pop back out to annoy you? And how you have to wear 17,000 wimpy bobby pins to keep things somewhat neat? Here's your alternative, all wrapped up in a pretty package. A barrette is obviously bigger and sturdier than a bobby pin and can hold more hair, too. Stacking four barrettes together can easily wipe out the need for at least 16,598 of those bobbies.
Go for the gold
Pearls and rhinestones are popular choices for stacking barrettes, but there are definitely other options available. And they don't all have to be traditional barrettes, either. TV personality Dorit Kemsley shows off mostly gold-toned hair accessories in various shapes and sizes. Bar barrettes are stacked with dangling ones, and smaller clips are tucked in here and there. The gold picks up the metal detailing on her dress and helps complete the look from head to toe.
Mix and match metals
Silver is stunning, gold is gorgeous, and rose gold is glam. Stack them together on one side, and you have a mixed-metal mane worthy of admiration. Slide barrettes into hair, one right next to the other, to show how the colors play off each other and sparkle in perfect harmony. While traditional barrettes are often secured via a clicked-together clasp, finer hair types may find hair clip-style barrettes connect with tresses more easily and stay put more securely. 
Jump into the big leagues
Barrettes come in all shapes and sizes, including extra large. While you may be used to wearing one large barrette to hold your tresses in their style, you don't have to stop there. Actress Kerry Washington didn't stop there. One big pearl clip positioned at the temple holds tresses to the side, while a second one is positioned further away, echoing the first. It's a great way to have the look of statement jewelry without actually wearing jewelry.