The Young And The Restless' Jason Thompson Starts A New Chapter After Devastating Fire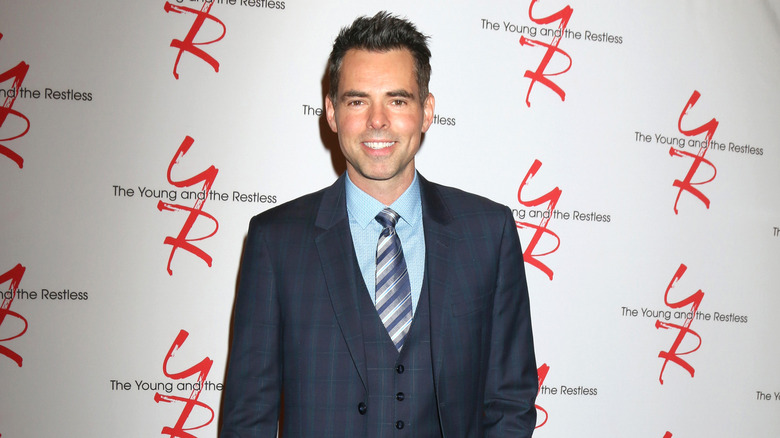 Kathy Hutchins/Shutterstock
It's a special thing when a soap opera actor can move from one show to another and still garner the fan love that they did on the previous one. Jason Thompson became a fan favorite and heartthrob when he played Dr. Patrick Drake on "General Hospital." The character even briefly moved over to the show's spin-off series "General Hospital: Night Shift." When Patrick, his wife Dr. Robin Scorpio (Kimberly McCullough), and their daughter Emma (Brookyn Rae Silzer) left Port Charles for California in 2016, Thompson had no trouble sliding into the role of Billy Abbott on "The Young and the Restless" — a role that had become synonymous with actor Billy Miller.
But Thompson easily made the part his own and despite some fan trepidation, he won them over with his nuanced performance. Miller graciously gave Thompson some pointers on playing the character, and Billy Abbott is still mired in all the wonderful soapy drama of "Y&R" to this day.
In 2018, a fire in California started in the Woolsey Canyon, devastating several houses and the area, which came to be known as the Woolsey fire. Sadly, many stars like Neil Young and Gerard Butler lost their homes, and Thompson's house was also consumed by the fire. But now the actor has good news for everyone.
Thompson and his family look toward new horizons
"The Young and the Restless" star Jason Thompson took to Instagram to post great news about his family's current housing situation. Along with a video of a beautiful plot of California land with what is presumably his son Bowie Banjo walking through it, the actor superimposed the text: "Just over 3 years ago we bought a piece of land in Malibu, CA after the original home was lost in the Woolsey fire, November 2018. We sold our 1st home where our babies were born and we took a chance. After a very long process, we are finally very close to starting the actual build. The dream has taken patience, hustle, passion and faith, not to mention partnerships. We are nervous, extremely excited and grateful for the opportunity to build our family home on this slice of earth."
Thompson's wife, model and influencer Paloma Jonas, replied with the heartfelt, "Dreaming big with you always." Co-star Tracy Bregman (Lauren Fenmore) responded, "So happy for you all." The well-wishes and congratulations were abundant with one fan replying, "How wonderful for the two of you to make this dream come true for your family . Wishing you peace and contentment in your soon to be family home." Actor Ryan Smale lovingly posted, "Congrats man. The dream." 
Along with his devoted followers, we're extremely happy for Thompson and his loved ones as they build a new family home!