Here's How Rose Perfume Really Got Its 'Grandma Scent' Reputation
Onairjiw/Getty Images
The rose has long been associated with love and beauty from ancient Roman and Greek goddesses through to their ubiquitousness on Valentine's Day. Legend has it that Cleopatra used rose petals to help seduce Mark Antony, per History Extra. She also used roses in her bath, soaking in rose water. She had the right idea — there's a reason why you should be spraying rose water on your face.
"Stop and smell the roses" reminds people to slow down and enjoy the beauty around them since many of us would agree that the scent of roses is a lovely one, worth stopping and appreciating. So, wanting to wear the scent of roses just makes sense. Rose water and rose oil, both of which have been used for thousands of years in skincare, cosmetics, and perfume, are made from distilling rose petals. Roses are often hand-picked in the mornings to be used in perfume, and it can take 60,000 roses to make just one ounce of rose oil, according to The Smell of Roses. That's quite a lot of work into getting that lovely rose scent from the garden to the bottle. But for some, roses have more of a "grandma scent" reputation, and they have no interest in wearing it themselves. Let's break that down and see if it holds up to today's trends.
Is it fragrance for grandmas or is it a classic scent? It's all subjective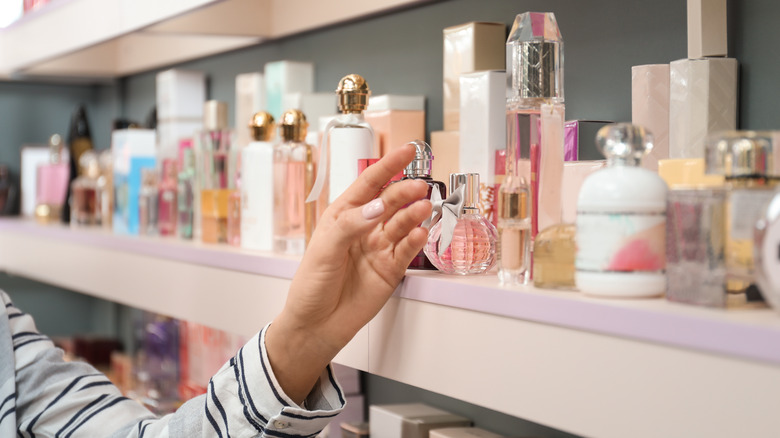 New Africa/Shutterstock
Fragrances and perfumes have deep connections to memory, and it might be that a rose fragrance triggers memories of your grandmother or other older relatives. The rose scent could have come from a number of sources: soap, talcum powders, or perfumes. However when you smell rose, it makes you think of something from another era. There's even a term for it — "old lady perfume."
Old lady perfume, while not actually specific to rose scents and definitely leaning towards ageism, is used by some for perfumes released between the 1920s and 1980s, according to Harper's Bazaar. One of the most well-known old lady perfumes is Chanel No. 5, which launched in 1921. Each 30ml bottle contains 12 roses, as reported by The New Yorker. Along with the rose florals are powdery and soapy notes, and you likely first smelled it on someone who's older. Another potential reason for the grandma association with roses is that many popular perfumes of the 1980s featured strong, powerful floral scents, many of which included rose notes. 
But, beauty is in the eye, or rather nose, of the beholder when it comes to perfume. So, whether it's the powdery, soapy smell or the strength of a perfume that makes roses seem better-suited for an older woman, it's really all subjective. However, should you avoid rose-scented perfumes so people don't think of you as older? 
There are definitely modern ways to wear rose perfumes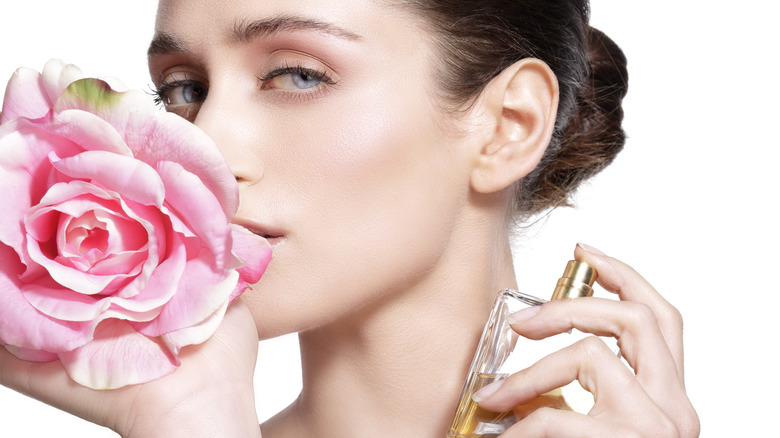 ipag collection/Shutterstock
Very often, what goes around comes around in the beauty world. Just because some "old lady" rose perfumes can tend to the more powdery, strong floral side doesn't mean there aren't more modern rose scents. Don't let the mention of roses put you off, particularly if you're trying a new scent for the first time or looking for it online. Banish buyer's remorse with our best online perfume shopping tips, and remember 75% of perfumes marketed for women contain roses, according to The Perfume Society. At least 10% of perfumes targeting men have roses as well, so it would be tricky to avoid roses altogether.
Avoiding the more powdery and soapy floral scents will help keep you out of "grandma scent" territory — though if powdery florals are your style, more power to you! Here are some rose-based perfumes that won't make you smell like you've aged overnight. If you want to splurge, Clive Christian 1872 Feminine brings in the sweetness of roses along with citrus top notes and a woody base. Musc Noir Rose For Her by Narciso Rodriguez, launched in 2022, has musky and vanilla notes along with rose. It's also trending on TikTok as the perfume French women are wearing. Once you've nailed the French girl look, you can make sure to add in the French girl perfume, too. You might also like Tom Ford's Rose Prick perfume, which is inspired by his own garden and adds a warm spicy scent to the rose.