The Blonde Girl's Guide To Picking The Perfect Purple Shampoo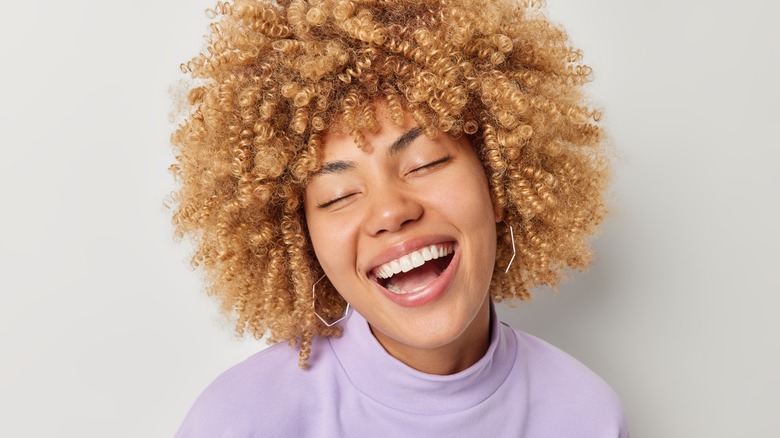 Wayhome studio/Shutterstock
Whether you're a natural blonde or have achieved your lighter tresses with the help of a hairstylist, it's safe to say that maintaining the shade you have is as important as it is detailed. If you received a salon treatment, there are certain things you probably talked about with your stylist, like how to keep your blonde hair from turning green. Aside from that, knowing what goes into having color-treated hair is essential.
Dying your hair involves bleaching it to a lighter shade, better known as lifting. Because of this, it makes your hair more vulnerable and susceptible to damage such as breakage. Although you can achieve blonde locks at home, it's recommended that you seek the help of a professional stylist so they can properly assess your hair's health. For instance, bleaching curly hair may involve a different process than someone with straight hair.
The purpose of purple shampoo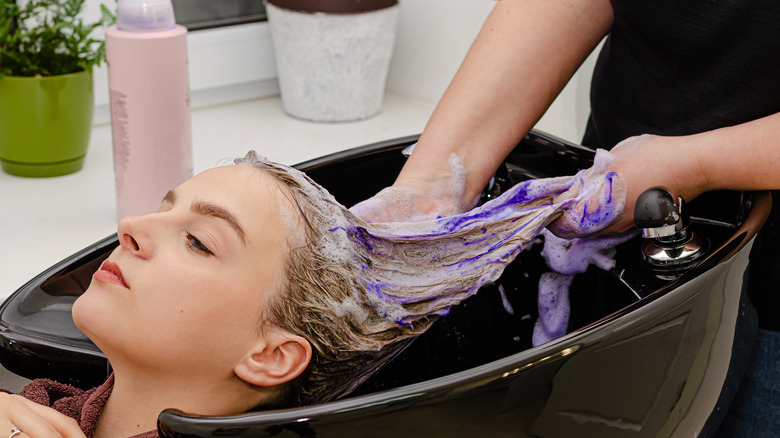 Tetiana Tychynska/Shutterstock
Once it's been determined that your hair can withstand being dyed blonde and you achieve your desired color, it's time to start thinking about the shampoo you want to use. But keep in mind that all shampoo isn't created equal, especially now that you have color-treated hair. Blonde hair requires the use of purple shampoo — yes, you read that correctly.
The purple helps to maintain the shade of blonde you have by toning it. In an interview with Byrdie, hairstylist Carolyn Gahan shares a more in-depth reasoning for how this is made possible. "Purple shampoo works by neutralizing any unwanted yellow or warm tones to your blonde or gray hair," she said. Since your hair is dyed, regular salon visits are necessary to combat the effects that certain things have on its color — like washing your hair multiple times. Until it's time for your next appointment, using a purple shampoo suited for your hair will keep it from becoming brassy.
How to find the right purple shampoo for your hair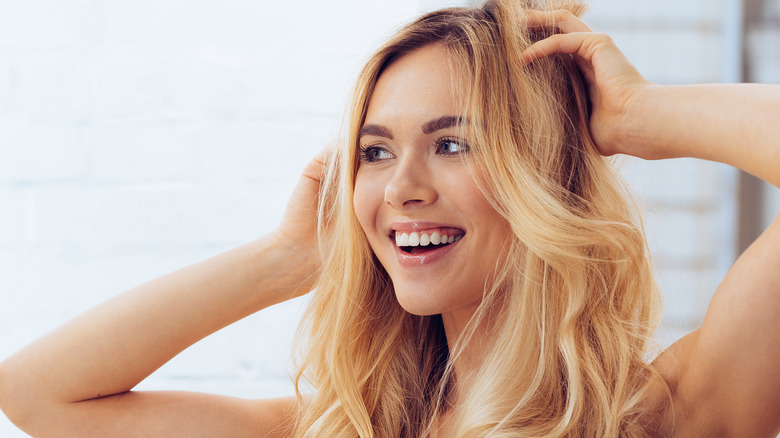 G-stockstudio/Getty Images
While purple shampoo has wonderful benefits, it's not meant to be the sole shampoo you use. Instead, you can think of it as another at-home treatment. L'Oréal Professionnel's UK editorial ambassador Adam Reed told Get The Gloss that "Overuse of purple shampoo can sometimes over-eliminate tones and make the blonde appear visually darker, which isn't always the desired effect."
You also want to consider your hair's texture and porosity because they affect how your hair will respond to purple shampoo. For those with curly hair, the key is to not only maintain the shade of blonde you have but also to retain moisture. When searching for a purple shampoo, try to stay away from anything that contains sulfates in the formula. This can cause your hair to become unnecessarily brittle, thus leading to the damage we mentioned earlier. Even if your hair is straight but tends to be on the dry side, a sulfate-free shampoo is the better option for you to use.