How To Keep Your Blonde Hair From Turning Green Post-Swim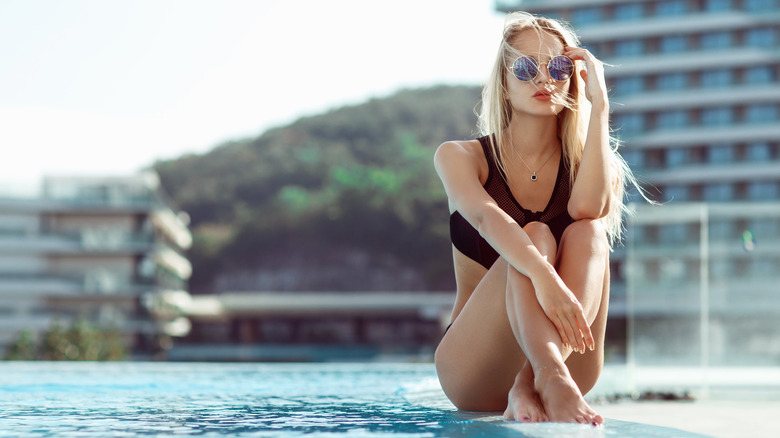 Chirtsova Natalia/Shutterstock
There are fewer things as relaxing as lounging poolside, soaking up the sun, and taking a refreshing dip in the water. As a blonde, you've probably been told to limit the time you spend swimming in pools for the sake of your hair. If you've ever noticed your blonde hair starting to turn green, the pool may be to blame. Whether you have cashmere blonde locks or are rocking the buttery blonde trend, your hair could be at risk of turning green.
Swimming pools often contain copper and chlorine, which are the main culprits when it comes to giving blondes that unwanted greenish hue. According to SELF, metals like copper become oxidized by chlorine and hold onto your hair, which causes it to turn green. The lighter your blonde color is, the more noticeable the green tint will be. You don't have to give up your relaxing pool days just yet — there are a few preventative measures you can take to keep your hair color protected and vibrant all pool season long.
How to protect your blonde locks from the pool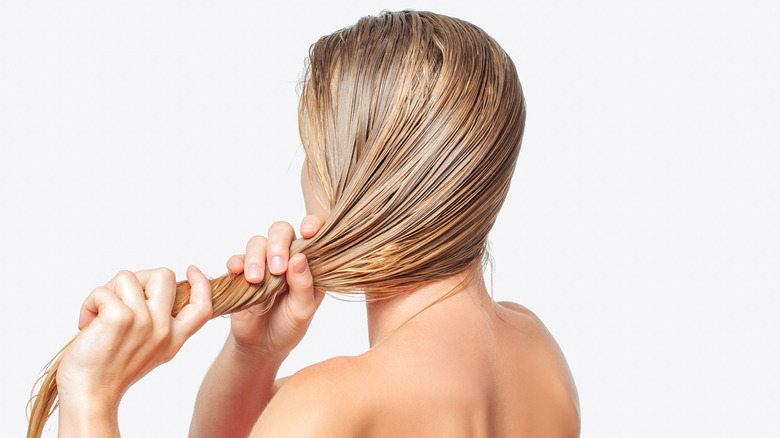 Dmytro Flisak/Shutterstock
Avoid getting into a pool with dry hair. Before you jump in for a swim, wet your hair thoroughly to add a protective layer to your locks. Dana Ionato, a colorist at Sally Hershberger Downtown in New York City, tells Allure, "If you jump into the pool with dry hair, it's going to suck up the chlorine-and-copper water as fast as possible." 
You can also wear a swimming cap to shield your hair from the water. Wet your hair and put a deep leave-in conditioner into your hair. Then, put on the swimming cap before entering the pool (via SELF). A deep leave-in conditioner will seal the hair's cuticles, making it more difficult for the harmful chemicals in the pool to soak into your locks. This isn't the most effective way to keep your tresses from turning green, as water can still penetrate the cap and absorb it into your hair.
What to do if your locks turn green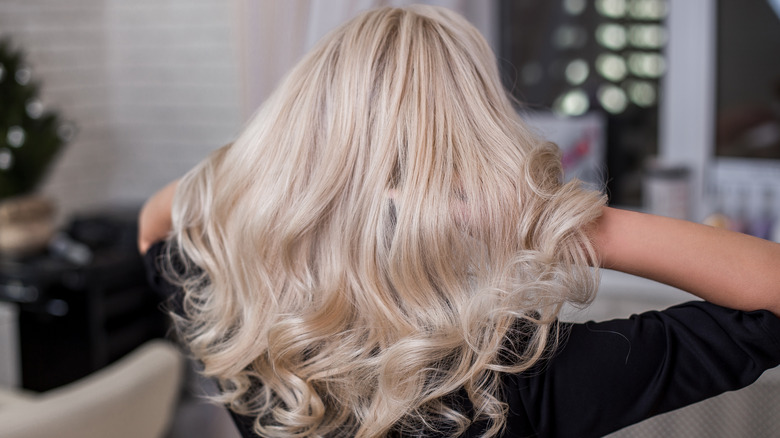 galyakiss/Shutterstock
If your locks still turn green after a dip in the pool, there are a few simple ways to fix them. After swimming, use a clarifying shampoo to rinse the chemicals your hair soaked up from the pool. We recommend the PATTERN by Tracee Ellis Ross Cleansing Shampoo. This clarifying shampoo works to remove buildup and clarify the hair without stripping away the healthy oils that help your tresses thrive. You can also try K18's Biomimetic Hairscience PEPTIDE PREP Clarifying Detox Shampoo. This color-safe shampoo removes 99% product buildup and 76% copper buildup to give you back your luscious blonde hair.
Another option is to visit your local hair salon to book a clarifying treatment. Ionato tells Allure she recommends booking the Redken Pre-Art treatment at a salon. This professional clarifying treatment removes copper buildup and green hues from blonde hair and refreshes the overall color.