Why You Sometimes See Kate Middleton Ditch Her Engagement Ring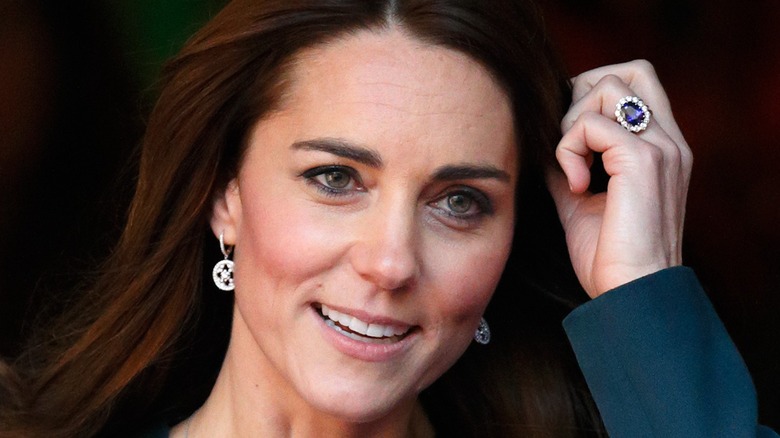 Max Mumby/indigo
Prince William and Kate Middleton announced their engagement in 2010, and fans went wild. The couple seemed like the perfect fit for the royal family, and to make the story more heartwarming, William gave his future wife his late mother Princess Diana's gorgeous sapphire engagement ring. "It's my mother's engagement ring," William said during the couple's engagement interview, adding that he believed giving Kate his mother's ring was a great way to include Diana in the wedding process, per Marca.
The ring was originally given to Diana by William's father, King Charles III, in 1981. However, Kate almost didn't get Diana's iconic engagement ring. After Diana's heartbreaking death, William's younger brother, Prince Harry, inherited the sapphire engagement ring. Regardless, when William decided to propose to Kate, Harry offered it to his brother to give to his future wife.
Sapphires have been a trend in the royal family for years — even Queen Elizabeth's own mother, Elizabeth Bowes-Lyon, sported a sapphire engagement ring, as well as Princess Anne during both of her marriages. Of course, Kate is now the proud owner of the stunning piece of jewelry, although she has been known to leave it behind from time to time while out in public.
Kate Middleton has a good reason for not always wearing her engagement ring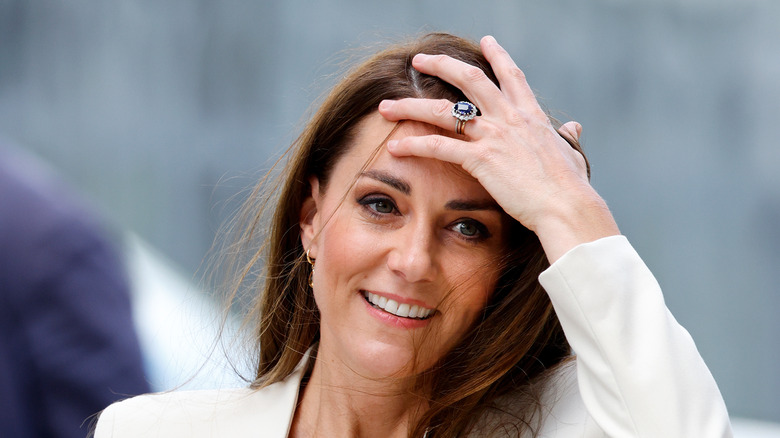 Max Mumby/indigo/Getty Images
While Kate Middleton's engagement ring is one of the most recognizable in the world, thanks to its first owner Princess Diana. However, the future queen isn't always sporting the iconic piece of jewelry. In fact, fans have noticed that Kate has a tendency to ditch the stunning sapphire on a regular basis. However, she's said to have good reasons for leaving the ring at home from time to time.
Jewelry experts at Steven Stone tell Express that Kate's reasoning behind taking off her engagement ring likely boils down to health and safety (via Brides). When Kate is involved in activities that could possibly damage the historic ring, she tends to be seen without it. "Kate typically removes her engagement ring whenever she is taking part in physical activities and sports or when there is a greater risk that the ring could become damaged or lost," one specialist stated.
In addition, Kate's also been seen without her ring for visits to the hospital to avoid any health hazards. It seems logical for the Duchess of Cambridge to keep the ring protected as it's said to be worth about $500,000. Because using products on your hand can cause damage to rings, it appears Kate is doing all that she can to keep Diana's sparkler looking its best.
Kate has been spotted in other pieces of Diana's jewelry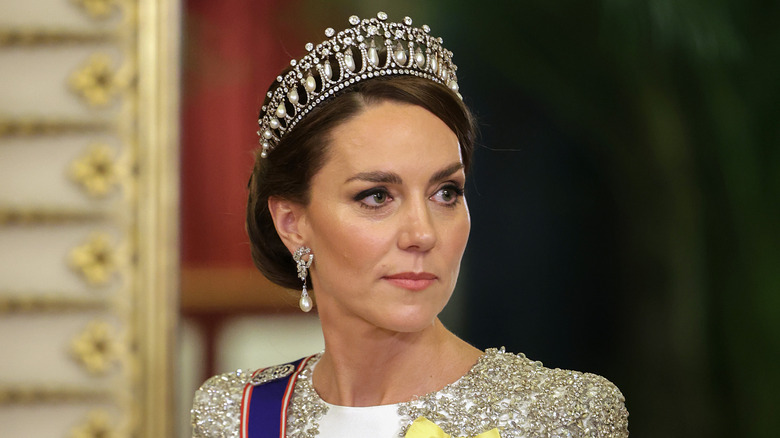 Chris Jackson/Getty Images
While Kate Middleton's engagement ring is well known to be Princess Diana's ring first, the future queen has also sported many of her late mother-in-law's jewelry pieces over the years. In November 2022, Kate looked stunning in Diana's former tiara as she celebrated a banquet in honor of King Charles III. Kate is also a fan of Diana's pearl earrings, which she's been seen wearing on multiple occasions over the years. She's also worn more of Diana's pearls in the form of a choker and bracelet. Kate also stunned when she arrived in Boston rocking Diana's emerald green choker during an appearance at the Earthshot Prize Awards.
For her part, Prince Harry's wife Meghan Markle has also worn pieces of Diana's jewelry. She's been photographed wearing the late royal's gorgeous aquamarine ring, butterfly earrings, diamond tennis bracelet, and more. Her engagement ring also includes diamonds that once belonged to Diana.
It appears that Kate and Meghan are both concerned with preserving Diana's jewels and wear the gorgeous pieces with pride and care as they continue the legacy of the royal family moving forward.