Why It May Be Time To Ditch Your Hair Mask For Hair Waters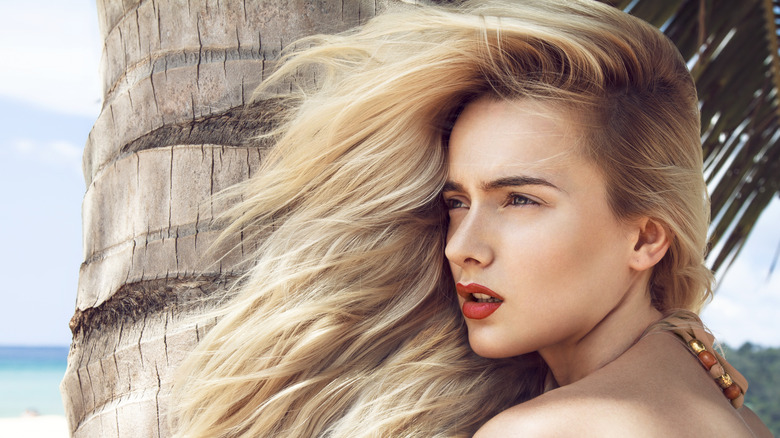 Andry5/Getty Images
Hair water may not sound appealing if you have dry, damaged hair. Rich conditioner? Yes. Lush hair mask? Definitely. In all honesty, hair water sounds kind of underwhelming. But, if you remember when micellar water first hit shelves, you'll know we were all skeptical about that unassuming bottle of water too. Now, most people keep it on hand for removing makeup while hydrating their skin. Suffice it to say, you shouldn't sleep on hair water.
Hair waters like L'Oreal's 8 Second Wonder Water Lamellar Hair Treatment promise to transform dry strands into shiny, nourished lengths in seconds. Much like micellar water's versatility, it's suitable for all hair types. It's as easy as applying the water, which is really a liquid clear conditioner, to your hair after shampooing, focusing on the most important place to use conditioner, which is your ends. Then, work into a lather so it can do its thing for a minute, and rinse. 
Don't be surprised if you experience a warming sensation, as many include this relaxing side effect. We know, it seems too good to be true, applying "hair water" to wet hair and then rinsing it with...more water. But the results can look and feel heavenly!
How does hair water work?
Unsurprisingly, hair water shares even more similarities with micellar water. The version for your tresses uses lamellar technology as opposed to micelle technology. Tiny pockets of nourishing ingredients, like amino acids and proteins, are mixed with cationic polymers, which is just a fancy name for positively charged molecules. When applied to your hair, the particles practically force the healing products into your follicles. 
Not only does this help repair and replenish damaged areas of your hair cuticle, but it creates a second hair cuticle by bonding the strand together and filling in the gaps between layers, as Jack Cunningham Rose, an educator for Redken, explained to Get The Gloss. Hair water's intense repair properties make it excellent for hair that has seen some things, like frequent bleaching or heat styling. 
For example, Redken's Extreme Bleach Recovery Lamellar Water Treatment is specifically formulated for one of the most common ways we ruin our hair. When applied post-shampoo, it decreases the hair's porosity, leading to increased smoothness and shine as it detangles. It's like all the benefits of your favorite hair mask but in a light, liquid formula that seeps into the hair, leaving no heaviness or grease behind.
Is hair water right for you?
If you're skeptical, you might want to skip the pricey hair masks and give hair water a try. Because it's a liquid instead of a thick cream, it often penetrates deeper. Furthermore, the lamellar technology allows ingredients to bond to your hair instead of just sitting on top of it while they try to sink in. The only downside is that, as you can imagine, you might feel like you need to apply more hair water to equal the work of a creamy conditioner. 
Additionally, as hair water is able to be used daily like your step-2 shower staple (i.e. conditioner), you may find yourself going through the product much more quickly. Nevertheless, if hair water has yet to win you over, consider that it can work on nearly any texture and type. Whether you're fine and straight or coarse and curly, nutrient-rich lamellar water will drench your locks in revitalizing ingredients and leave them looking downright swishable. 
As Redken artist Catherine Allard put it to Chatelaine, "[Post-treatment] you'll find your hair has [an] instant softness and it will be extremely shiny since the cuticle of each strand will be smoothed while the treatment creates an extra layer on the cuticle to boost shine." In fact, we won't blame you if you're so impressed that you toss your tresses around like you're the star of your own hair commercial.