Need A Weighted Blanket To-Go? Try A Weighted Sweater For Anxiety Relief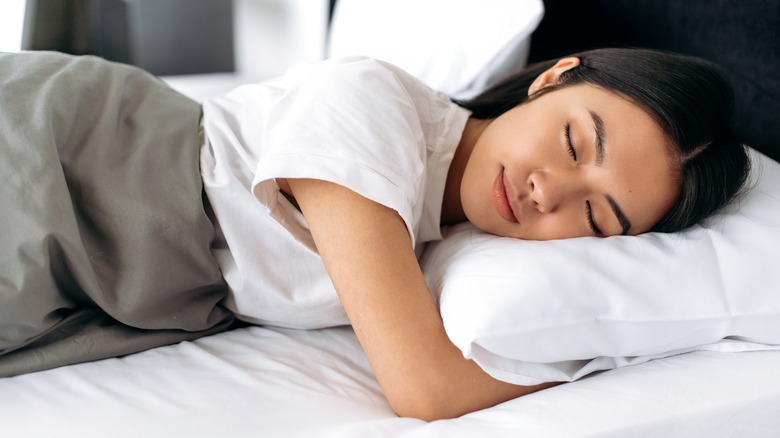 Kateryna Onyshchuk/Shutterstock
On incredibly anxious days, nothing feels as elusive as stress relief. A pocket-sized therapist to travel with you always and provide helpful advice would be nice, but since such a thing is impossible, other techniques to lessen stress must be tried. Some people turn to essential oils to combat anxiety. Others try meditation, which in addition to helping with stress or anxiety, can help with things like depression and high blood pressure. 
One tool that is scientifically proven to help with anxiety is weighted blankets. According to the company Bearaby, which manufactures weighted blankets and similar stress-relieving items, deep touch pressure (or DTP) is why weighted blankets are successful. DTP stimulates your pressure points to increase the creation of serotonin and melatonin in your body, causing you to feel good and sleep well. DTP also lowers cortisol so you do not feel as stressed.
Weighted blankets are great, but stress happens all day long — not just in the twilight hours. If you want something for your day-to-day anxiety, you can try the Napigan from Bearaby.
A weighted blanket you can wear
The Napigan — a combination of the words "Napper" and "cardigan" — is a weighted sweater and one of the first weighted, knitted sweaters around. It is the wearable version of Bearaby's Cotton Napper weighted blanket and has the same anxiety-fighting benefits: with DTP, the Napigan helps your body produce more good hormones and decrease cortisol levels.
Like its blanket counterpart, the Napigan is made from soft organic cotton. It is sustainable due to how it is manufactured and, according to the Napigan product listing, " is free from harmful chemicals, pesticides, synthetics, or artificial softeners."
The stylish weighted sweater comes in two options: the first is the 7-pound Ribbons, which is an oversized sweater with a color block mix of light gray, white, and navy. The second is the 5-pound Confetti, which is a cropped variation with the same colors plus an added light pink section. The Napigan is also hand-knit and machine washable.
Response to the Napigan
The product listing page for the Napigan on Bearaby's website boasts a majority five-star reviews. On an Instagram advertising the release of the Napigan, many commenters were thrilled about the product and expressed interest in getting one themselves. One person said, "Okay this is life changing omg." Another commented, "GENIUS."
If you are looking for ways to be less anxious throughout the day, wearing a Napigan may be something beneficial for you. However, there are other weighted clothing options that you can consider depending on your style, cost, and weight preferences. For example, company Thera sells a weighted hoodie called the Therahoodie that weighs 10 pounds. Or, if you are not sure about a wearable option, Bearaby also sells pillows to help with stress and help you sleep better. 
Stress relief is possible. Whether you turn to a weighted blanket or sweater, essential oils, or meditation apps, there are many healthy ways you can care for your mental health.