How To Do Your Brows When You Have A Round Face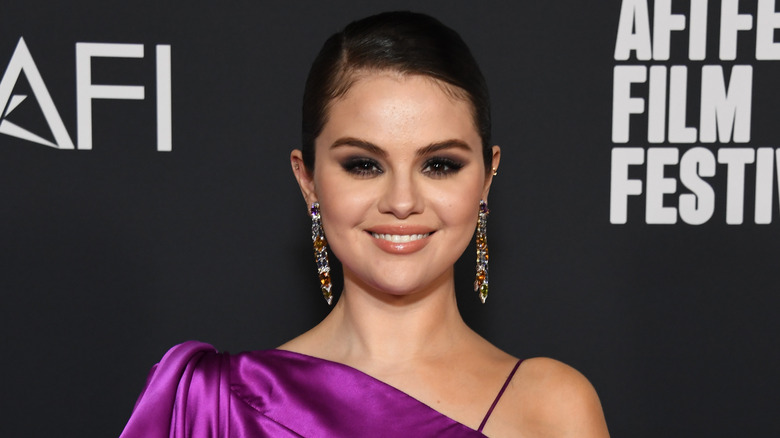 Jon Kopaloff/Getty Images
Have you ever gazed into the mirror and thought something feels... off? Everything is seemingly fine, but there's one missing detail you can't quite figure out. Chances are, it's your eyebrows. Those inconspicuous clusters of hair on your forehead can make or break how you're perceived. Outside of their scientific function of keeping light, sweat, and dirt away from our eyes, they also frame the face and help us express feelings.
The way eyebrows are arched and shaped can lend you emotions that you're not even feeling, aka resting sad or surprised face. While the straight brow may look good on some people, it makes others look perpetually upset. What's the key to figuring out how to shape your eyebrows to accentuate your features perfectly? Understand which look best fits your face shape! Just like choosing the best glasses for your face shape, finding the best brow shape will elevate your look. If you think you have a similar face shape to round-shaped beauties such as Amy Adams or Selena Gomez, then read ahead for some beauty suggestions!
How to shape brows for a round face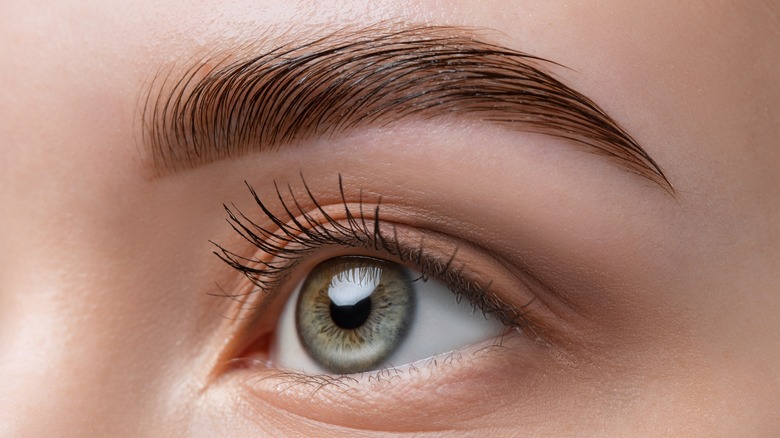 dimid_86/Shutterstock
By looking at your forehead, cheekbones, and jawline, you can determine your face shape. Although nobody has a face that fits perfectly into a circle, round faces are more symmetrical. While the length of an oval-shaped face is more than the width, round faces are equal in length and width.
There aren't any sharp features found within a round face: You'll have full, round cheeks with a chin that's equally as soft. To add some structure to your face, go for a brow with a high arch that's not too sharp. While the arch of the brow will give your face some lift, the softness will match the natural curves of your features. Before shaping your brows, you'll need to do some eyebrow mapping to ensure you shave, wax, or pluck your eyebrows into your desired pattern.
Using an eye pencil, draw a dot where the front of your eyebrow lines up with the corner of your nostril. For the arch, use the pencil to create a line from your pupil to where the arch should be. Finally, the end of the brow should line up with the outer corner of your eye. Once all the marks are in place, slowly remove the hair that falls outside of these dots.
Shop our favorite brow products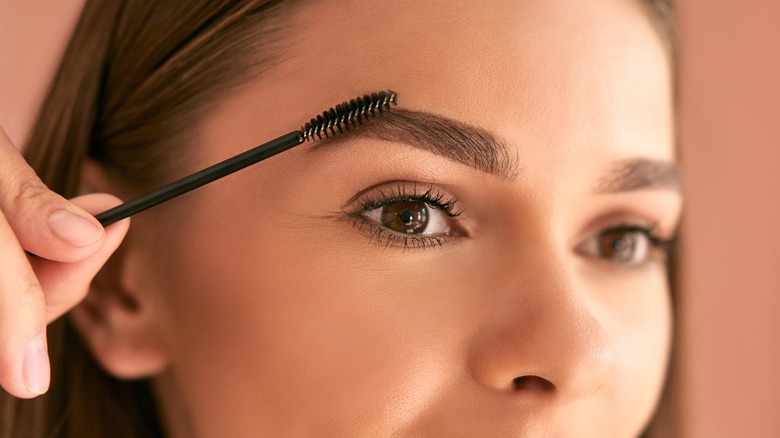 Velista production/Shutterstock
To create the perfect round arched brow, use the NYX Micro Brow Eyebrow Pencil. This ultra-fine pencil allows you to create hair-like strokes for a fuller-looking brow. Using short strokes, you can create a shape and add definitions to your eyebrows. If you're short on brow hair, try the Anastasia Beverly Hill Dipbrow Pomade. With the assistance of an angled brush, you can create soft, natural-looking brows even if your brows are on the sparser side.
For setting your brows, use Hourglass' Arch Brow Volumizing Fiber Gel. The smudge and flake-proof formula accentuates your natural brow hairs, creating a fuller look that sets them into place without messing up already applied makeup. To highlight under the brow, conceal lingering hairs, and really make your eyebrows pop, use the Nars Radiant Creamy Concealer. This hydrating concealer has medium coverage with a radiant finish, giving you a naturally brightened look under the brow.