Consider Switching To Longline Bras For Maximum Support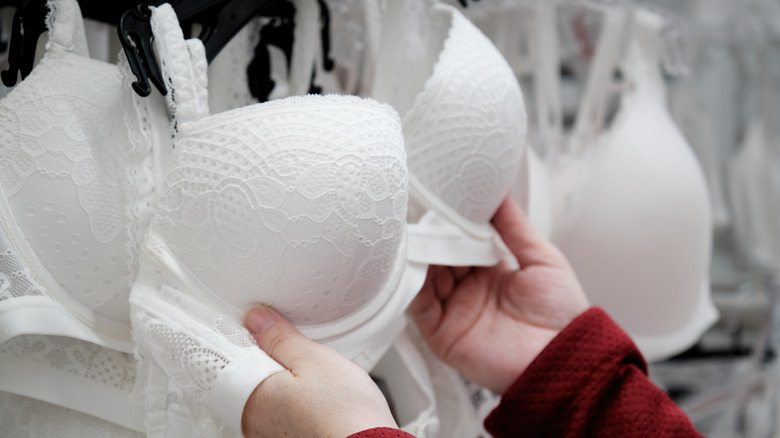 Visionlabs/Shutterstock
Taking off your bra at the end of a long day is a universal comfort. It is up there with shoulder rubs and a sip of cold water on a hot morning. As enjoyable as unclipping a bra is, it is even better when you can forget you're wearing one. And you might do just that with a longline bra.
A longline bra is an undergarment that delivers support and comfort. The garb first hit the scene in the 1940s as fashionable lingerie. Its popularity faded in the '60s during the era of hyper-femininity but returned in the '80s. It was around with bullet bras — the brassiere with cone-shaped cups (remember Madonna's iconic coned Jean Paul Gaultier corset outfit).
The longline bras' return makes larger breasts less cumbersome to deal with. Get ready to toss those T-shirt bras and stock up on these super supportive garments.
Why longline bras are better
A longline bra is differentiated by its elongated bodice. Regular bras have a thin band under the cups. However, longline undergarments have a hemline that extends and can go as far as your waist or hips. Bra and lingerie designer Kathryn Rambo tells Well + Good, "Since most of the support from a bra comes from its underband, longline bras offer more support compared to regular bras."
They are a great choice for bustier women who want that lift without tacking on boob tape. The extra support also means no back pain, straps digging into your shoulders, and better weight distribution. A bra that can improve posture sounds too good to be true, but longline garments make it a reality. The bra's structure prompts you to stand up straighter with reinforcement at your hips.
The extra material can also act as shapewear, even though most of these bras aren't designed to give you a sleek silhouette. Its structure eliminates visible bra lines that can ruin an outfit. Plus, it typically doesn't require any underwire or structured cups, so you can have a comfortable fit all day and night.
Longline bras double as fashionable outerwear
Your longline bra is a two-for-one special. Not just because of all its benefits but because you can wear it as a top. It might sound crazy, but fashionistas are walking the streets with this lingerie on full display. Since the garment reaches your waist, it offers the same coverage as a shirt and more coverage than a crop top. You can style it just like a corset. Wear it over dresses or oversized button-downs. It will give you that sexy, hourglass look. Take a page out of Kylie Jenner's catalog and go monochrome. She pulled off this look with a full-length skirt and matching sheer undershirt.
If your aesthetic calls for a more modest vibe, you can still wear your longline bra out on the town. Just cover up with a blazer for an elevated casual outfit or an open sweatshirt for a more streetwear ensemble. You'll have full coverage and support, and you'll look stunning.