Shapewear 101: What Style To Wear And When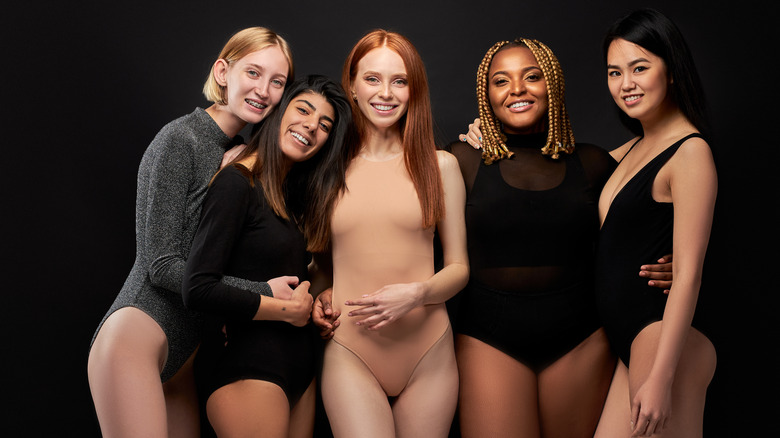 Roman Chazov/Shutterstock
Whether you want to flatter your figure or achieve a smoother line with a particularly outfit, shapewear can be a great tool in helping you to feel your best. You've probably heard of Spanx and Skims as two of the major shapewear brands, but still feel lost about where to start due to the massive variety available. 
First, a few general tips: Though it may sound tempting, you should never go down a size in shapewear (via Bustle). Shapewear is meant to work with you, not against you, and going too small can actually have the opposite effect by causing bulges and other awkward spots where your shapewear is too tight. WebMD also warns that shapewear that is too tight can be bad for your internal organs and nerves as well, so really stay true to your size. 
You should also make sure to check out the material of your shapewear, as different shapewear will all have varying levels of materials designed to constrict, pull in, and smooth. Don't have dreams of looking like somebody else, either. Shapewear can help with parts of your body you feel unconfident about, but seeking out shapewear to look like Kim Kardashian is not the way to go and will only leave you feeling frustrated. 
So, which type of shapewear is best for you?
Bodysuits will pull in lots of areas, but aren't as good for thinner clothing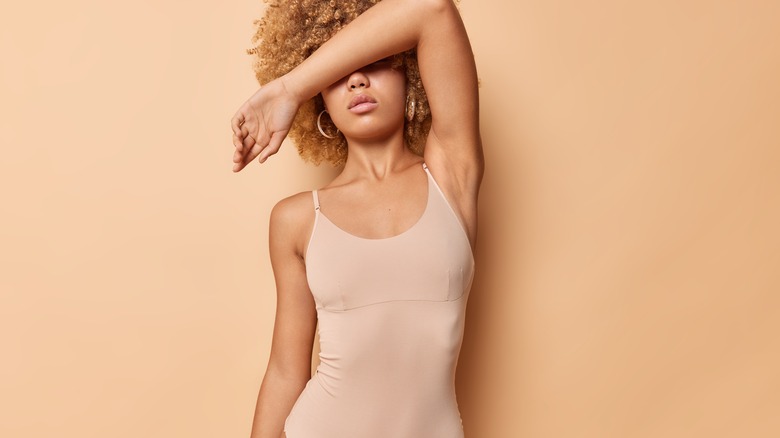 Cast Of Thousands/Shutterstock
Per StyleCaster, different types of shapewear will suit different outfits. Though that may sound like common sense, it can be tricky to figure out the right shapewear for your look.
 The most full coverage shapewear is the mid-thigh bodysuit. If you're wearing a long and form-fitting dress, shapewear that starts at your bust and goes down to your thighs will cover and smooth the majority of your upper body, bum, and thighs. Plus, as stated by lingerie blog The Lingerie Addict, bodysuits also usually have a bra built-in, meaning you won't have to double up on undergarments and run the risk of feeling too hot (in a bad way). However, full coverage bodysuits will show panty lines if the material of your dress is thin, so just keep this in mind. 
To avoid this issue, a thong bodysuit is just like a regular bodysuit and will cover your torso with a thong at the back. This is a great option for tight jeans, pencil skirts, and other items of clothing that skim your figure.
The sheer number of shapewear options available can be overwhelming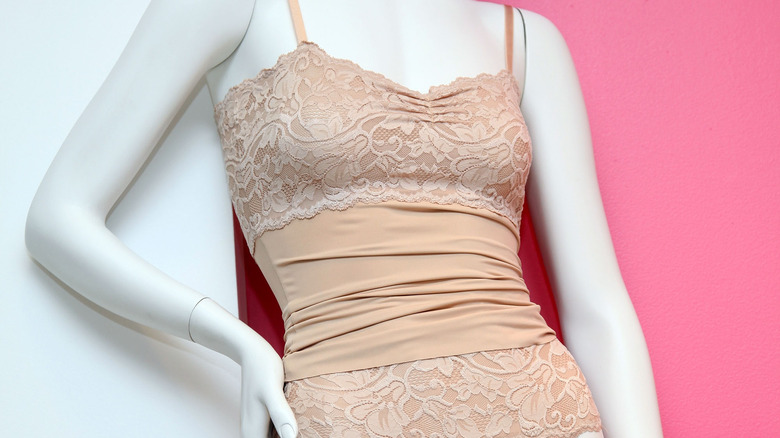 Astrid Stawiarz/Getty Images
If a full bodysuit doesn't seem like the right fit for you, there are plenty of other styles. In terms of panties, StyleCaster recommends either seamless shorts or high-waisted tights. Per Bustle, high-waist styles (and we mean really high waist) will ensure a smooth line, especially if you purchase shapewear that hooks onto your bra to stop it slipping down. If panty lines are still showing, thong panties are the best option, as they are guaranteed not to show any lines.
Finally, shapewear for your torso can help to alleviate any upper body insecurities. The Lingerie Addict states that shaping camisoles can make your stomach appear flatter and create a smooth upper line. Cami shapewear is best for the times when you're wearing a tighter top and looser trousers, or a dress that fits at the top and flares at the bottom. 
The most important thing to know about shapewear is that the type you need varies depending on your body type and the outfit you are wearing. Remember that you should never feel forced into wearing shapewear — only wear it because you want to and because it makes you feel good.