How To Use The 'Sofa Dating' Theory To Take The Stress Out Of Dating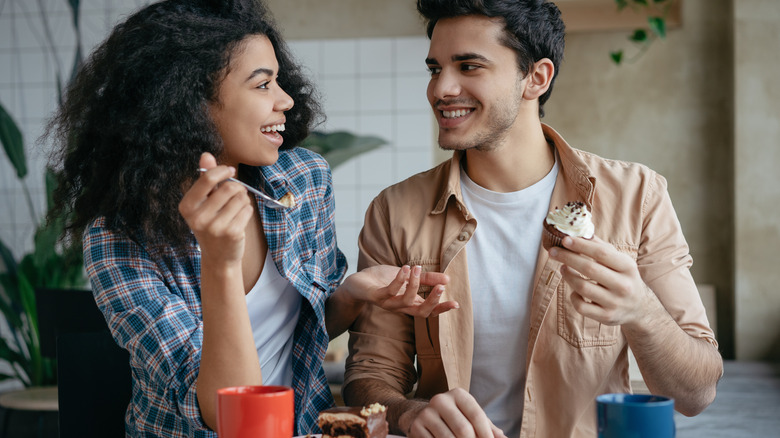 Aruta Images/Shutterstock
While shopping for a sofa might seem like fun at first, it can quickly become an overwhelming cascade of choices. You may go in thinking you want a straightforward three-seater only to be shown the three-piece sectional with cup holders and retractable sleeper sofas by eager salespeople. Eventually, you have to decide what couch is the best fit for you and your lifestyle.
It's not unlike dating. Though there are millions of people around you, finding the right one for you may seem daunting when considering all the options. Many people have admirable traits but may just not gel with you. Some may be very attractive but not the right fit.
Dating can be incredibly stressful. Most of the time it feels like work that gets no payback because you keep meeting people that aren't for you, and you waste a lot of time doing it. However, there is a sofa dating theory that just may help reduce the anxiety around it.
How the sofa dating theory works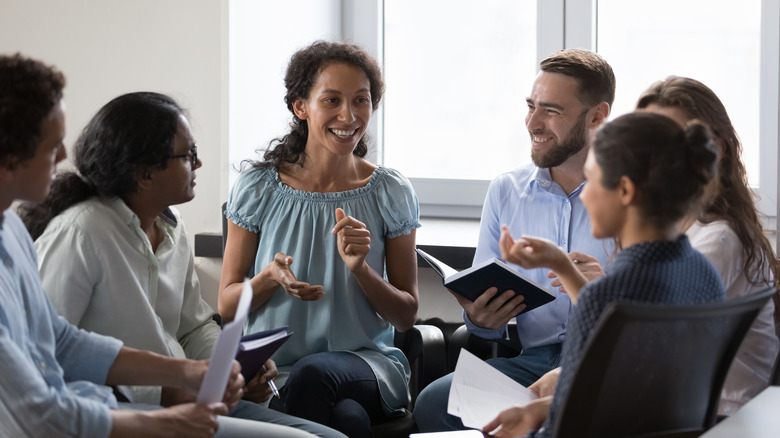 Fizkes/Getty Images
According to psychologist Dr. Elinor Greenberg, who coined the sofa dating theory, taking a practical approach to finding a mate can be accomplished by following similar steps you would employ when shopping for a sofa (via Psychology Today).
The first tenant of the theory is simple — go to where sofas are sold, or in this case, when potential mates may be. A couch or a mate isn't going to just appear in your home. Leaving it up to fate may not get you what you want, so whether you go to bars and parties or engage in dating apps, the key is to be proactive.
You may have to hit up a few different stores to find a good sofa, and to find a decent partner, you may have to attend more than one party or outing. With this is mind, start confidently meeting new people, and don't worry about being single. After all, you wouldn't walk into a sofa store embarrassed that you need a new couch, so you shouldn't feel ashamed when looking for a partner.
Be discriminate with where you shop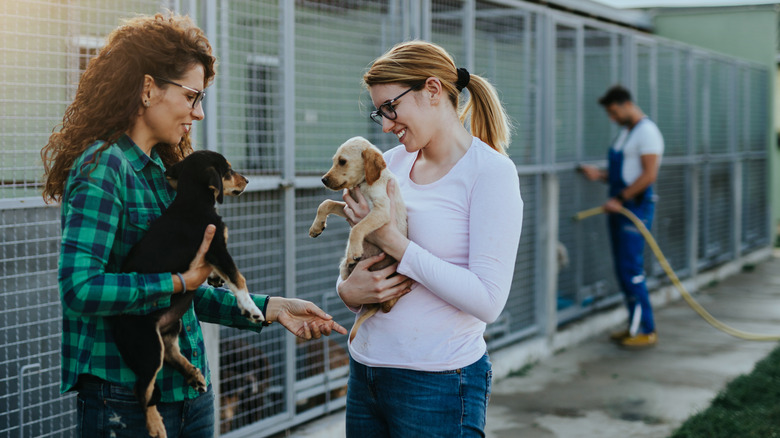 hedgehog94/Shutterstock
When you venture out, don't just stick to typical pick-up places. If you don't drink, don't hang out in bars simply because there are a lot of people there. Go to places that will help you find what you want. You won't find a soft, fuzzy couch at a leather warehouse and vice versa, so make smart choices with where you spend your time. 
Trying to shop somewhere that doesn't have what you like is simply a waste of time and effort. As Dr. Greenberg says (via Well + Good), "You wouldn't shop in a store that carries sofas you wouldn't bring home."
In the dating world, consider what is important to you and then think of places where you might find people who share similar interests. Branch out and join activities you're interested in, such as classes, book clubs, hiking, running, and creative arts groups, or sign up to volunteer in your community. If you enjoy philanthropic people, join a charity. If you'd like your potential mate to be an animal lover, volunteer at an animal shelter. If politics drives you, sign up to help local politicians.
Don't expect to find the perfect partner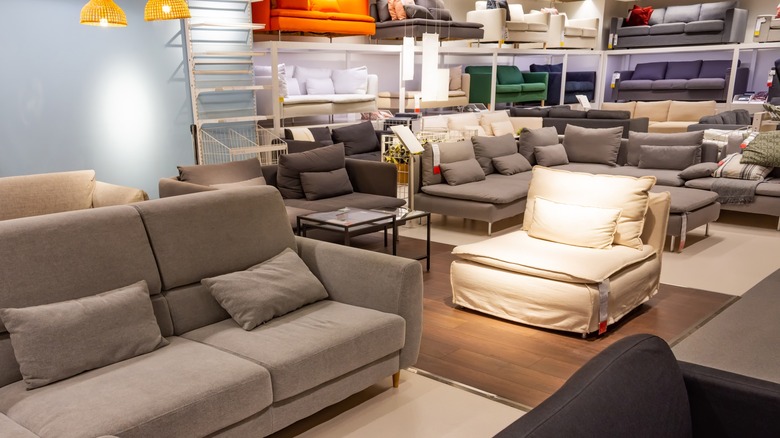 aappp/Shutterstock
When you first start out window shopping, you may be filled with giddy excitement at the thought of finding the ideal sofa. You know you're gonna find the texture, color, shape, and size you want. It's gonna have a footrest, reclining capacity, charging stations, and remote control holder, and it's gonna be stunning in your living room. Yet, while the enthusiasm when you start shopping is at a high, after touring four or five showrooms, it may set in that nothing you've seen is totally perfect. 
Similarly, no person is perfect. They may meet many of your non-negotiables, and they definitely should, but there should also be wiggle room for a person's idiosyncrasies and imperfections. Just because a person checks off all of your boxes, doesn't mean that you will necessarily have chemistry. Consider how many books and movies are based on someone falling for the person they never thought they would — the one with the quirks that initially bug them a bit, only to realize they've fallen in love.
When you keep an open mind in the dating world, you expand your opportunities to meet many interesting people. Sometimes you go into a store and are surprised at liking a sofa style you haven't considered before. With both dating and sofa shopping, you don't always know which one — while not perfect — will be just right for you.
Meet new people who fit your lifestyle and views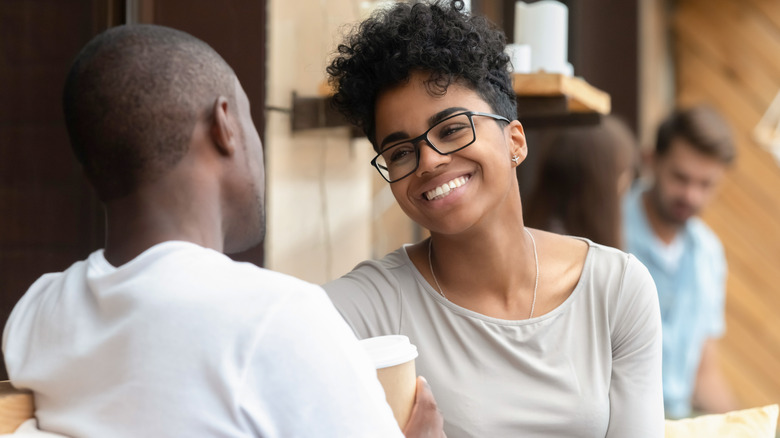 fizkes/Shutterstock
While having an open mind expands your opportunities, you also shouldn't settle for less than you deserve. As you get to know people, Dr. Elinor Greenberg advises staying confident and making an appropriate choice for you. Just as you wouldn't pick out a three-piece sectional if you live in a studio, you don't want to entertain someone who drinks or smokes if you detest those habits. In the end, you do not want to waste your time on people who do not align with your core values.
"There are a lot of hoops for women to jump through in the dating game, and there's enormous pressure on women that isn't on men," Dr. Greenberg tells Well + Good. "The background of the sofa theory was to help with shame and comparisons, and to help them undo the coping mechanisms they're using that are actually counterproductive." 
Learn from mistakes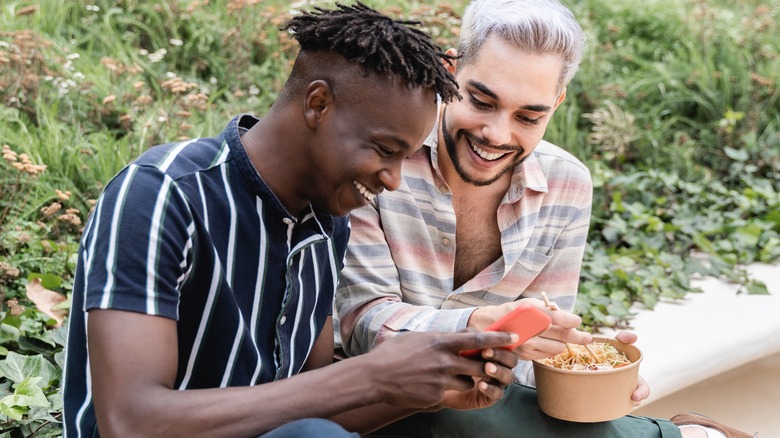 Nuva Frames/Shutterstock
The more people you meet, the more you'll recognize what works and what doesn't. You may find out that certain types of dates enable you to get to know the person better. Perhaps you prefer quiet restaurants where you can talk, especially those that let you lounge for a while. Maybe you like taking walks or doing a shared activity to take the pressure of constant conversation off the table. 
By the same token, think back to scenarios that haven't worked and try something different. If you have a new kitten who has used your leather sofas as a scratching post, you'll likely choose a different material next time rather than resigning yourself to a straight chair. Similarly, just because you've had one to two or more bad dates doesn't mean you'll stop dating. When you know better, you do better.
As with anything, having a plan helps lessen the anxiety of not knowing what to do. When you take a practical approach, just as the sofa theory encourages, you increase the likelihood of meeting someone you might gel with while also not despairing over finding the type of people you may like.