How To Remove That Hard-To-Reach Eye Makeup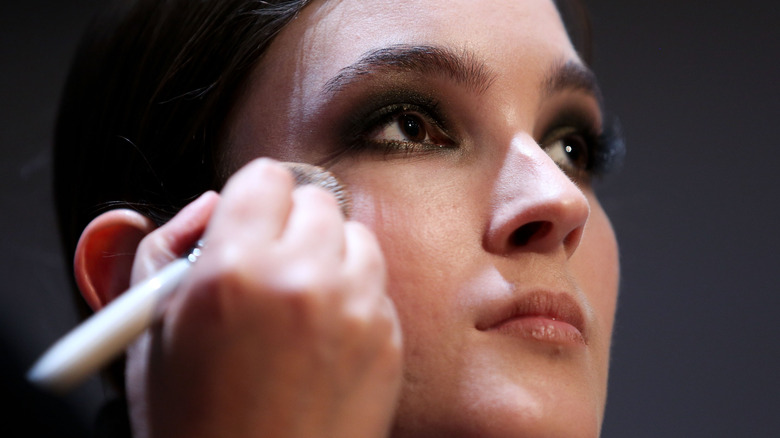 Hagen Hopkins/Getty Images
There's nothing that finishes off a makeup look like a dramatic eye. From double-lining for a Y2K flair to doing graphic liner, it always tops off every look perfectly. Yet, taking it all off at the end of the day is not as fun. Wiping off some eyeshadow or a wing is quite simple, but when makeup gets into those hard-to-reach places, it gets trickier. Once the mascara seems to cling to the gaps between your lashes or it comes time to remove the pigment you placed on your waterline, you may be tempted to just leave it there.
While leaving on foundation can just lead to a few breakouts that are resolved in a matter of days, lingering traces of mascara or eyeliner can have more extreme results. In other words, it can become a petri dish of bacteria that irritates the eyes, causing vision problems while scratching the cornea. Leaving mascara in can also cause your lashes to fall out while you sleep, as per the Veterans Optometry Partners of America. Although removing eye makeup might take a bit more grease power, it's not impossible. Here's how to get your makeup out of those hard-to-reach places.
How to properly remove eye makeup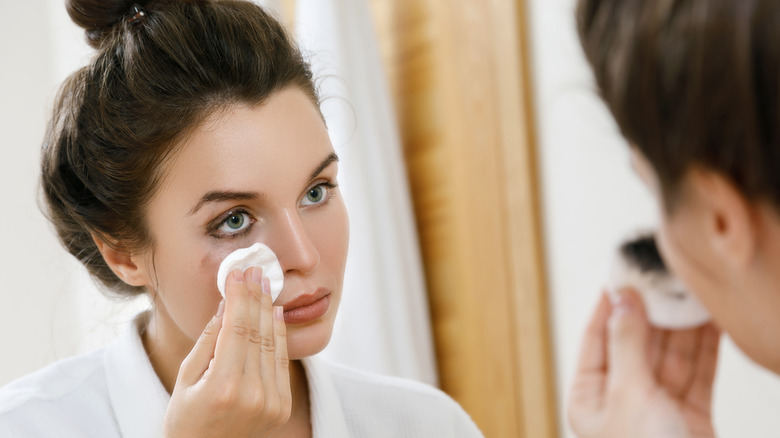 Privetik/Getty Images
Similarly to what you would do with your base makeup, start out with an oil-based cleanser that will break down the products. Not only do they better dissolve makeup, but they remove dirt and sunscreen that a regular cleanser wouldn't be able to catch. Apply to dry hands and gently rub it all over the face. When you reach your eyes, close them and massage them in gentle circles. After you rinse, there will probably still be traces of some eye makeup left.
Take a cotton round and soak it in micellar water, one of the best products for double cleansing sensitive skin. As a gentle cleanser, micellar water won't irritate the eyes. It draws leftover makeup out, leaving your eyes free of stubborn products. You'll want to press it softly onto the eye, then wipe it. If you have waterproof makeup or liner that's still on your waterline, use a cotton swab to target it.
Dip it into your oil cleanser or micellar water and apply it to the waterline and under the bottom lashes — be careful to not let it seep into the eye. Let the makeup remover sit for a few seconds, then go back in and gently rub the makeup off. Go in with a clean swab to ensure that everything is removed.
Shop the best eye makeup removers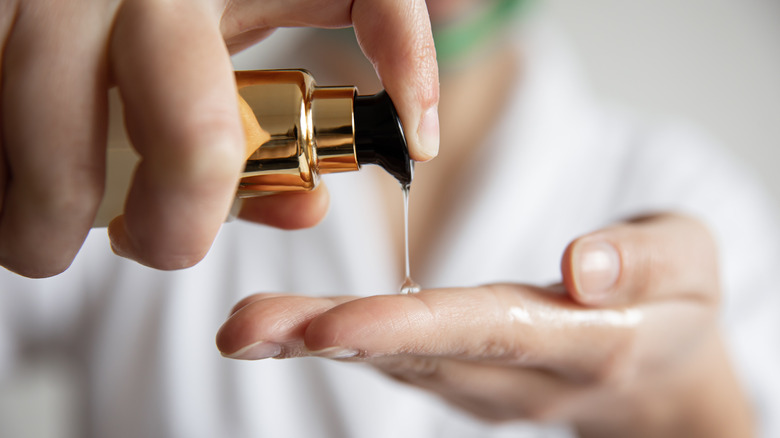 Puhimec/Getty Images
With a creamy, lotion-like texture, the Clinique Naturally Gentle Eye Makeup Remover via Sephora, is great for sensitive eyes. As an ophthalmologist-tested eye makeup remover, it's gentle on the eyes and ideal for people who wear contacts. It removes every trace of makeup without leaving an oily feeling or irritating the eyes.
Created with micellar water, the Glossier Milky Oil draws out makeup and breaks it down, removing every bit of it as well. The blend of micellar water and oil allows it to easily dissolve makeup without excessive rubbing. Formulated with comfrey root extract and pro-vitamin B5, it leaves skin feeling soft and moisturized afterwards. The bottle also has a tapered dispenser, allowing you to squeeze out only what you need.
For dry skin, try the Elf Holy Hydration! Makeup Melting Cleansing Balm via Ulta. It's formulated with hyaluronic acid, ceramides, and peptides, leaving skin feeling nourished. When rubbed into the skin, the balm turns into a smooth oil, melting away makeup.