The Foundation Trick That Is Perfect If You Have A Narrow Face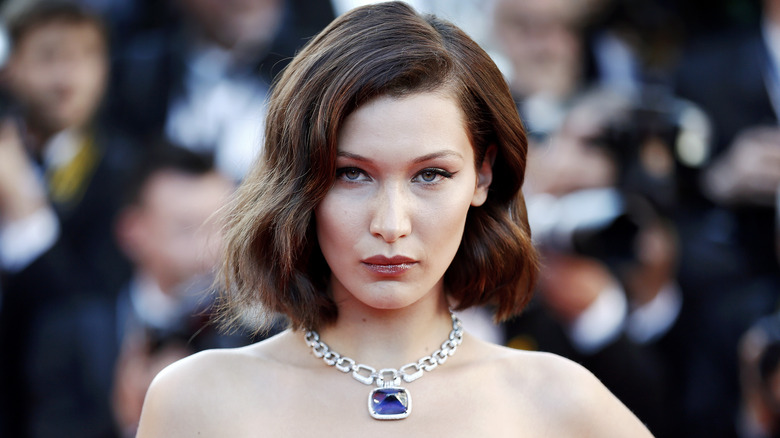 Andrea Raffin/Shutterstock
From heart to diamond to oval, every face shape has its own list of associations. Based on the millennia-old Chinese practice of face reading, round faces indicate a youthful innocence. Meanwhile, in the modern world of elite modeling, oblong face shapes are coveted — just look to supermodels like Bella Hadid and Gisele Bündchen.
So, how can you tell if you have a narrow face, specifically? "Long-shaped faces have about twice as much height as they do width," Chris Sams explains to Byrdie. Furthermore, if you want to change your aesthetic for the day, "[Makeup] products should be placed to de-emphasize the height and enhance the width of the bone structure." This will create a temporarily rounded look. First and foremost, a long-wearing foundation is key. Based on viral TikToks and expert options, here's the trick to achieving a seamless base layer — it may sound strange at first, but trusting the process pays off.
Change up your order of application
In order to create the illusion of a fuller face, start by laying down the groundwork. In a process that may seem counterintuitive, in a TikTok how-to, the creator @beautylooks_ls shows her followers how to create a smooth, seamless base. Here's the trick: apply translucent powder before any other makeup — yes, before. The powder will absorb excess oil, ensuring your foundation stays firmly in place throughout an active day. Gently pat a thin layer on with a powder brush and, like @beautylooks_Is, press it into your face with your hands. "Your fingers are warm so it's really going to help it melt into your skin," she explains. Be warned: using a thick setting powder may cause your foundation to cake, which won't do you any favors when you start layering products. After dabbing on your powder, mist with setting spray and follow it up with your go-to poreless primer.
Finally, find the correct foundation shade for your skin by identifying whether you have warm or cool undertones. Overly cool formulas, for instance, will wash you out and exaggerate length rather than create a natural finish. Although a seamless base won't round out your face on its own, it does create the necessary canvas for additions like contour, blush, and highlight.
Horizontal application is better than vertical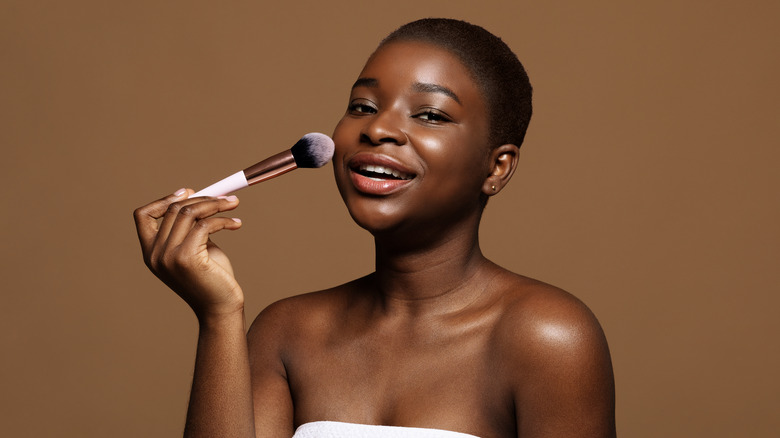 Prostock-studio/Getty Images
After you've perfected your foundation technique, it's time to introduce some warmth back into your skin. Blush can lengthen or shorten your face depending on placement. To create the illusion of wider features, apply pigment in the middle of your face below your eyes rather than on the highest point of your cheekbones. For a softer look, carry that color across the bridge of your nose à la TikTok e-girls.
Although contouring isn't always necessary for those with naturally prominent cheekbones, Aly Art on YouTube recommends applying a horizontal line ⅔ of the way down your face, carrying it ever-so-slightly inwards. Bronzer should be applied around your hairline — this step is key if you want to minimize your forehead. Shadows will give the appearance of a shorter face.
When it comes to highlighting your chin, Jackie Aina has a tip for her TikTok audience: "Take that highlight shade [of concealer] and apply in a wider patch so that again the highlight mimics the appearance of a wider as opposed to a longer chin." The same reasoning applies to other parts of your face — when in doubt, horizontal is better than vertical. So, instead of highlighting the length of your nose, focus on illuminating the tip and the tip alone.