How To Properly Store Your Retinol To Get The Full Benefits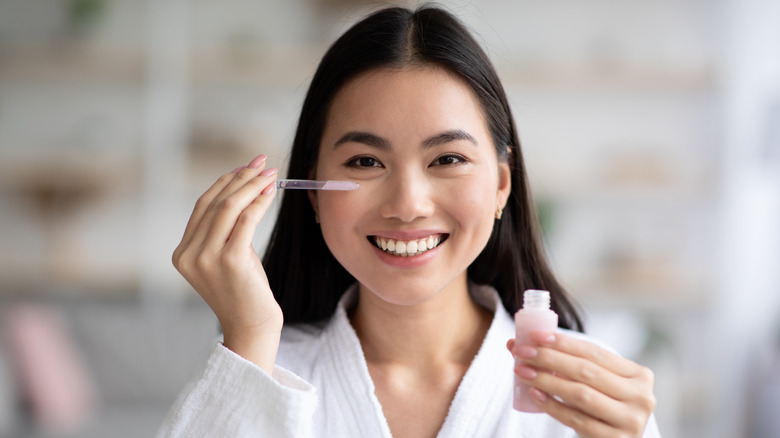 Prostock-studio/Shutterstock
If you've been researching skincare, and are looking for the best products then it's likely that you've heard a lot of buzz about retinol. Retinol is a form of Vitamin A, which helps cells regenerate. Retinol can be used in a cream or serum to help reduce the appearance of fine lines and wrinkles. It has even been known to minimize the look of large pores, even out skin texture, as well as reduce the look of sun damage, melasma, and other hyperpigmentation on the skin.
Retinol can penetrate the deeper layers of the skin and increase the production of collagen and elastin, which decrease during the aging process. These benefits can offer your face a smoother and plumper look. At times, retinol can also be used to treat other skin conditions such as acne or scarring. "By triggering the skin cells on the outermost layer of skin to turnover at a faster rate, new cells can generate, resulting in smoother, more even skin," dermatologist Marnie Nussbaum tells Byrdie.
Retinol can be found in over-the-counter products, as well as in prescription form. However, the strong the product, the more chance that retinol could cause irritation such as dry skin, redness, or a burning sensation. That's why it's important to store and use the treatment correctly.
Where you store your retinol is very important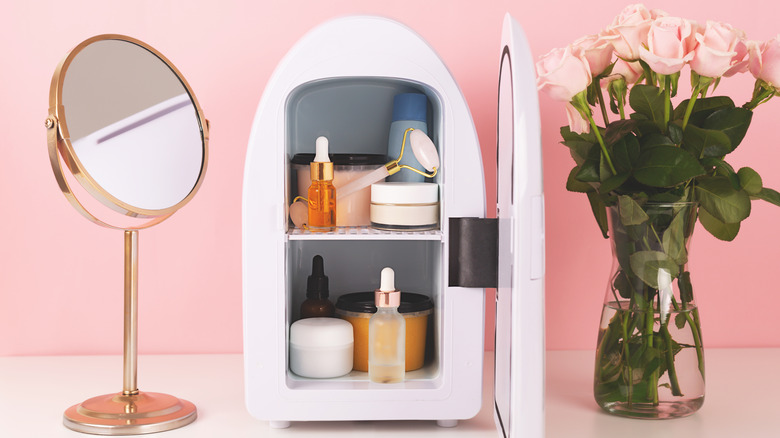 YuliaLisitsa/Shutterstock
When it comes to storing retinol, you need to know what you're doing. Placing your retinol cream or serum on your bathroom countertop and leaving it sitting there isn't a road you want to go down. In fact, retinol needs to be stored in a very particular way in order for it to work properly and not damage your skin. Exposing the product to light and air is a big skincare mistake. After just days of sitting out in the light or heat, retinol will stop working and you're skincare routine will be headed for disaster. Instead, try keeping the retinol in a dark place that doesn't get too warm. A closet or cabinet will be helpful. However, there is one place that will work wonders for your retinol and that's the refrigerator.
Placing your retinol in the fridge to keep it away from the light and heat can prove to be the best place for the product. It will ensure that the skincare favorite stays nice and cool, which will also feel great on your face when you apply it. In addition, it won't be bothered by a constant light source that can see its benefits fading away.
If you don't want to keep your retinol in the kitchen refrigerator, then consider purchasing a small mini fridge to keep your retinol and other skincare products in. It's also a great place to store your sheet masks! Simply place it in your bathroom, and you're ready for action.
Here's how to properly use retinol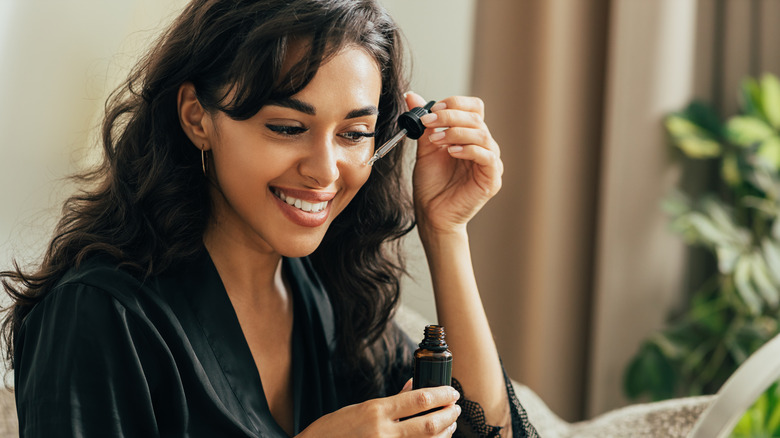 Youngoldman/Getty Images
If you're new to retinol, there is more to know than just where to store the product. Because it can prove to have a big impact on your face, especially if you suffer from sensitive skin, understanding how and when to apply the product is key. Using a pea-sized amount, you'll want to apply retinol to your entire face, keeping it away from your eyes, nose, and mouth. You'll then want to use a moisturizer to help hydrate your skin after using the product.
When first adding retinol to your skincare routine, you'll want to start slow and not rush into the process. You might want to use the product only a few times a week and work up to using it on a daily basis. Retinol can be used at night, but if used during the day, adding sunblock after is key. "Since retinol brings your skin back to its normal balance, it can make your skin more easily prone to burning. The way to combat this would be to wear sunscreen daily while using a retinol — which is something everyone should be doing anyway," dermatologist Dr. Caroline Chang tells Allure.
Retinol can be one of the most important products in your skincare routine. However, understanding how to use it and store it can be equally important when it comes to the benefits that it can offer your skin. So, doing a bit of research before adding it to your routine is crucial.