Elevate Your Selfie Game With One Striking Eyeshadow Swap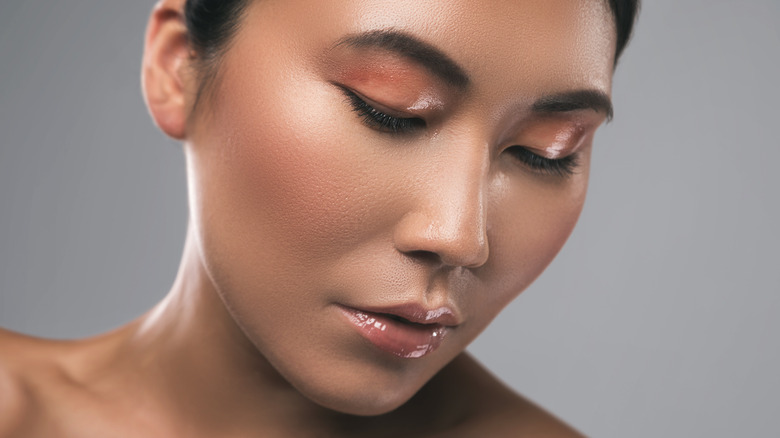 Jun/Getty Images
There's a glossy new trend in the makeup world, and it shows no signs of slowing down. Remember Hailey Bieber's donut-glazed glowy skin? It's come to eyeshadow. When it comes to makeup staples, eyeshadow is one of the most important; it can completely transform your look in a wide variety of ways. Glossy eyeshadow is the latest variation, capable of giving you an effortless, photoshoot-ready finish. And in our modern world, any time and any place can become the setting of a photoshoot.
There are plenty of hacks for better selfies out there, from killer angles to lighting tricks. But glossy eyeshadow is a hack very few know about. Adding this unique product to your eyes doesn't just look great in the real world — it can take your selfies to the next level by making your eyes pop. What's more, the glossy eyeshadow look is ridiculously easy to achieve. Ready for glamorous, chic makeup that lasts all day long? Then you're ready to learn about glossy eyeshadow.
Glossy eyeshadow is easy to achieve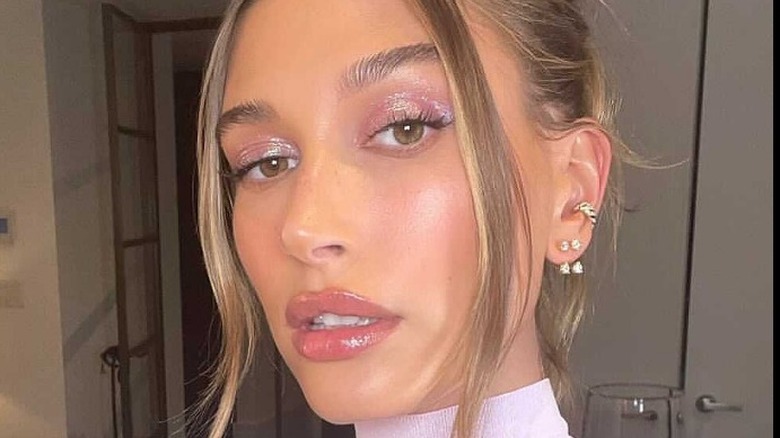 Instagram
Celebrity makeup artist Ash K. Holm told Vogue, "The glossy-eye trend is definitely a look that anyone can recreate no matter how long you've been practicing makeup because all you need is a blending brush and a clear gloss." That's right — it really is that simple. 
According to Jaleesa Jaikaran, a celebrity makeup artist and the host of the "Life of a Makeup Artist" podcast, glossy eyeshadow does eventually crease. However, there are a few steps you can take to make it last longer (via Byrdie). Put a primer on your eyelids and blend it before applying any makeup. Then, add a base eyeshadow to the crease of your eyes before applying your glossy shadow. A neutral color that matches your skin will work best and help prevent your glossy shadow from looking ultra-creased. Once you've evenly applied the base to your skin, it's time to put on your desired shade of eyeshadow.
Perfecting the glossy look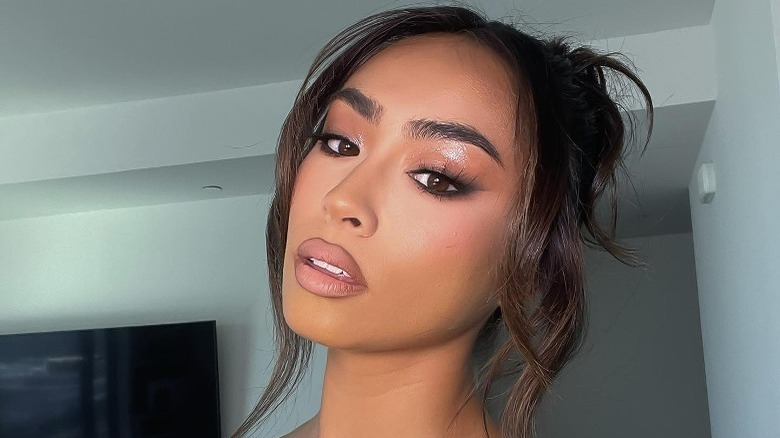 Instagram
When you're happy with the look of your applied eyeshadow, it's time to add the finishing touch — the gloss. Although it may seem like a good shortcut, avoid using lip gloss on your eyelids, as this can create a sticky mess that will only end up irritating your eyes. Instead, opt for a cheek or eye gloss formula, and gently spread it across your eyelids. We recommend the Morphe 2 Gloss Pop Face & Eye Gloss for a shiny, dewy finish. Another great option is the Kevyn Aucoin Exotique Diamond Eye Gloss, which will give you a long-lasting effect. Use your finger or a small brush to add a tiny bit of gloss to your eyelid. Per Byrdie, it's best to apply the gloss slowly and to avoid getting too close to the lash line, as you may end up getting gloss in your eye. Once finished, you'll have a glamorous, picture-perfect makeup look.