Why Cucumber Face Masks Should Be Your Next Skincare Staple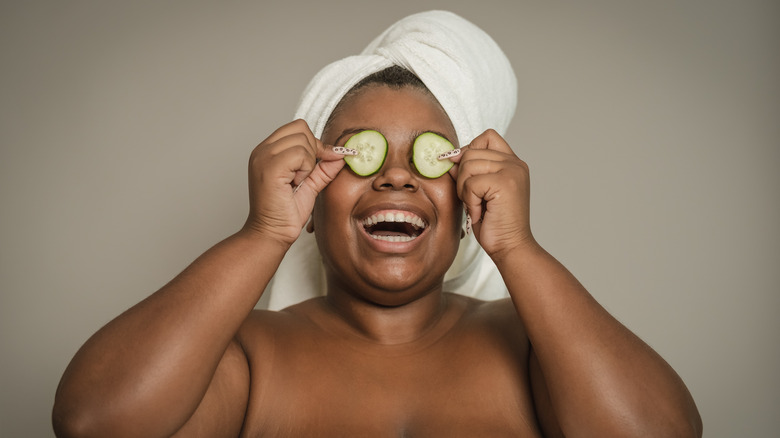 Alessandro Biascioli/Getty Images
We may receive a commission on purchases made from links.
After a long, stressful day, sometimes an emergency spa night is exactly what you need. But if you don't happen to have your favorite mask on hand, you may feel even more frustrated than before. Before you feel like the day couldn't be any worse, take a look in the fridge. Some fruits and vegetables that you have lying around can make the perfect face mask.
When you go to a spa, you'll often have cucumber slices placed on your eyes. Not only do they look incredibly chic, but they help to diminish dark circles and hydrate the eye area. So why not use them all over your face?
Filled with water and vitamins and minerals, cucumbers can be the last-minute pick-me-up that your face will benefit from. The fruit is 95% water, making it an excellent hydrator for dry, tired skin. They're known to be soothing — you can use cucumbers to treat sunburns, or apply their anti-inflammatory properties to reduce redness, irritation, and puffiness on the surface of the skin. They also contain vitamin C and folic acid, which promote even skin tone and texture.
How to make a cucumber face mask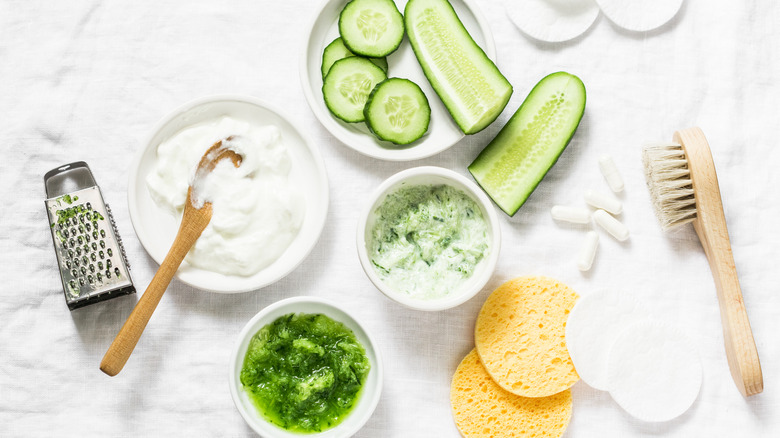 Oksanakiian/Getty Images
If you want to make a cucumber face mask without much effort, you can simply slice them up and place them on your face. However, if you want better coverage and have the cucumbers actually stay in place, pop the slices in a blender. Blend them until they have a liquid texture. Filter the mix through a strainer and use the liquid on your face. Wait about 10-15 minutes before rinsing off.
Cucumbers are effective on their own, but you can certainly make DIY face masks using other ingredients, as well. If you're really suffering from dry skin, adding aloe vera to your blend of cucumbers will boost the hydration that your skin receives. However, you can also use a humectant such as honey to draw moisture deeper into the skin. Honey also works to reduce breakouts, working in tangent with the anti-inflammatory nature of cucumber.
For red, irritated skin, add some plain yogurt along with sliced cucumber into your blender. Since it's filled with protein, yogurt is effective at rebuilding skin tissue. It also has lactic acid, which gently exfoliates the skin and reduces the appearance of pores.
Shop the best cucumber face masks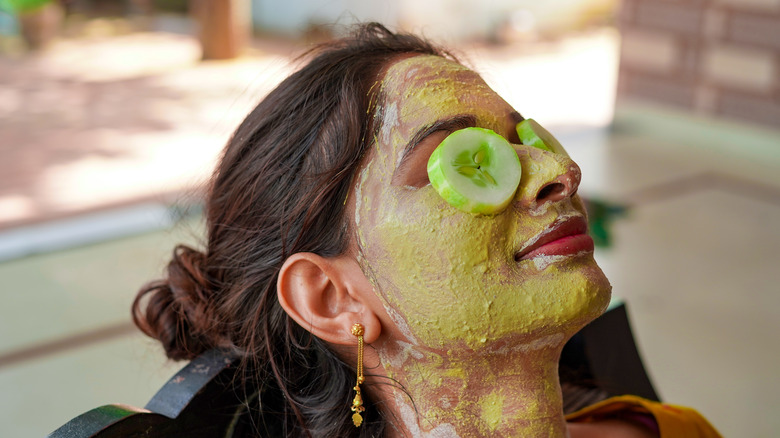 Azay photography/Shutterstock
The Peter Thomas Roth Cucumber Gel Mask is a smooth gel filled with botanical extracts that target inflammation, dryness, and redness. Made with aloe vera, pineapple, chamomile, and papaya, this gel mask evens out the texture of the skin while brightening and hydrating. For a cooling effect, place it in the fridge before applying the mask.
To clear out congested pores, try the Mario Badescu Cucumber Tonic Mask. The mask is made with kaolin clay and zinc oxide, two powerful ingredients that lift dead skin cells and bring out sebum and dirt that clog the pores. The cucumber tonic mask brightens and refreshes the skin, improving the overall texture and tone.
Made with glycerin, kiwi fruit water, and cucumber extract, the Burt's Bees Refreshing Sheet Mask balances the natural pH level of the skin while deeply hydrating it. The sheet mask instantly soothes and hydrates dry, tired skin, making it an excellent pick-me-up.