Stephen Nichols Takes Fans Behind The Scenes Of Days Of Our Lives' Bloody Showdown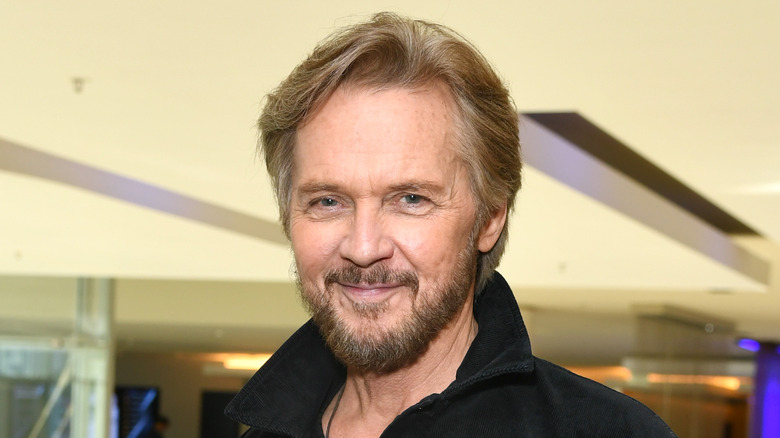 Jc Olivera/Getty Images
"Days of Our Lives" viewers have been watching the exciting storyline involving Bo Brady (Peter Reckell), Hope Brady (Kristian Alfonso), Steve Johnson (Stephen Nichols), and Kayla Brady (Mary Beth Evans) unfold for weeks. Bo has been reunited with his sister Kayla and his best friend Steve, but it wasn't quite the reunion that fans expected. Instead of having emotional moments together and reminiscing about the past, Bo was cold and wanted little to do with his old life in Salem. Instead, he's been focused on following in the business footsteps of his biological father, Victor Kiriakis (John Aniston), and finding a way for Kayla to continue Dr. Rolf's work in order to give him his youth back and start a new life.
Of course, Steve and Kayla have other ideas and were hoping to get Bo to come to his senses. The couple have confronted Bo about his behavior multiple times, and during one such occasion, things got very tense. Bo whipped out his gun and even pulled the trigger, shooting in Steve's direction. Of course, the cliffhanger left fans worried about Steve's well-being after Bo looked to be splattered with blood. Although, they soon found out that Bo had shot a bottle of wine instead.
Recently, Nichols gave fans a behind-the-scenes look into the seemingly bloody confrontation.
Video shows moments leading up to Bo and Steve's big moment
This week, Stephen Nichols shared a funny and interesting new video to his Instagram account, which revealed the moments leading up to Bo Brady's big trigger moment. In the scene, fans watched Bo shoot the gun and look to be sprayed with blood. In reality, things looked much different. The video reveals the "Days of Our Lives" crew setting up the shot, with a stunt woman holding a spray bottle full of red liquid in front of Peter Reckell. Reckell is instructed to point the gun and pull the trigger as Mary Beth Evans screams in terror. Shortly after, Reckell is sprayed with the red liquid, giving the appearance of blood splatter, and explaining the red wine scenario as well.
While the episode made it appear that Steve was standing right in front of Bo at the time, behind-the-scenes footage tells a different story, as Nichols seemed to be the person filming the scene off-camera. "Pulling back the curtain to give a glimpse behind the scenes on Monday's episode, blood and all!" Nichols captioned the video. He also added a snapshot of himself with Reckell, Evans, and the director as well.
Fans appeared to love the inside look at the episode and can't wait to see more exciting moments from the actors in the future.