How To Nail The Trendy High-Ponytail Braid
If you're window-shopping for a hairstyle that shows off your face while maintaining a supermodel-sleek look then the high-ponytail braid may be for you. This trendy style is highly sought-after not just because it looks great, but because it gives you the look of a "ponytail facelift" without ever having to go under the knife. 
The sleekness of it draws your features back, tightening your skin and giving you classic Bella Hadid cat eyes. The high-ponytail braid can chic up your appearance, whether you're dressing up or keeping things casual. While this style may look like a simple ponytail and braid, it can be quite tricky to achieve. Typically, you would need to use hair extensions to build up the braid to be bulky enough to offset the flatness of the scraped-back front. 
Your hair will also need to be as sleek as possible regardless of your natural texture. This process stumps a lot of people to the extent that they just end up going to a professional stylist to do it for them. However, there is a DIY technique that will provide you with the know-how to perfect this high-end look at home.
How to style a high-ponytail braid
To create a successful high-ponytail braid, you'll need some reliable tools to get that hair laid. The sleekness of the base hair is important so you'll need some holding mousse or styling gel to keep everything in place and those pesky flyaways at bay. You'll also need to get some braiding hair, Bobby pins, hair ties, a satin scarf, and a good brush. YouTube creator Janet Akorikin demonstrates how to pull this look off in a tutorial video. 
First, you start with your base. The idea is to create a smooth, flawless, shiny base, so add a generous amount of styling gel or mousse to your hair as you brush it upward to where your ponytail will be. You can do this on wet hair for sleeker results. Make sure all your strands are properly coated with the styling product before securing them with a hair tie. 
You can choose to style your baby hairs with some fancy swoops and curves, or you can simply brush them back too. Next, wrap the braiding hair around the ponytail and secure it with a hair tie. Then, use the braiding hair to braid your ponytail all the way down. Finally, tie the satin scarf around your hair and edges to keep them intact.
Straighten curly hair before styling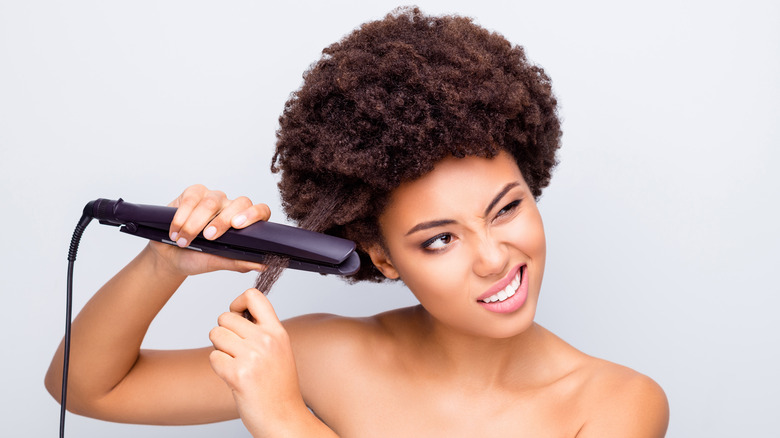 Roman Samborskyi/Shutterstock
The good news is that the sleek, high-ponytail braid can be done on any hair texture and still look fabulous. But, if you have a curlier hair type and want a more slicked-back look, ensure you straighten your hair before the process begins. That means it's time to whip out your flat iron, blow dryer, and heat protectant. Start by washing and conditioning your hair as normal. You could even opt for a deep conditioning treatment as well for maximum moisturization. 
After your wash, apply plenty of heat protectant, and then blow dry your hair. Once it's completely dry, only then, straighten it with the flat iron, and then continue on with the process of slicking down the hair. Depending on how much time you have, you can tie the scarf around your head for at least an hour after applying the mousse or gel to allow the hair to set before attaching the braid. And there you have it, a runway-worthy high ponytail at home.