Punk Hairstyles That Are Perfect For A Grungy Aesthetic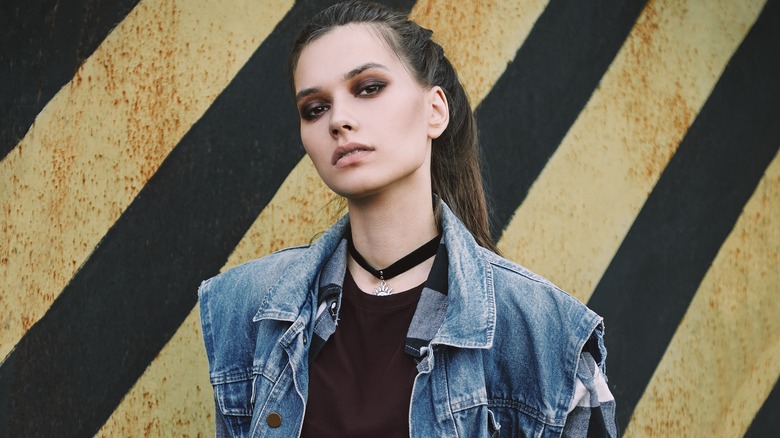 Jetrel/Shutterstock
The grunge aesthetic is all the rage these days. Young fashion lovers everywhere are slipping on their ripped jeans, fastening their chokers, and walking around in their combat boots once again. The look first came to fruition in Seattle back in the late '80s, and by the early '90s, grunge had gone mainstream. Given Gen Z's notorious love of '90s and 2000s nostalgia, it's no surprise that they've embraced this dark, edgy style so fervently. 
Steve Dool, the brand director of Depop, explained to The Zoe Report that it makes sense why grunge is catching on as part of the ongoing late 20th-century/early 21st-century style resurgence. "The renewed interest in grunge across the runway reflects the sense of playful chaos we are seeing reverberate across the industry and will only continue to stoke more interest among young people," he says. So which hairstyles will best complement your playfully chaotic outfit? We have a bunch of ideas for you to try.
Stun in a bold and bright color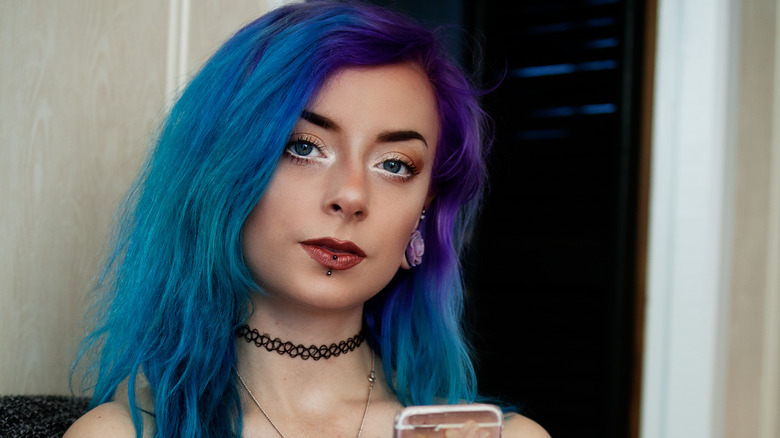 Camabs/Getty Images
Sure, black hair is sort of a grunge staple, but bright colors are equally edgy and even more noticeable. Whether you go blue, red, orange, pink, or whatever other color suits you, it's a sassy statement. If dyeing all of your hair feels like too much, you can always channel 2000s Avril Lavigne and go for a few colored strands in the front. Since a lot of grunge clothing is on the darker side, any color in your hair will really pop.
Rock space buns
If you're going for a more cutesy, punk look, space buns are your answer. They can be messy for a laid-back vibe or super tight and precise if you're trying to look put together. Space buns are inherently youthful, and they capture the playful side of the grunge aesthetic. Try pairing this lightly rebellious 'do with combat boots, an oversized T-shirt, a black leather jacket, and some chunky jewelry for the full grunge effect. You're pretty much guaranteed to look adorable. 
Show off a bob
Bobs are pretty much the best because they're super-easy to maintain, frame your face beautifully, and are easily adaptable for different occasions. A bit of product and a few hair accessories take the look from casual to formal in minutes. Rock your bob with black platform shoes, a chunky belt, and bold makeup if you want to go full-grunge. And, of course, your natural hair color, bright colors, or jet black will do the trick.
Let loose with messy waves
Your inner Olsen is calling! Nothing complements a 2000s grunge look quite like some classic indie sleaze waves. With this style, you're aiming for a slept-in, cool, and effortless vibe, and it looks great on any hair length. Laid-back waves go perfectly with a graphic tee or oversized jacket, and you can achieve them by sectioning off your hair and using a three-barrel waver (or maybe just by sleeping in braids, depending on your hair type). 
Experiment with short bangs
Bangs never really go out of style, and there are so many ways to pull them off. For a grungy look, try short bangs. This length exudes punk energy, and you'll instantly level up your hairstyle. With short bangs, your hair will look cute when it's down, but it will also look fabulous with space buns, braids, high pigtails, or a high ponytail. Without longer bangs taking up a lot of your face, you'll give your playful Grunge makeup more of a spotlight. 
Jet-black locks for the win
When in doubt, there's always the tried and true long, straight, jet-black option. This simple and classic style is flattering on anyone and is automatically the perfect punk 'do for your grunge outfit. Lengthy locks are fun to style and experiment with, but they also make a daring statement when you just leave them be. Complicated isn't always better, especially if your outfit has a lot of different pieces, colors, and patterns. 
Shave your head for a badass effect
If you're really looking to change it up and wow everyone, nothing makes jaws drop like a gorgeous shaved head or super short haircut. This 'do lets your face, makeup, and jewelry shine, and you'll feel super powerful. Not to mention, the playful balance between masculine energy and feminine energy suits the grunge aesthetic perfectly. Don't be afraid to leave your comfort zone if you've always wanted to try a short cut or shaved head! You can definitely rock the look. 
Dazzle with two tones
If you're feeling adventurous, experiment with a two-toned look. To achieve a really grungy style, dye the front of your hair one color and the rest hair a strikingly contrasting color. For example, try blonde in the front and black in the back.
 You can go even bolder by creating a middle part and making that the dividing line between two different colors, so one half of your hair is completely different from the other half. 
Feel powerful in a high pony
There's a time and place for a super high pony, and that time and place is when you're wearing a grunge ensemble. This 'do can elevate your confidence, showing off your gorgeous locks while keeping them out of your way. High ponies are super versatile. They look fancy or casual, depending on your outfit and accessories. Try one with a choker, a dark red lip, and a badass attitude.
Put a punk twist on braids
Classic braids have an effect similar to space buns. They're sweet and fun, and they add a playful edge to an overall dark ensemble. Bangs, dyed hair, and different types of braiding styles (Dutch braids, rope braids, five-strand braids, etc.) will all spice up the look. Experiment with layered necklaces, hair accessories, a black skirt, and platform boots. Yes, it's true. Braids can still be a go-to hairstyle when you're an adult.