What The Cameras Don't Show You On HGTV's Property Brothers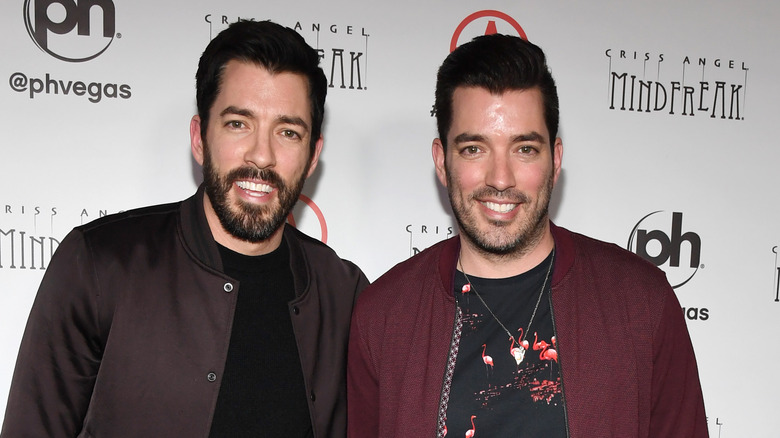 Ethan Miller/ Getty Images
For those of us who love interior design and are always daydreaming about updating the vibe in our home to be more feng shui or rustic or modern, HGTV offers a variety of shows to entertain our fantasies. One of their hit reality shows is "Property Brothers." For those unfamiliar with the show, it stars identical twin brothers Drew and Johnathan Scott. The show selects an ordinary couple and helps them attain their dream home.
However, they don't just select their perfect house and have the brothers purchase it for them. The brothers use the couple's dream home as an example and source of inspiration. Then, they buy a fixer-upper and transform it into something that fits the couple's vision. Despite being "reality TV," it's still TV. That means there are some operations that HGTV's "Property Brothers" keeps from the audience's eye. While it's not information you can find on HGTV, the brothers are surprisingly transparent about some of these behind-the-scenes business affairs.
The perfect house isn't always as it seems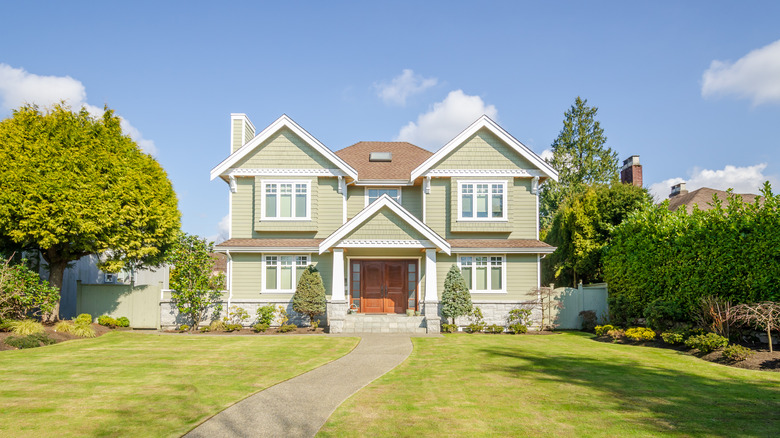 karamysh/ Shutterstock
As we said, the show is not entirely 100% based on reality. While the two brothers are indeed experts in real estate and construction, they are also experts in entertainment. On their official website, the Scott Brothers write, "We've had a passion for performing for as long as we can remember. We always sought ways to entertain our friends and family while growing up on our family's horse ranch in Vancouver, Canada." So the two definitely know how to put on an act.
This is apparently true when it comes to the bit of the episode where they show the perfect house that's out of the couple's budget. An owner of one of these inspirational homes revealed to House Beautiful that, though their home appeared on the show, it was not on the market. Tennessee resident Jennifer Reimold tells the publication that her real estate agent mentioned to her, "'You know, I sometimes work with the Property Brothers. Would you mind if we submitted some photos to producers to use as the inspiration home?'" And just like that, Reimold's house was selected for filming.
What they don't tell you about the contestant application process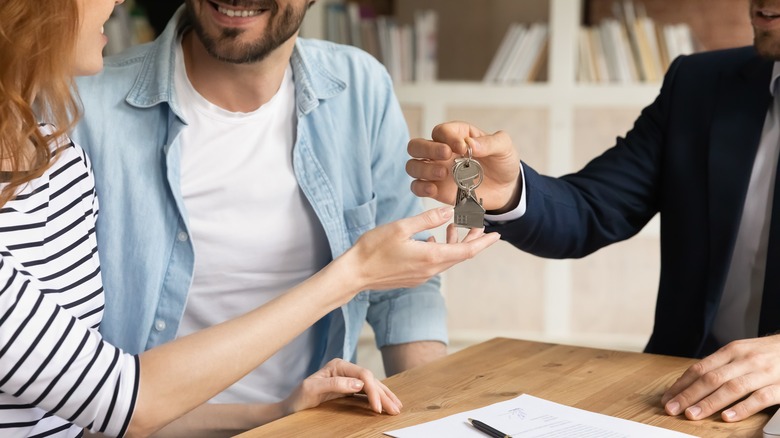 fizkes/ Shutterstock
When each episode begins, it typically introduces a sweet-looking couple seeking help from the Scott Brothers. What we don't see is that there's a thorough screening process that happens off-screen before the guests get to this point. According to their 2019 casting call, there are a few requirements for eligibility, one of which is pretty pricey. The couple must have a budget of no less than $90,000.
Another surprising thing these HTGV contestants can't do is be single. In their book "It Takes Two," they write, "If you're single, you need to have a likable sidekick such as a best friend or relative so there's someone to discuss your decisions with." Funnily enough, the two revealed they often have to eliminate singles looking for romance while on the show. In a Reader's Digest feature, the brothers write that some applicants "... simply harbour a mad crush on one or both of us, but they're quickly weeded out by the fifth time they ask how soon until they meet us in person." 
While everything comes together harmoniously on the screen, there is clearly a whole lot of behind-the-scenes work to make everything look as smooth as it does.