Royals Who Are Still On Good Terms With Their Exes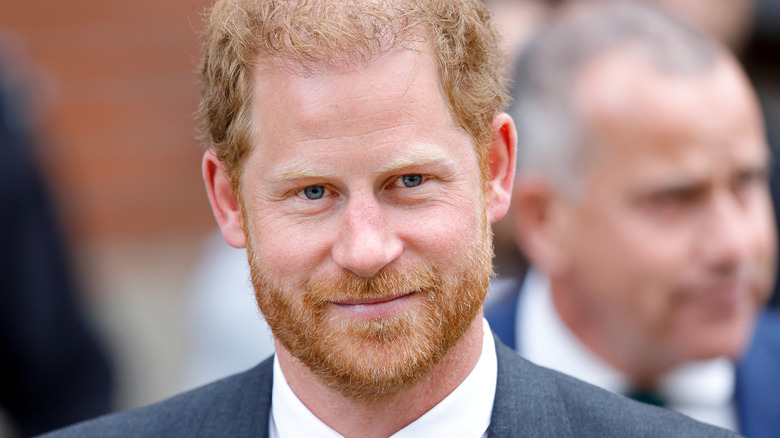 Max Mumby/indigo/Getty Images
Being a member of the British royal family may look glamorous, but it's not all galas and residing in jaw-dropping estates. In addition to the host of rules members of the royal family must follow, they're also under constant media scrutiny, which makes dating difficult, to say the least. Just to complicate matters further, the family tends to keep to an insular royal circle of friends from other prominent British families, which means even after a breakup, it's not uncommon for the royals to remain on good terms with their exes.
They may not be the best of friends, but it's not unusual for royal exes to invite each other to their weddings or share a friendly chat at a social event. Some members of the royal family take things even further by having their exes assist them with their official duties.
As fans of the Netflix series "The Crown" and royal watchers know all too well, the British royal family is full of complex relationships. But while the family may struggle with divisions within their own ranks, they make staying friendly with their exes look easy. 
Prince Harry invited his ex Chelsy Davy to his wedding to Meghan Markle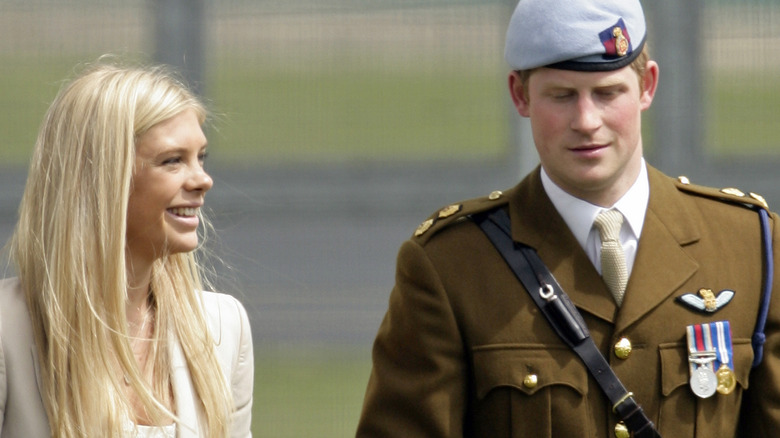 Max Mumby/indigo/Getty Images
Before marrying Meghan Markle, one of Prince Harry's most serious relationships was with business owner Chelsy Davy. The Duke of Sussex wrote candidly about his on- and off-again relationship with Davy in his memoir "Spare." After they officially broke up, Prince William asked Harry if he was okay with Davy attending his wedding to Catherine, Princess of Wales (then known as Kate Middleton).
"She and I weren't in regular touch, which was why Willy checked with me before inviting her to the wedding. He didn't want either of us to feel uncomfortable," Harry wrote in "Spare." He said it was difficult to see her. He wrote, "There were loads of feelings still there, feelings I'd suppressed, feelings I hadn't suspected."
Even though seeing his ex at his brother's wedding was hard for him, Harry and Davy have since moved on from their romantic relationship. These days they appear to be on good terms. In fact, Davy was a guest at Harry and Meghan's wedding in 2018. 
Prince William attended the wedding of his first serious girlfriend Rose Farquhar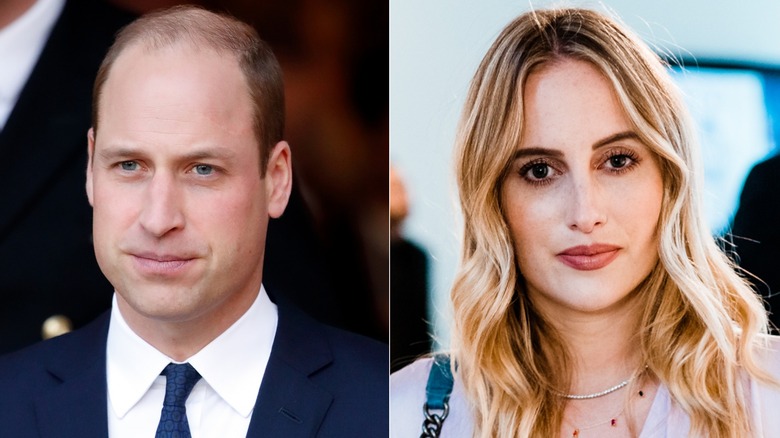 Greg Doherty & Max Mumby/indigo/Getty Images
Rose Farquhar and Prince William have known each other since childhood. While they've never officially confirmed that they dated, Farquhar is widely believed to be the Prince of Wales' first serious girlfriend. Royal expert Katie Nicholl wrote about the young couple's reported romance in her 2011 book, "The Making of a Royal Romance." In it, a source told Nicholl it was "a very sweet and innocent love affair."
While neither Farquhar nor William have talked about their romance, they haven't been shy about sharing their friendship with the world. In fact, William invited Farquhar to his wedding to Princess Catherine in 2011.
Farquhar returned the favor in 2022 when she invited William to her wedding to George Gemmell. Despite his busy schedule, the prince attended the winter ceremony to wish his former flame well. A source told People that William, who attended the ceremony solo, did his best to keep a low profile, but his presence spoke volumes about his longtime friendship with the bride. 
Sarah Ferguson and Prince Andrew became friends after their split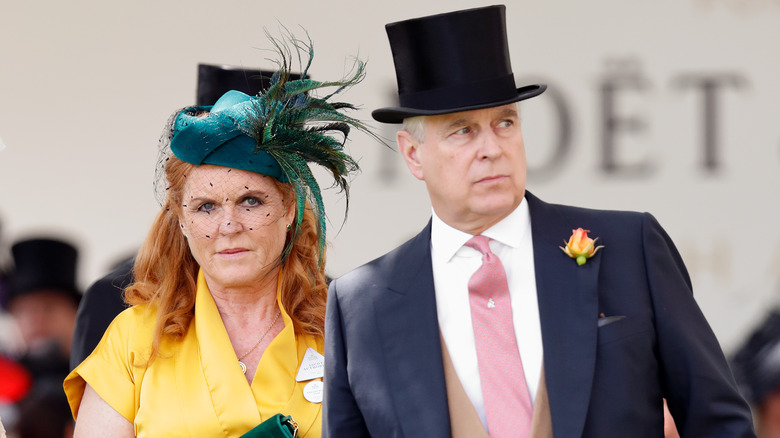 Max Mumby/indigo/Getty Images
In 1996, Sarah Ferguson and her husband Prince Andrew's divorce was headline news. The two officially split in 1992, but it took another four years for them to finalize their divorce. During that time, they joined Princess Diana and King Charles III (then Prince Charles) in seeing their marriage and subsequent breakup become tabloid fodder.
But despite the breakdown of their romantic relationship, Ferguson and Andrew remained close so they could effectively co-parent their daughters, Princesses Eugenie and Beatrice. Along the way, the exes discovered they were much better at being pals than they were at being a married couple.
In a 2019 interview with Hello, the Duchess of York shared just how close she and Andrew remained. "We work in unity and Andrew and I are focused on being good parents together. We are bigger than friends. We learn from each other, support each other, and understand it's about communication, compromise, and compassion," she said. They get along so well, in fact, Ferguson and Prince Andrew live together at times.
Zara Tindall let her ex ride her horse in a race at Ascot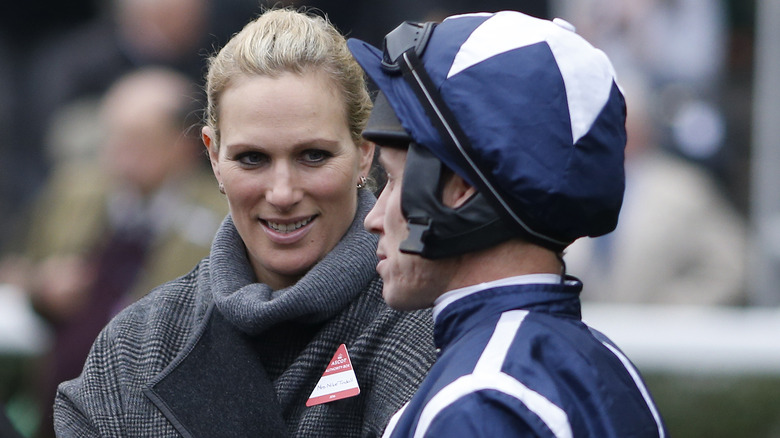 Alan Crowhurst/Getty Images
Princess Anne's only daughter, Zara Tindall, is happily married to retired professional rugby player Mike Tindall and a mom to three kids. Back in the late '90s, though, she was still on the dating scene. In 1998, she and jockey Richard Johnson fell in love and continued to date off and on. Their relationship wasn't meant to be, though, and in 2003 the couple broke up for good.
Despite their split, Zara and Johnson are still friendly with one another. She even let the jockey ride her horse, Somewhere To Be, during a race at Ascot in 2016. The exes were also spotted sharing a friendly chat and laughing together at the race. In photos shared by The Daily Mail, Zara can be seen catching up with Johnson while sporting a ribbon with her husband's name on it.
Both Zara and Johnson have moved on and started families (he's married to Fiona Chance), but their love of horses seems to still bond them after all this time.
Princess Anne and Andrew Parker Bowles' rumored romance led to a real friendship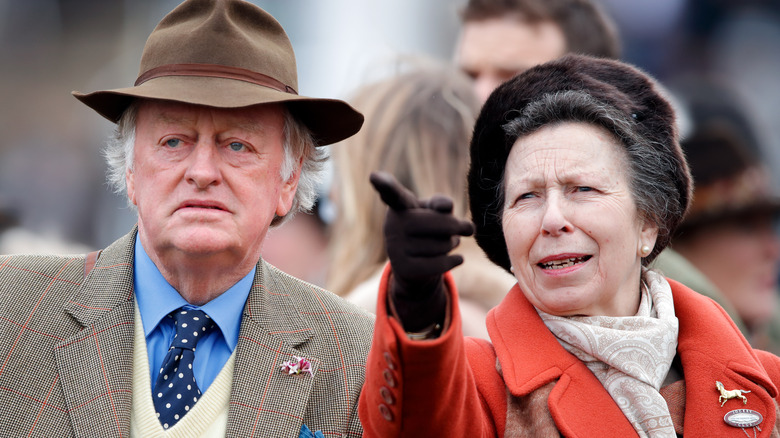 Max Mumby/indigo/Getty Images
In Season 3 of Netflix's "The Crown," viewers may have been surprised to discover that Queen Elizabeth's daughter, Princess Anne, was reportedly involved in a romantic relationship with Andrew Parker Bowles before he married Camilla, the future queen consort. The series depicted their complicated entanglement, which also included King Charles III — Anne's brother and Camilla's future husband.
The two never officially confirmed their romance, but royal biographer Sally Bedell Smith told Elle that Andrew's Catholicism would have made it difficult for them to marry. Even though marriage wasn't in the cards for the princess and Andrew, they did forge an enduring friendship based in part on their shared love of horses. "Even when their romance eventually wound down, they remained lifelong friends," Bedell Smith wrote in "Prince Charles: The Passions and Paradoxes of an Improbable Life."
In more recent years, the old friends have been spotted together at horse racing events, and Andrew is even a godfather to Anne and Mark Phillips' daughter, Zara.
Andrew Parker Bowles has represented Camilla in an official royal capacity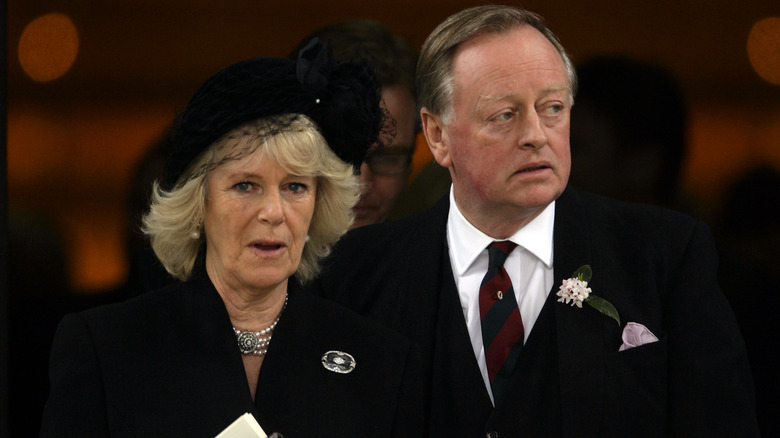 Max Mumby/indigo/Getty Images
Camilla, the queen consort, and Andrew Parker Bowles were married for 21 years before they divorced in 1995. The exes share two children, Tom and Laura, and co-parenting their kids helped them remain on good terms even after they ended their long marriage.
Since their divorce, both Camilla and Andrew found love again. Camilla famously married the then-Prince Charles in 2005, and Andrew wed Rosemary Pitman in 1996, to whom he remained married until her death in 2010.
Despite his divorce from Camilla, Andrew remains close to the royal family by way of his enduring friendships with both Camilla and Princess Anne. In 2022, he even represented the queen consort in an official capacity at the funeral of John Bowes-Lyon, his cousin and the second cousin of Queen Elizabeth II. The fact that Camilla was willing to send her ex-husband in this capacity speaks volumes about how close the pair remain years after their divorce. 
Prince Harry wrote Cressida Bonas a letter thanking her for helping him with his mental health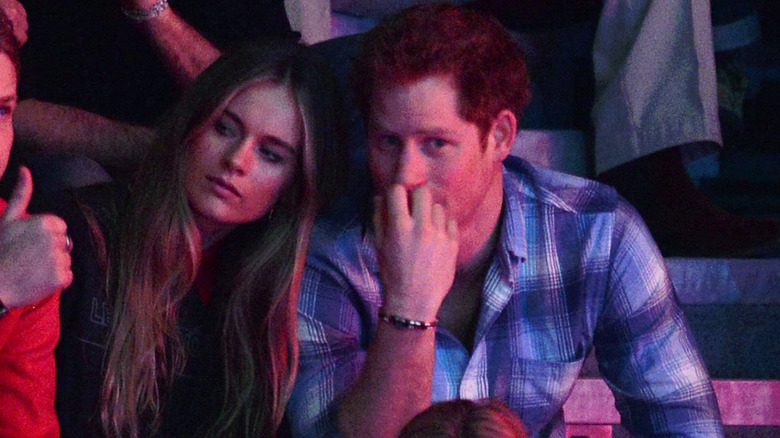 Karwai Tang/Getty Images
Like Davy, Cressida Bonas attended Harry's wedding to Meghan in 2018, but her encouragement to her ex to get help for his mental health was an even more touching gesture of friendship and support. Bonas and the Duke of Sussex dated between 2012 and 2014. The pair ultimately split due to the pressures that accompanied their romance being in the spotlight, as well as Bonas' desire to pursue a career in acting (she went on to appear in 2017's "The Bye Bye Man" and 2020's "The Murders at White House Farm"). Before their breakup, the actor encouraged Harry to speak to a therapist about his mental health, according to "The Palace Papers" by Tina Brown.
"His outbursts were ever more frequent and childlike," Brown wrote. "He took up boxing because, as he later said, he was always 'on the verge of punching somebody.' Cressida began to have serious worries about his mental health. It is not widely known that it was she who first persuaded Harry to see a therapist."
A mutual friend of both Harry and Bonas told Brown that after their split, Harry sent his ex a letter thanking her for giving him the push he needed to take care of himself. "He wrote her a sweet letter saying I admire you, I wish you well, and above all thank you for helping me to address my demons and seek help," their friend revealed. 
Princess Catherine's first love, Willem Marx, was invited to her royal wedding to Prince William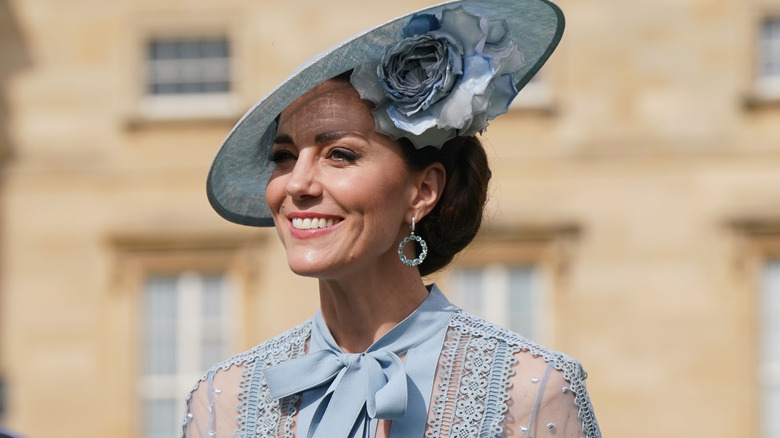 Wpa Pool/Getty Images
Just like William, Princess Catherine had a romantic life before their royal romance. The Princess of Wales reportedly dated journalist Willem Marx during their time at Marlborough College, although it's unclear exactly how long they were together.
In 2011, a friend close to the pair revealed to The Telegraph that Marx was Catherine's first love. The source also added, "Willem means a lot to Kate." While the princess hasn't spoken about her old flame publicly, it's clear she remained friendly with her ex even after they split.
Marx was invited when Catherine and William exchanged their "I dos" in 2011, as the wedding guest lists revealed. But in 2011, when asked about the invite, Marx dismissed the question (via Showbiz Cheatsheet). Catherine didn't attend her ex's wedding when he married Italian TV journalist Johanna Botta in 2014.
Prince William's friendship with Jessica Craig got him into trouble with Princess Catherine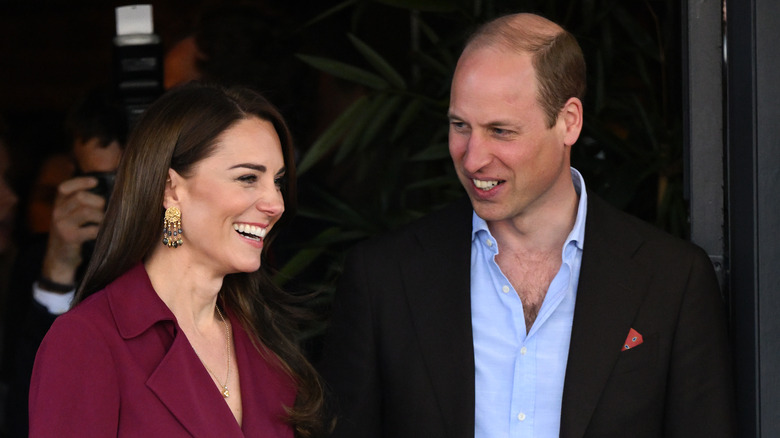 Karwai Tang/Getty Images
Early in his relationship with Princess Catherine, Prince William's friendship with his ex-girlfriend Jessica "Jecca" Craig got him into a spot of trouble with his future wife. William and Craig first met in Africa when the future Prince of Wales was just 16. As a result, she's widely considered to be his first love.
It seems it was hard for William to fully leave Craig in his past, even after he began dating Princess Catherine. In Christopher Andersen's book, "Brothers and Wives: Inside the Private Lives of William, Kate, Harry, and Meghan," the author details how the prince continued to spend time in Kenya with his ex even after he and Catherine began dating. This led to the princess reportedly feeling "threatened and humiliated" by her new boyfriend's connection with Craig, and the media's coverage of it.
Ultimately, Prince Harry and King Charles III convinced William to take a step back from his friendship. Anderson wrote that Harry "cautioned his headstrong brother to consider Kate's hurt feelings." Meanwhile, his father seemed keen to prevent his son from following in his footsteps when it comes to real-life love triangles. He reportedly told his son, "You mustn't put her through that, William. It isn't fair to Jecca." Despite the drama, William still attended Craig's wedding to conservationist Jonathan Baillie in Kenya in 2016. Catherine didn't join her husband on the trip. 
King Charles III's cousin Amanda Knatchbull turned down his proposal, but they remain friends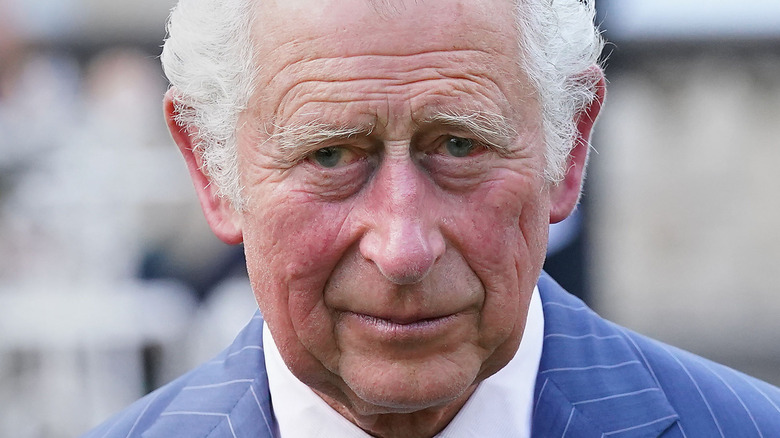 Wpa Pool/Getty Images
King Charles III's romantic life has had its fair share of twists and turns. From the end of his marriage to Princess Diana to his eventual marriage to longtime love Camilla, it's hard to remember a time when his relationships weren't in the news. However, there is one ex from Charles' past that people often forget about: his second cousin, Amanda Knatchbull. In Robert Lacey's book "Battle of Brothers: William and Harry — the Inside Story of a Family in Tumult," the author delved into this strange detour in the king's love life. 
In the late '70s, Charles' great-uncle Lord Mountbatten convinced him to date his granddaughter, Knatchbull. According to Lacey, Charles said, "I am sure that she must know that I am very fond of her." In 1979, the future King of England even proposed — but his cousin turned him down. "When the prince finally made his proposal in the summer of 1979 — shortly before Lord Mountbatten's assassination by the IRA — the independent-minded Amanda politely turned him down."
Everything worked out in the end, though. Even though he was rejected, Charles remained fond of Knatchbull. "Over the years the two cousins did grow close, developing a mutual respect and friendship that has lasted to the present day," the author wrote.
Princess Anne split from Richard Meade due to their age difference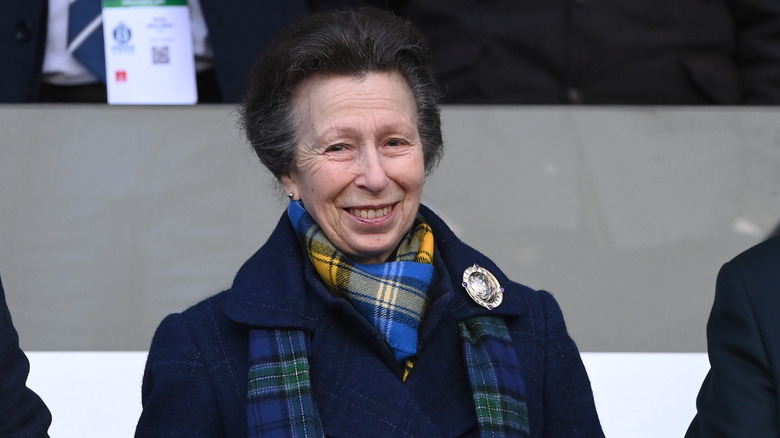 Stu Forster/Getty Images
Princess Anne has lived a fascinating life, and had her share of romantic entanglements along the way. In 2021, Britain's Channel 5 explored the most important loves of her life in the documentary "Princess Anne: The 7 Loves of Her Life." One of the princess' earliest loves was the Olympic equestrian Richard Meade. The pair reportedly bonded over their shared love of horses, but their age difference troubled Anne's father, Prince Philip. Meade was 12 years older than Anne, and since their relationship began when she was just 20, her royal father wasn't pleased with the match. 
The documentary's narrator, Phoebe Pryce, said, "Richard may have been just too grown-up for the young princess. She seems to have listened to her father, and after less than two years, the pair parted ways" (via YouTube).
Even after their romance ended, the pair remained friends until Meade's death in 2015 thanks to their passion for horses.