Royal Friendships That You Never Hear About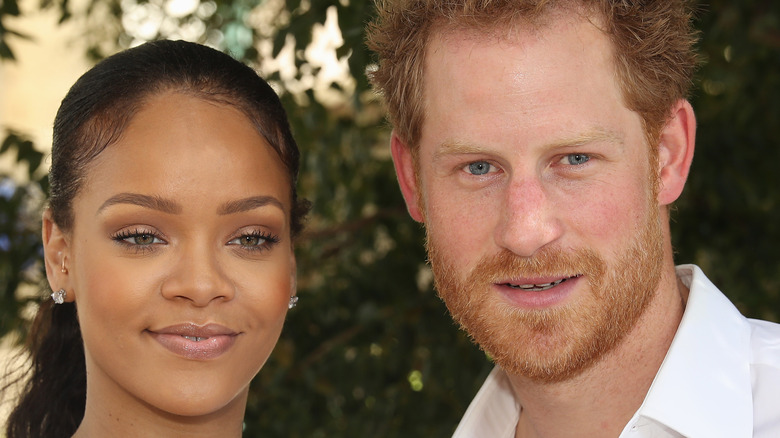 Chris Jackson/Getty Images
The royal family often keeps like-minded company, so it comes as no surprise to see them rubbing shoulders with other well-known royal or noble figures. The Prince and Princess of Wales, for example, have become close with Prince William's cousin and her husband, Zara and Mike Tindall. Their close friendship surfaced around the same time that Catherine reportedly distanced herself from Rose Hanbury, the Marchioness of Cholmondeley, following rumors of an affair between Hanbury and William. Queen Elizabeth and Queen Margrethe of Denmark were longtime friends, as well as third cousins, and Prince Harry is friends with Tessy Antony de Nassau, the former Princess of Luxembourg.
Of course, that's not to say members of the royal family have never befriended those outside of aristocracy or royalty. Over the years, royals — including even the late Queen Elizabeth II — have been seen enjoying the company of everyone from athletes to singers to actors. Some of those relationships may just surprise you. 
Sir Rod Stewart has been a close friend to the royals for years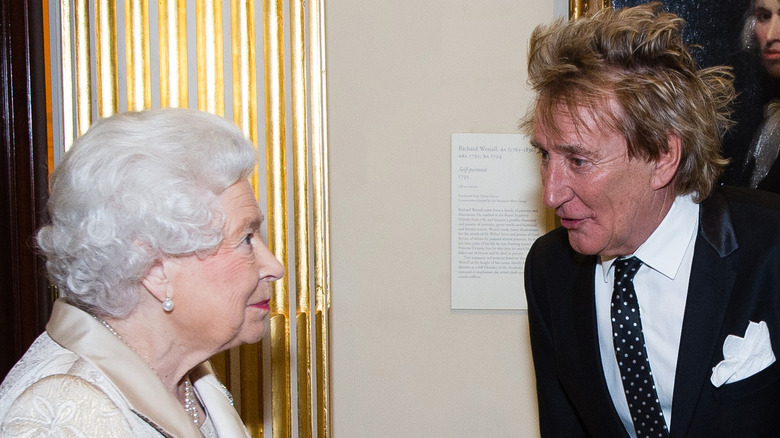 Jeff Spicer/Getty Images
Sitting down with the BBC ahead of his Platinum Jubilee performance, Sir Rod Stewart recounted one of the many times he performed for Queen Elizabeth II. He said she was scared that he would sing his 1978 hit, "Do Ya Think I'm Sexy?" but Stewart instead broke out into "As Time Goes By" from Casablanca. The queen and Prince Philip "were so relieved they beamed from ear to ear," according to Stewart. In the same interview, the singer emphasized the impact Queen Elizabeth II had on him, saying, "She has been so much a part of my life she's almost like a sister, she has always been in the background."
Back in 2008, Sir Rod Stewart was asked to perform at then-Prince Charles' 60th birthday party. Charles' wife, Camilla, is apparently a big fan of Stewart's and specifically requested the singer to perform. Stewart agreed, along with a few other performers, and even did so free — waiving his then-typical fee of £1 million. 
In 2016, at the age of 71, Stewart was knighted by Prince William. The singer became known as "Sir Rod Stewart" and was publicly recognized for his musical and charitable efforts.
Ellie Goulding's royal connections run deep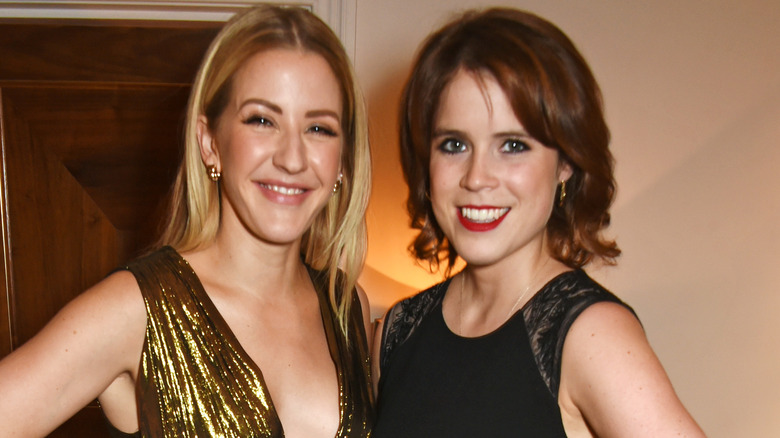 David M. Benett/Getty Images
Ellie Goulding made a name for herself with songs like "Burn" and "Love Me Like You Do," but it wasn't just her musical talent that got her a seat next to the royal family. It was rumored that Goulding and Prince Harry had a relationship in the past, although it was never publicly confirmed. The pair have been pictured together since, though, and seem to remain on friendly terms, despite her absence at Prince Harry's wedding. Ellie Goulding did attend Prince William and Princess Catherine's wedding, and she even performed Elton's John's "Your Song" for the married couple's first dance.
Princess Eugenie and Goulding also go way back and have been photographed vacationing together. In 2019, Goulding even married into an aristocratic family from Doncaster after Eugenie reportedly set her up with art dealer Caspar Jopling. Eugenie was in attendance on the big day, and Goulding attended Eugenie's wedding the year prior.
Freddie Mercury and Princess Diana loved to party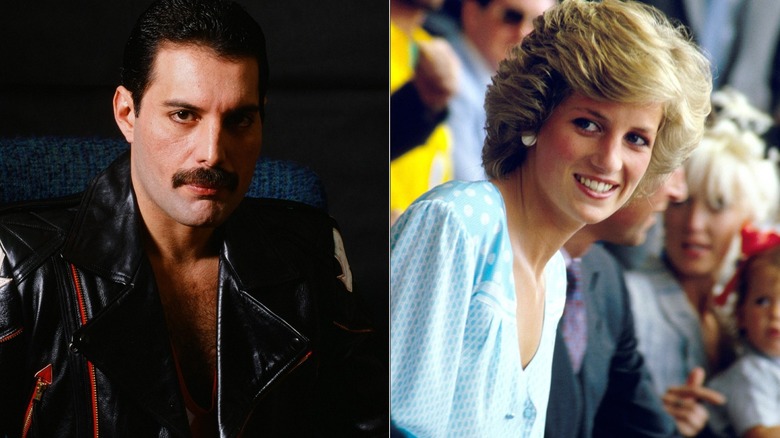 Georges De Keerle & Koh Hasebe/Getty Images
Princess Diana was unconventional, and the world loved her for it. During her time in the spotlight, she reportedly had several friends who were famous musicians and actors, many of whom loved to party, One of her tagalongs was Queen frontman Freddie Mercury.
As the story goes, after an evening of drinking and watching television, Mercury and the princess felt like going out and carrying on their evening at a bar. The only problem was that she was one of the most recognizable people on the planet at the time. To get around this hurdle, they dressed her as a man and sneaked her into a gay bar in Vauxhall, just South of the Thames in London.
Diana was barely 20 years old when she married Prince Charles in 1981, and marrying into the royal family was not without its challenges. Mercury was gracious enough to lend a helping hand so she could enjoy a night away from the limelight, and it wasn't the last time their paths would cross. Diana opened the Live Aid concert in 1985, which raised funds to fight hunger in Africa, where Freddie Mercury gave the performance of a lifetime.
Cara Delevingne and Princess Eugenie are super close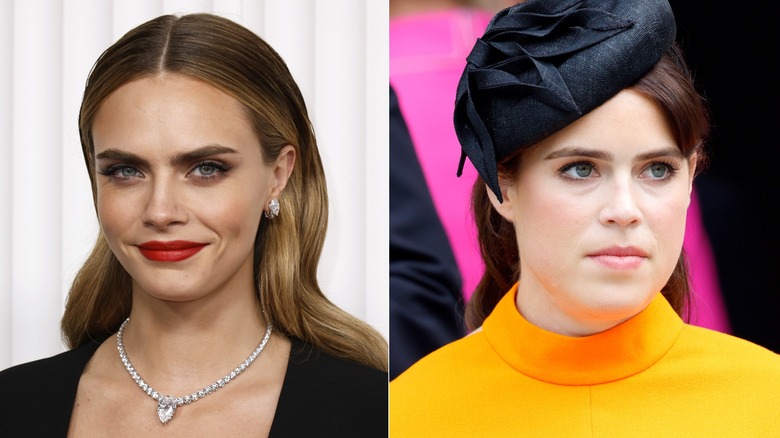 Frazer Harrison/Getty Images, Max Mumby/indigo/Getty Images
Princess Eugenie and model/actor Cara Delevigne have reportedly been friends since they were kids, as their mothers attended the same school in the 1980s. it's no wonder they've remained inseparable ever since.
In 2015, Cara Delevingne and Princess Eugenie were spotted together walking arm-in-arm at a party during London Fashion Week. A few years later in 2018, Delevingne wore a showstopping ensemble to Princess Eugenie's wedding to Jack Brooksbank. She seemingly broke the dress code of a day dress and hatby donning an Armani tuxedo and top hat. Some onlookers were concerned that she'd upstaged Eugenie.
However, Delevingne later assured everyone that she'd gotten the princess' permission before rocking the look. "Eugenie has been a friend of mine since I was a kid and I've always wanted to wear tails," Delevingne said in an interview with Grazia. "I texted her, as I wasn't sure about it and she was like: 'Of course, I expected nothing else from you!'" With her blessing, Delevingne was able to celebrate her good friend's special day and look as edgy as always.
Priyanka Chopra has been in Meghan Markle's circle since 2016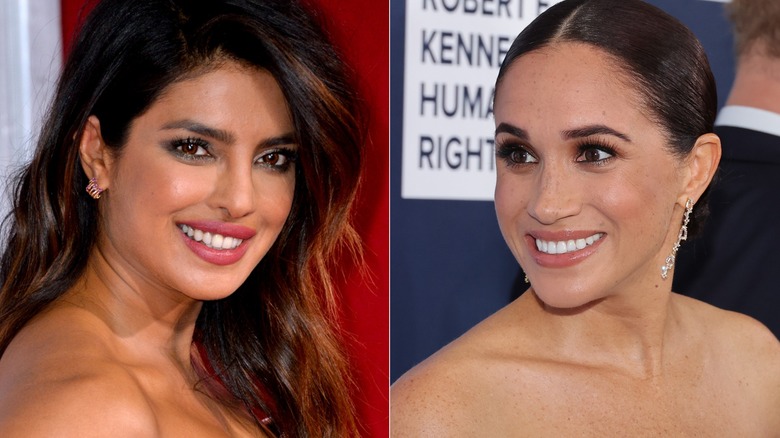 Featureflash Photo Agency/Shutterstock, Mike Coppola/Getty Images
Actor Priyanka Chopra has had close ties to Meghan Markle for years. The friends first met in 2016 at Elle's 6th Annual Women in TV Celebration, when Chopra was starring in "Quantico" and Meghan was starring in "Suits." They became close quickly, appearing on each other's social media posts from time to time before Meghan's Instagram account was deleted, and have stayed in touch since.
In an interview with Elle UK, Chopra said, "Megs... she was always meant for big things. To be a change and be an important voice in doing that. It's amazing that she found that calling and has the platform to be able to do it."
In May 2018, Chopra attended Meghan and Prince Harry's wedding, and after Meghan's 40th birthday in 2021, Chopra took to Instagram and revealed she'd been asked by her friend to take part in a special initiative. "The Duchess of Sussex has asked 40 of her friends to take 40 minutes to support women getting back into the workforce ... Of course I was more than happy to join." The two friends have supported each other's efforts and will doubtlessly remain close for years to come.
Sir Elton John has been a family friend of the royals for decades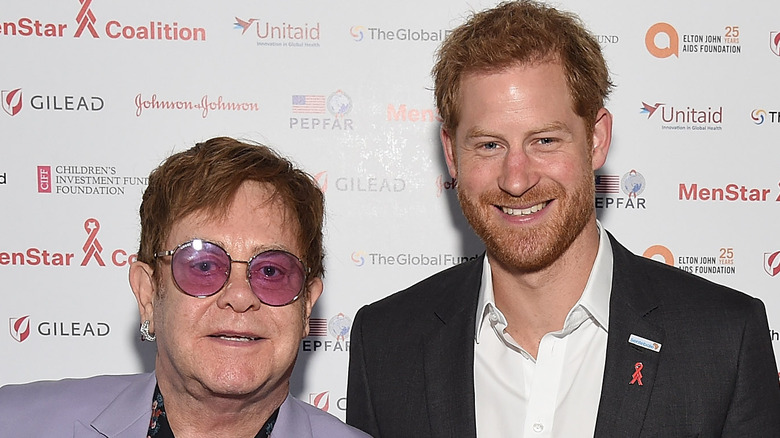 Michael Kovac/Getty Images
The royal family has been fans of Elton John's music for decades, and who could blame them? The singer has been a regular presence at royal events. In 1981, Elton John met Princess Diana when he was hired to perform at Prince Andrew's 21st birthday party. The two hit it off immediately, sharing a passion for raising awareness around HIV during the AIDS crisis. Sixteen years later, John performed "Candle in the Wind" at Diana's funeral, which, as he told The Telegraph was a "surreal" experience as he was understandably filled with grief.
In 1998, a year after Princess Diana's funeral, the singer was knighted by Queen Elizabeth II and was credited for his services to music and charity. His relationship with members of the royal family has only continued since then. In 2019, he defended Prince Harry and Meghan Markle in an Instagram post. "Prince Harry's mother, Diana Princess of Wales, was one of my dearest friends," he revealed. "I feel a profound sense of obligation to protect Harry and his family from unnecessary press intrusion that contributed to Diana's untimely death."
In 2022, Harry and Meghan made a video appearance ahead of John's farewell tour, which aired on Disney+. "Thank you for being the friend that you were to my mum," Harry said. "Thank you for being our friend, thank you for being a friend to our kids. ... We love you and congratulations on an incredible career."
Ashton Kutcher and Mila Kunis were couple friends with Princess Beatrice and her ex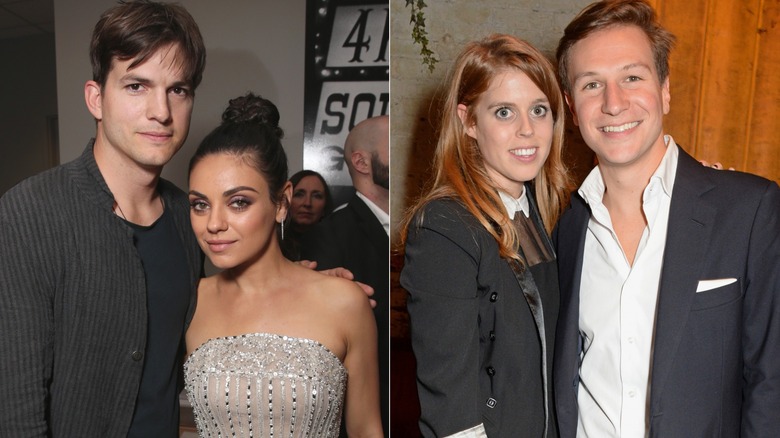 David M. Benett & Todd Williamson/bbma2016/Getty Images
The "Friends With Benefits" stars are practically Hollywood royalty themselves, but it still came as a surprise to some when pictures of Ashton Kutcher and Mila Kunis on a date with Dave Clark and Princess Beatrice surfaced. Ashton Kutcher and Dave Clark, who works in Astronaut Relations at Virgin Galactic, have been friends for years — even before Kutcher's space trek plans, which were canceled — which enabled Kunis and Beatrice to meet.
The two couples were first spotted together back in 2013, vacationing in Saint Tropez. That same year, they were photographed grabbing dinner and drinks in London and, in 2015, celebrating Kunis' birthday in New York City as a group. According to People, the actors even accompanied Beatrice and Clark all the way to Mexico for the destination wedding of D.A. Wallach and Liz Brinson. Although Beatrice went on to marry Edoardo Mapelli Mozzi after she and Clark broke up in 2016, the split was "amicable and mutual," an insider alleged to People.
James Blunt and Prince Harry are old Army buddies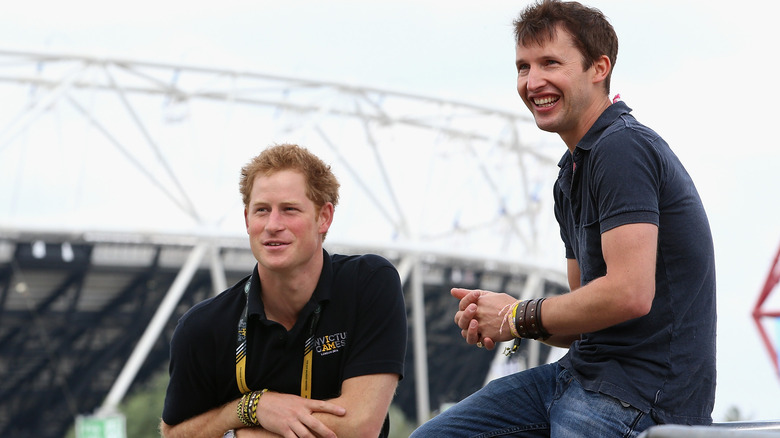 Chris Jackson/Getty Images
Singer James Blunt, who's known for hit songs like "You're Beautiful" and "Bonfire Heart," and Prince Harry's time in the British military overlapped. Because Blunt had joined some time before Captain Harry Wales, as he was known at the time, there was a period of time in which their roles were reversed. In an interview on the Jonathan Ross Show, James Blunt revealed, "There was a time when Harry would call me 'Sir' perhaps. But now I would call him Your Highness."
The pair have remained quite chummy since then though, with Harry inviting Blunt to perform at the 2016 Invictus Games. Blunt also attended Harry and Meghan's wedding a couple of years later. In 2020, the singer defended the couple against public scrutiny. "I've known them to work incredibly hard for other people under great scrutiny and I think that they do phenomenally well, he told Hello! magazine.
The singer has also been known to rub shoulders with other royals, like Princess Beatrice and Princess Eugenie, and seems to keep his royal friends close.
Angelina Jolie bonded with the royals over philanthropic ventures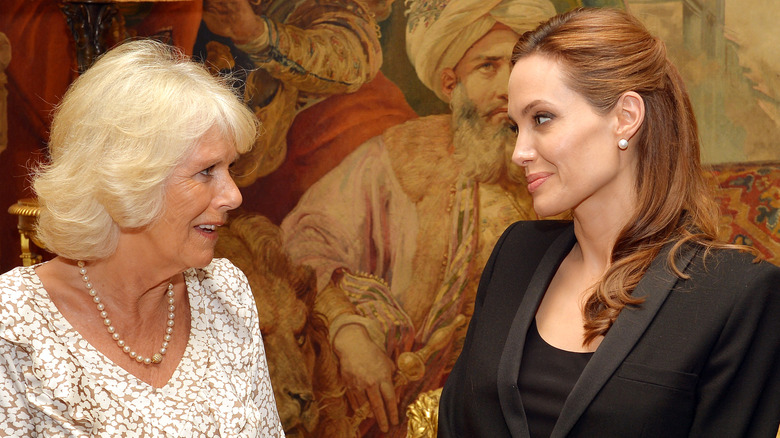 Wpa Pool/Getty Images
The "Maleficent" actor is known for her humanitarianism, so it was understandable that she bonded with Camilla, Queen Consort, over a meaningful cause. In 2014, the then-duchess was deeply moved by her visits to rape crisis centers in England. At the time, Angelina Jolie was serving as U.N. Special Envoy and had co-chaired the Global Summit to End Sexual Violence in Conflict, so she made for the perfect addition to Camilla's gathering. Jolie met Camilla and other key figures in the sector at Clarence House, where they discussed raising awareness around global sexual violence, People reported.
Jolie has collaborated with more than one royal in her philanthropic efforts. She worked with the late Queen Elizabeth II on an important conservation initiative. The Queen's Commonwealth Canopy's goal to rescue forests led Jolie to travel to Namibia with her children, where they replaced dying trees with saplings. The initiative is featured on "The Queen's Green Planet," in which Jolie is quoted as saying,"[The queen is] just this really lovely lady who really cares about people around the world, and she really cares about the future, and she wants your grandkids and her grandkids to be able to be running around, enjoying nature and other cultures, and the importance of other cultures."
Jolie has long been an activist and has never failed to impress the royal family with her efforts, leading Elizabeth to present Jolie with an honorary damehood in 2014. While her friendships with the royals may be more professional than personal, she has nurtured these relationships for years.
Rihanna is friends with Prince Harry and Meghan Markle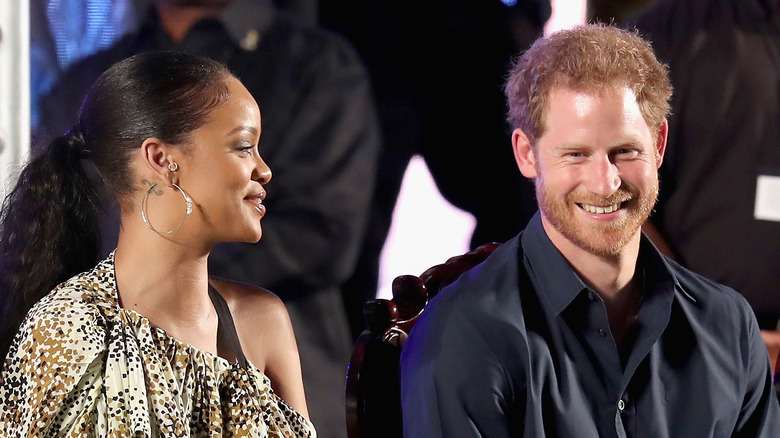 Chris Jackson/Getty Images
The "Umbrella" singer first met Prince Harry in 2016 at an event hosted by the Barbados National HIV/AIDS Commission on World AIDS Day. During the event, Rihanna and the Duke of Sussex were both tested for HIV to showcase how easily and painlessly it can be done, which was part of their efforts to raise awareness about the important cause.
In 2019, Rihanna talked to The New York Times about her decision to move overseas and become a Londoner to be closer to her makeup team at Fenty. And while the celeb never confirmed, some sources claim she struck up a friendship with Meghan Markle around that time. A source told Radar Online that Rihanna and Meghan had a lot in common, like the shared need for privacy from the public eye. While Harry and Meghan have since relocated to California, we're still holding out hope for a Meghan and Rihanna collab.
The Beckhams have known Prince Harry and Prince William for years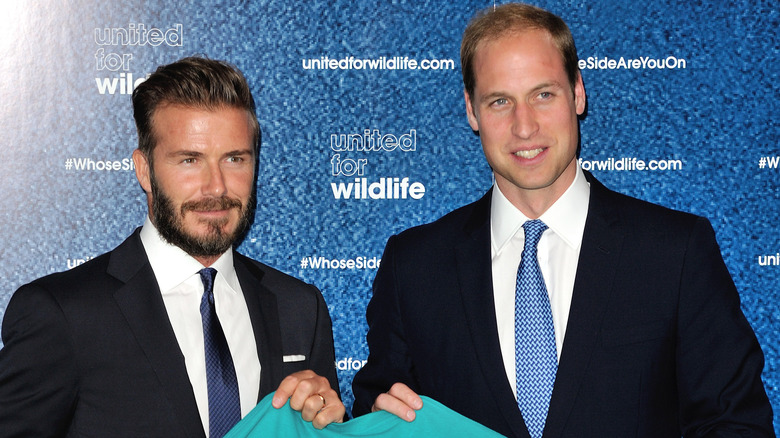 Karwai Tang/Getty Images
There are certainly perks of growing up as a young prince, which Harry found to be true when he first met Victoria Beckham backstage in 1997, at the height of the Spice Girls' careers. He was only 13 at the time and had no clue that the Beckhams would become a regular fixture in the royal family's lives just over a decade later.
In 2010, Prince William met Victoria's husband, David Beckham, and invited the former soccer player and Spice Girl to his and Princess Catherine's wedding the following year. Beckham was then seen several times with Princes William and Harry over the course of the following year. While dating Harry in 2016, Meghan had a chance to meet Victoria, having been a fan of hers for years already. And, in recent years, David has issued kind words about both William and Harry.
There was even a point in 2022 that emphasized David Beckham's comfortability with the royals, as he attended the Earthshot Awards, hosted by William and Catherine. Beckham reportedly broke a royal rule by kissing Catherine on the cheek, but she didn't seem to mind and leaned into the gesture, which makes sense given as how he'd been close to the family for over 10 years by this point.
Serena Williams and Meghan Markle have had each other's backs for a decade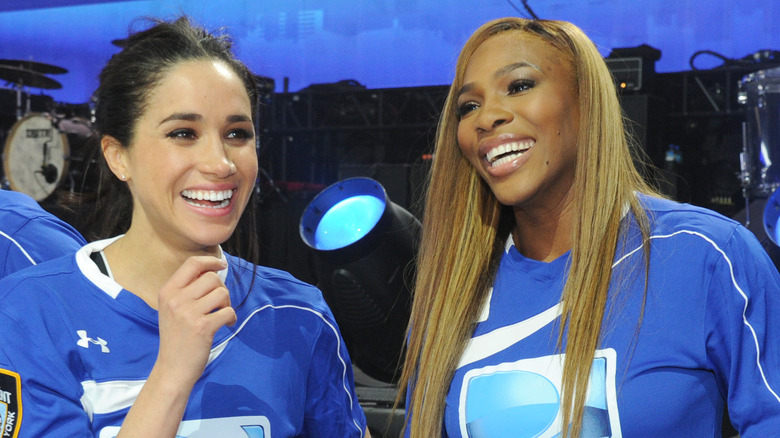 Kevin Mazur/Getty Images
Former tennis pro Serena Williams met Meghan Markle at the 2010 Super Bowl, but it would take another four years before they'd become close. Since becoming friends, Meghan has been spotted at several of Williams' tennis matches, cheering her on from the sidelines. The Duchess of Sussex even showed her moral support at the launch of Williams' clothing line, snapping a pic and sharing her pride for her friend.
In return, Williams has shown her loyal support for Meghan many times over their years-long friendship. When Meghan's cookbook was released in 2018, Williams commended her on Twitter, writing, "I could not be more excited about it and proud of you." The former athlete has also spoken very highly of her royal friend in interviews, defending her from the scrutiny of the media."Any time I see her name attached to anything I don't read it," Williams once said. "She couldn't be a better friend to me. Low moments, high moments, she's always there and that's all I want to be to her."
Eddie Redmayne and Prince William have known each other since school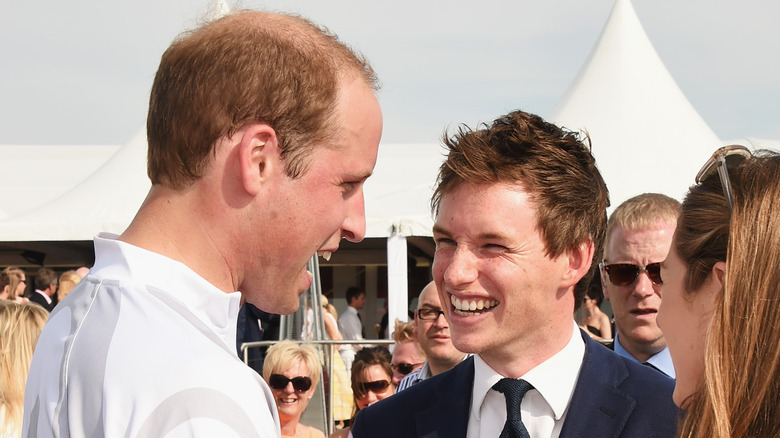 David M. Benett/Getty Images
Eton College, a boarding school for boys in Windsor, has seen its fair share of royalty; however, it's also been an alma mater to several Hollywood stars, like Tom Hiddleston, Hugh Laurie, and Eddie Redmayne. In fact, the "Fantastic Beasts" actor attended Eton College at the same time as Prince William, and the pair even played rugby together on the same team.
While appearing on "Watch What Happens Live with Andy Cohen," Redmayne revealed "[I] always felt a bit sorry for [William] because basically any school you played, all they wanted to do was tackle Prince William in order to say, 'I tackled Prince William.'"
After leaving Eton, the two went their separate ways — William completed his schooling at the University of St Andrews and Redmayne earned his degree from the University of Cambridge. However, they didn't completely lose touch after boarding school. They were all smiles when pictured together in 2015 at the Cambridge County Polo Club.
Queen Elizabeth II became friends with Tom Cruise before she died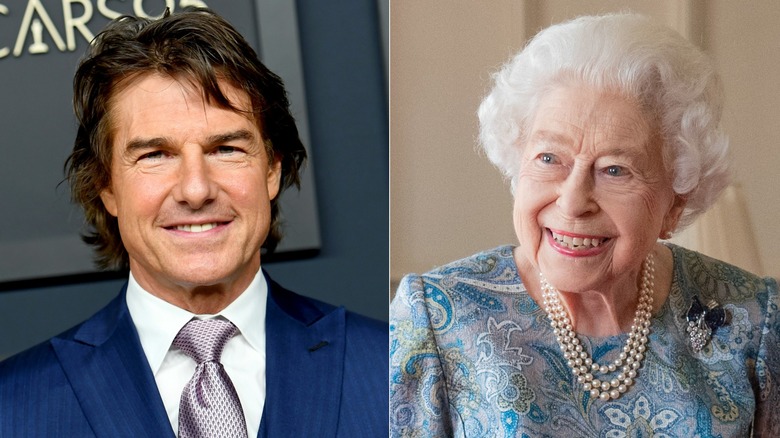 Jc Olivera & Wpa Pool/Getty Images
Probably one of the least likely friendships in the royal family kicked off when Tom Cruise attended the Platinum Jubilee equine pageant. Queen Elizabeth II had to leave early, unfortunately, but she made it known she had been disappointed not to meet the "Top Gun" actor.
She formally invited Cruise for a tour of Windsor Castle, which he graciously accepted. During the visit, the queen permitted him to land his helicopter on the grounds — something she was apparently unhappy about when former President Trump visited.
The two had such a great time that Queen Elizabeth II invited Tom Cruise to visit again for lunch, but sadly it wasn't a date that could be kept. The monarch died at the age of 96 before the friends could meet again. In an ITV interview with Philip Schofield and Julie Etchingham, Cruise revealed his thoughts on the queen, saying, "I think she's someone who has tremendous dignity, and I admire her devotion." Cruise also revealed that he'd been able to meet the late Prince Philip, the queen's husband, while attending a charity event.