Think Twice Before Putting These Wardrobe Staples On A Hanger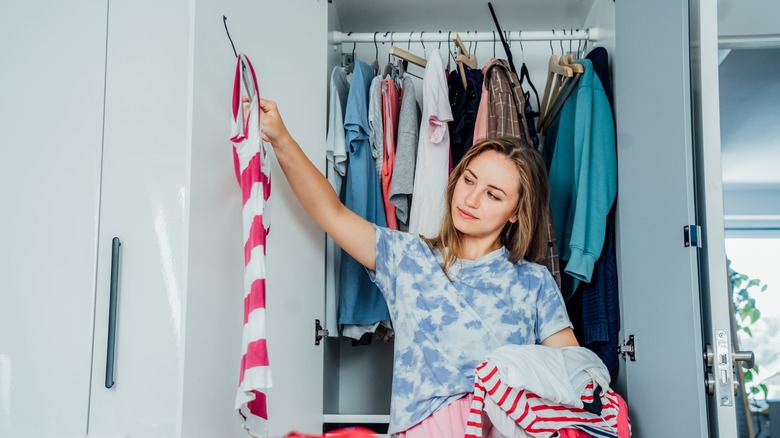 Okrasiuk/Shutterstock
A part of having a fantastic wardrobe is taking care of your clothes. Don't you want those closet staples that fashion experts recommend to last forever? You wouldn't just throw a wedding dress into the washing machine and call it a day. Instead, it would be dry cleaned and hung properly. The right maintenance of your closet saves clothing from ending up in the trash and gives you one less excuse to overshop. As much as laundering shows your garments love, so does how you store them.
To fold or not to fold, that is the question. Professional organizer Darla DeMorrow told Martha Stewart, "What to fold and what to hang depends on several factors, [including] how much space you have in your closets and dressers, what your personal habits are, what type of garments you own, [and] what types of fabrics they are made of."
While some items like scarves will be fine on a hanger or inside of a drawer, others shouldn't be hung up. Here are the items you should neatly fold to keep your wardrobe alive and well.
T-shirts do not belong on a hanger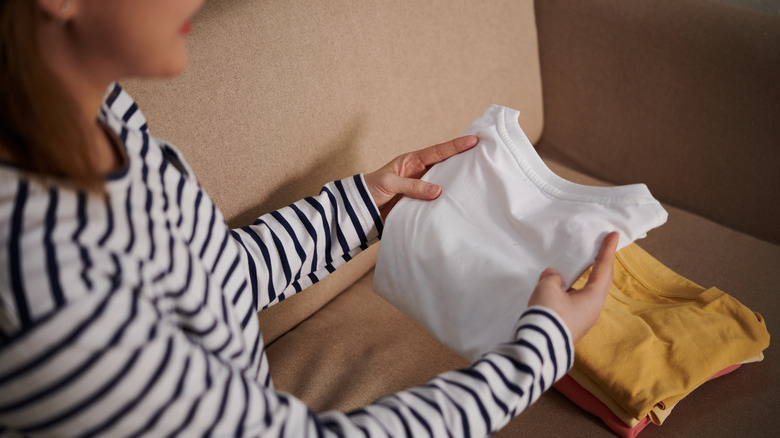 Dragonimages/Getty Images
Your collection of graphic tees is better off being folded. You might be tempted to hang them up to avoid wrinkles, but instead of creases, you'll get a lopsided top. T-shirts can stretch out on a hanger. Plus, they are often made of wrinkle-free or wrinkle-resistant materials like spandex or polyester, so there's no need to worry about crinkles. It is best to save the closet space for button-downs, blouses, and corsets.
After folding your T-shirts, store them in the stack or filing method. The stacking technique layers the shirts one on top of the other and is great for shelves. Filling is better for drawers so you can see all the T-shirts at once and don't have to move one to get to another. If you're tight on space, save room for more items by rolling your T-shirts. Then you can stash them in a cubby or drawer.
Casual pants don't mind being folded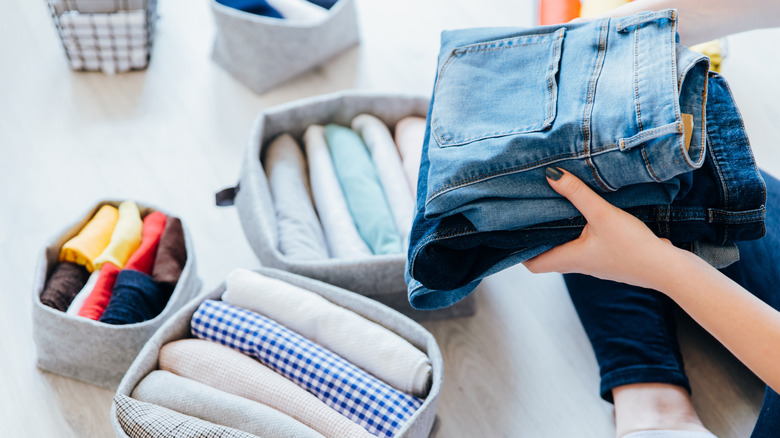 Damian Lugowski/Shutterstock
Your casual bottoms will be perfectly okay folded; that includes shorts, jeans, cargos, khakis, sweatpants, and leggings. Bottoms made from sturdy materials like denim or corduroy won't lose their shape or gather wrinkles when they are folded. However, fabrics such as linen and cotton can crease easily. Breezy summer pants collect wrinkles just from falling on the floor (at least, that's what it feels like). So, save those pant hangers for your slacks or dressy skirts.
Like your T-shirts, fold your jeans and then store them using the stacking or filing methods. You can also optimize space by using the rolling technique. However, if you have more room in your closet than any drawer or shelf, you can also hang your casual bottoms. You can drape each pair over a hanger with a flocked bar or invest in S hooks. With the hooks, your pants hang from its belt loop, so it might only work for your jeans.
Never hang your heavy knitwear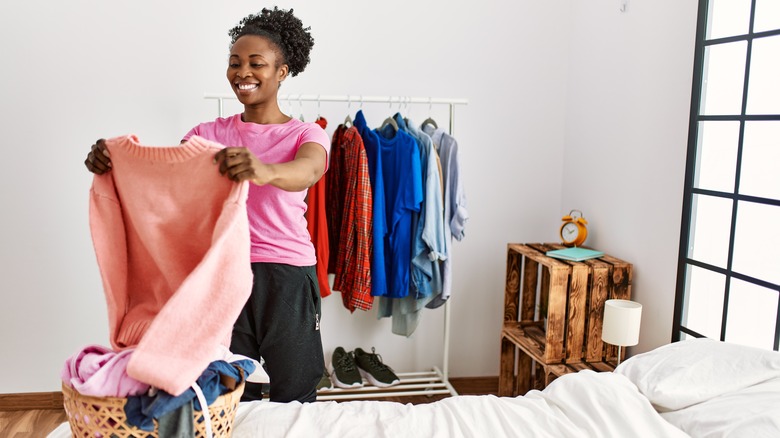 Krakenimages.com/Shutterstock
All those grandma knit sweaters and cozy winter wear should be folded nice and neat. Since they are often thick, it can be tempting to store them on a hanger to save space, but you can actually optimize space by folding them. Hanging thick sweaters would take up way too much space in your closet. You can store at least six blouses in the same area as one heavy sweater.
A hanger can ruin your clothes too. Crocheted and knitted garments can stretch out on a hanger. Imagine your favorite cashmere with droopy sleeves or a misshaped collar. It's a nightmare. Using a clothes hanger can also create holes between stitches in the yarn. Even if you place the top evenly on the rod, those hanger ends just find a way to stab through.
Style blogger and founder of vintage luxury brand Rêveux, Lindsay Stedman, has three foolproof ways to fold a sweater so you don't have to hang it to death.
Protect embellished items by folding them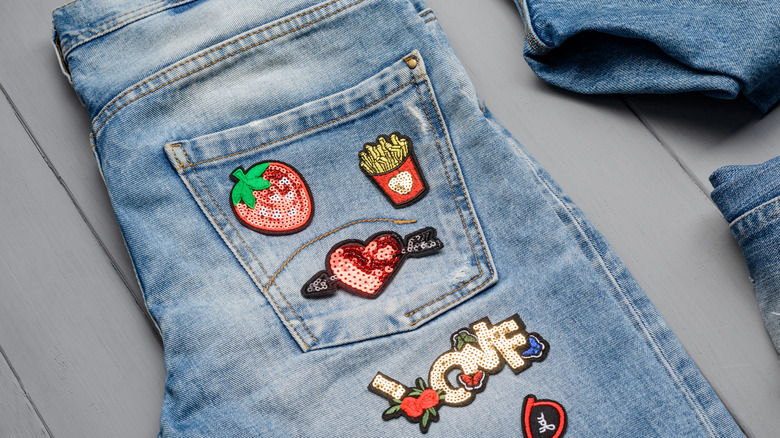 Yuriy Golub/Shutterstock
Along with your fancy sweaters, you'll need to make room on the shelf or inside the drawer for your embellished clothing. Anything woven with sequins, pearls, beads, or gems should be folded. These garments are typically heavy, and storing them on a hanger can cause them to lose their shape. You don't want to dry clean your embroidered sweater only to stretch it out before you can wear it. It is not only your embellished tops that don't belong on a hanger but beaded dresses and bottoms as well.
After folding your bejeweled garbs, wrap the item in tissue paper or place them in a bag to protect the embroidered work. It's best to opt for acid-free paper. You'll also want breathable coverings like canvas or muslin fabric, not a plastic garment bag. This will keep other clothing from tangling on the embellishments and the embroidered pieces from damage.
Folding your activewear is exercise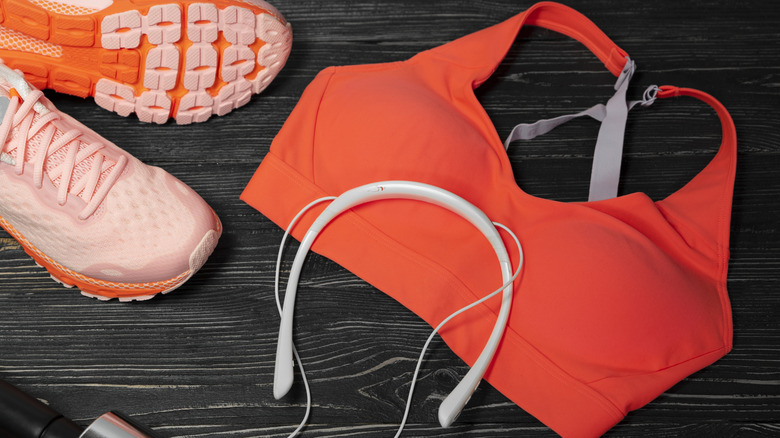 Svetlana Zibrova/Getty Images
Whether you wear your gym clothes to actually work out or they are more like comfy loungewear, they shouldn't end up on a hanger. Sports bras, yoga pants, tank tops, and even lightweight sweaters will last longer when folded. Since they are typically made of spandex and other stretchy material, these pieces easily get warped and misshaped when hung up. Marie Kondo, an expert organizer and author of "The Life-Changing Magic of Tidying Up," has a signature method coined the KonMari fold that will work on your activewear.
If your closet and dressers have reached capacity, you might want to do a wardrobe purge before you fold and store everything. Tidying guru Kondo says to ask yourself, "Does this spark joy?" Take heed to your reaction. If you answer "no," don't bother folding those stretched-out leggings or decade-old bra. Instead, make room for the things that do spark joy. And when you do, make sure to fold them so you can cherish your items for as long as possible.