These Are The Staples You Should Have In Your Closet, According To Fashion Experts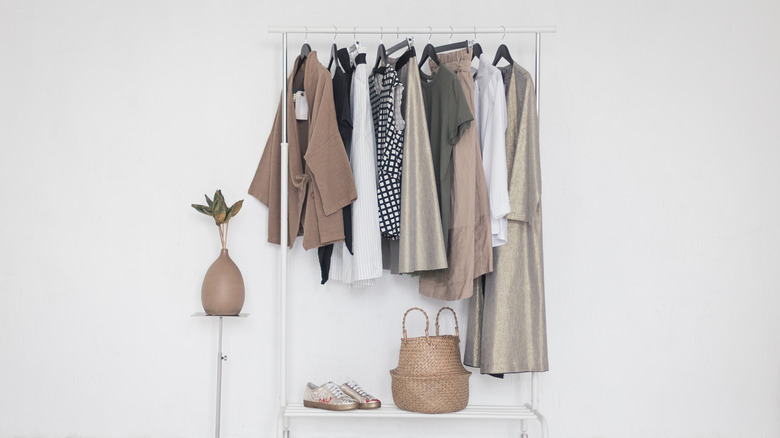 AbuzyarovaEA/Shutterstock
Every closet is different, based on factors such as style, location, and budget. However, there are a few staple clothing items that everyone should try to have and keep in their closets.
First up, as stated by Glamour, a wardrobe should include go-to jeans and leggings that can be worn while hanging out at home, when working out, or while out and about. This is especially important and common now, as the pandemic changed the way people dress. Additionally, it is wise to own at least one blazer, which can be dressed up for work or given a fun flair for a night out.
Two other pieces that are oh-so versatile are white sneakers and a white button-up shirt, both recommendations from The Everygirl. Experts here also agree that a winter coat is the most perfect version of outerwear.
According to Elle, every closet should have a jean jacket, basic white T-shirt, and classic black bag in it, as well.
These classic pieces can be mixed and matched and worn all year long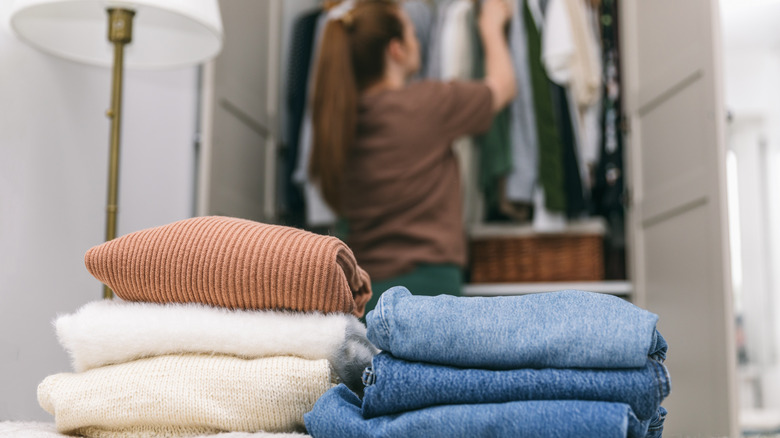 Tartanparty/Shutterstock
Next, when it comes to wardrobe staples, there are suggestions from Vogue, and they all are best in a sleek and simple black color: a midi skirt, ballet flats, and a little dress.
Another go-to shoe option is a pump, which can be dressed up or down. This can be paired with a classy cashmere sweater. As an accessory, a trendy way to carry belongings is with a tote. And any outfit can be enhanced with a leather jacket (via Today).
Some items to keep around, that work with a variety of looks, and that are pointed out by Editorialist include trousers, camis, boots, and accessories like belts, scarves, hats, and sunglasses.
So there you have it: From top to bottom and from spring to winter, these are the cool, chic, cute, and classic capsule items that belong in each and every closet.