Details About Brad Pitt's Relationship With Daughter Zahara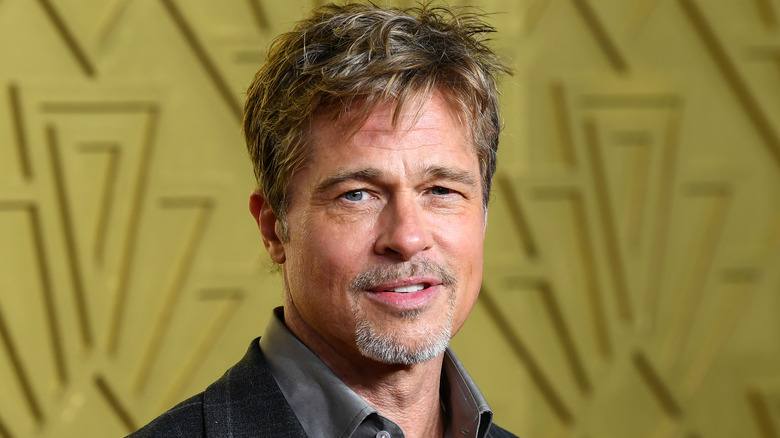 Joe Maher/Getty Images
The following article includes references to child abuse and sexual assault.
Zahara Marley Jolie-Pitt is considered Hollywood royalty but her origin story was anything but glamorous. After being born in Ethiopia in 2005, she was declared an orphan, according to People. As an infant, she was adopted by Angelina Jolie while she was on a humanitarian trip. Jolie's partner at the time, Brad Pitt, went on to legally adopt her and she was given both of their surnames. Despite having A-list actors as her parents, Zahara, like her siblings, has managed to grow up away from the spotlight. However, in 2016 her life drastically changed when her mother filed for divorce. 
With the couple now apart, much of their family drama has played out in the press. Since the divorce announcement, it was rumored that Zahara's brother Maddox had a strained relationship with Brad. Some have speculated that all of the children took Jolie's side due to the siblings accompanying her, and not their father, on red carpets. While Angelina and Zahara have always been glued at the hip, where does her relationship with her dad really stand?
Brad is proud of Zahara's college journey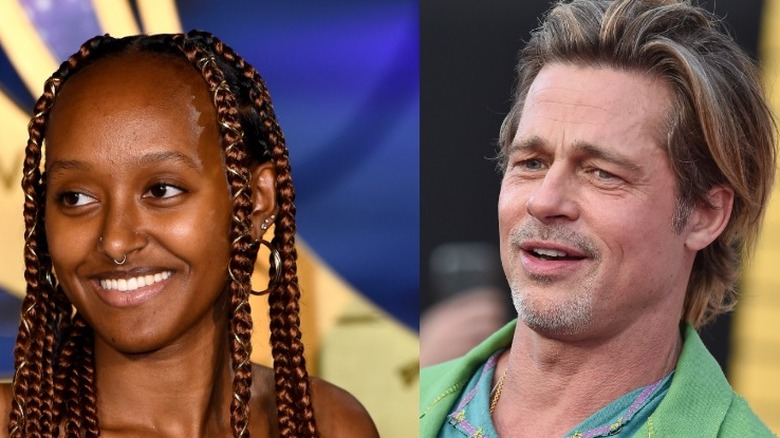 DFree/Shutterstock & Dave J Hogan/Getty
A child heading off to college is an emotional time for every parent. College is a time for them to fully embrace adulthood and learn independence. When Zahara Jolie-Pitt started her journey at Spelman College, her famous mother was right by her side. The actor was seen dropping her off on campus and holding back tears while speaking to other parents. "I'm going to start crying if I talk about today. I haven't started crying yet so ... hopefully, I can hold it together," Jolie joked, according to Page Six. The proud mom even took to her Instagram to share a photo of her daughter at school.
 "Zahara with her Spelman sisters! Congratulations to all new students starting this year. A very special place and an honor to have a family member as a new Spelman girl," she captioned one photo. Though her father Brad Pitt wasn't seen on campus, that doesn't mean he wasn't proud of Zahara's new beginning. While promoting the film "Bullet Train," the actor spoke lovingly about the college freshman. "I'm so proud of her," Pitt told Vanity Fair. "She's so smart. She's going to flourish even more at college. It's an exciting and beautiful time to find her own way and pursue her interests. I'm so proud." 
Zahara skipped out on celebrating Christmas at the Pitt household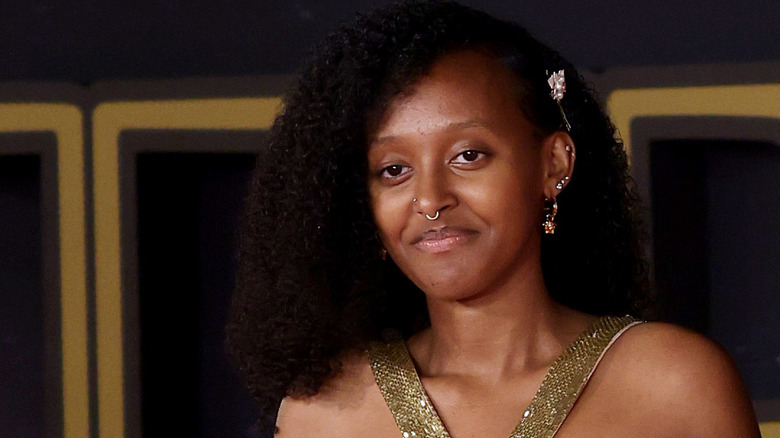 Vittorio Zunino Celotto/Getty Images
The holidays are always reserved for family time. With a family as big as the Jolie-Pitts, the holidays are bound to be special. However, after Brad Pitt and Angelia Jolie's divorce battle began, the holidays were never the same. In 2019, a source told Us Weekly that Brad was looking forward to celebrating Christmas Eve with his children. The actor was granted some rare alone time with the children. Following Angelina's divorce filing in 2016, a monitor was ordered to remain present during Brad's time with his kids.
The source further alleged that Zahara was expected to skip the celebration, despite attending the previous year. His sons Maddox and Pax were also rumored to have skipped the celebration due to not being on speaking terms with him. 
Instead, Brad's Christmas Eve celebration only included his three youngest children, Shiloh, and twins Knox and Vivienne. Despite the snub, Brad is still supportive of his kids' decision. "He supports his kids and what makes them happy," a source told E! News. "They are old enough now where they can make decisions and he doesn't stand in the way. He's encouraged them to be whoever they want to be. He wouldn't ask for anything different."
Brad couldn't picture his life without Zahara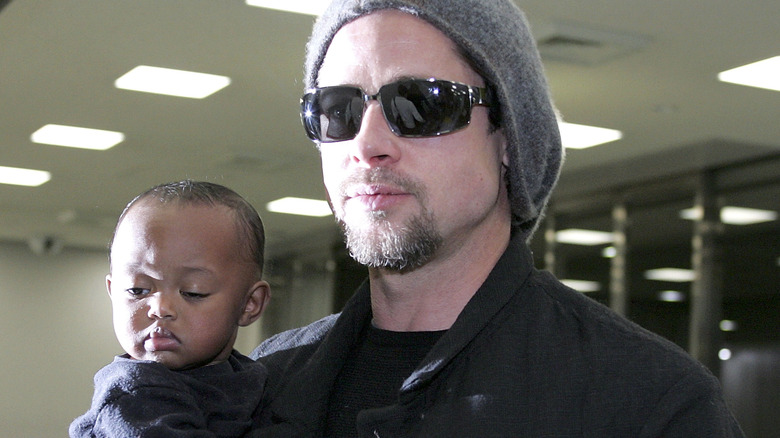 Junko Kimura/Getty Images
Before her adoption in 2005, Zahara Jolie-Pitt was living in Ethiopia. Her biological mother, Mentwabe Dawit, confirmed to Reuters that Zahara was conceived through rape. Soon after giving birth to her, she found it impossible to provide for her child due to a lack of money and other resources. Within a few months, she ran away. Dawit's mother then placed Zahara up for adoption, and Angelina Jolie went on to adopt her when she was 7 months old. 
Brad Pitt, who legally adopted Zahara in 2006, immediately connected with her and began to look at the world in a new way. "I have seen children suffer far beyond what we experience in America — like our oldest daughter [Zahara]," he told Parade in 2011. "If she had not been adopted I know she would not be alive. I know what care was available to her and it was nil." He continued, saying, "I cannot imagine life without her." 
Brad's life as a father was far from the lifestyle many would've expected from a young Hollywood playboy, but he embraced it. "[Fatherhood] is the funniest, most lovely thing I've ever taken on," he told V Magazine back in 2007. "And the biggest pain in the ass as well. And I couldn't go back. I couldn't imagine it any other way."  Zahara's adoption was undoubtedly a pivotal moment in both of their lives.
If you or anyone you know has been a victim of sexual assault, help is available. Visit the Rape, Abuse & Incest National Network website or contact RAINN's National Helpline at 1-800-656-HOPE (4673).
A scary incident with Zahara convinced Brad Pitt to change his ways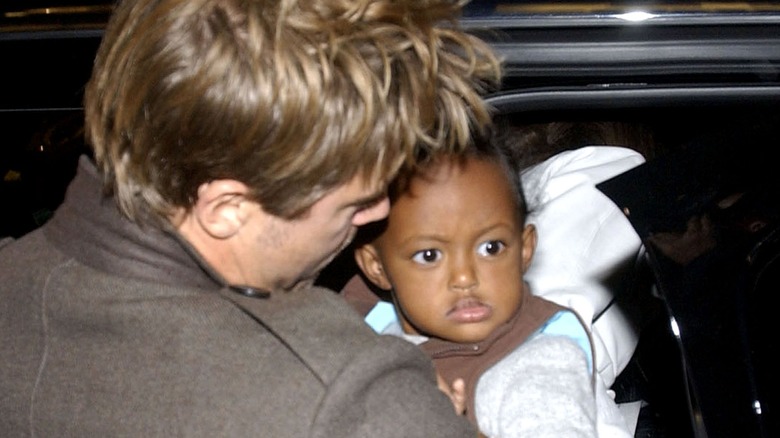 Arnaldo Magnani/Getty Images
Having children is a life-altering decision for anyone – but this is especially true if you're a famous actor. When Brad Pitt adopted Maddox and Zahara Jolie-Pitt, a lot about his life had to change. Before long, he learned that hangovers and fatherhood didn't quite mesh.
In 2007, the actor revealed how a scary moment with Zahara made him reevaluate his lifestyle. "It's not easy to be a good father when you've had a few drinks," the actor admitted to Total Film magazine. "About a year ago I'd had a couple of beers and my daughter Zahara had this piece of ice that had been dropped on the floor, and she was putting it in her mouth and began to choke on it, and that was it."
After that terrifying parenting moment, Pitt knew he needed to cut down on drinking to be a more alert and present parent. You have to be absolutely on top of every situation," he explained. Over the years, the famous dad found himself doing anything to make his daughters happy. This is something Angelina Jolie noted back in 2014. The actor revealed that it was hard for her then-husband to ever say no to their daughters. ​​"Brad [thinks] girls can do no wrong," she told Radio Times. "He's mush in their hands."
Brad pulled daddy duties with Zahara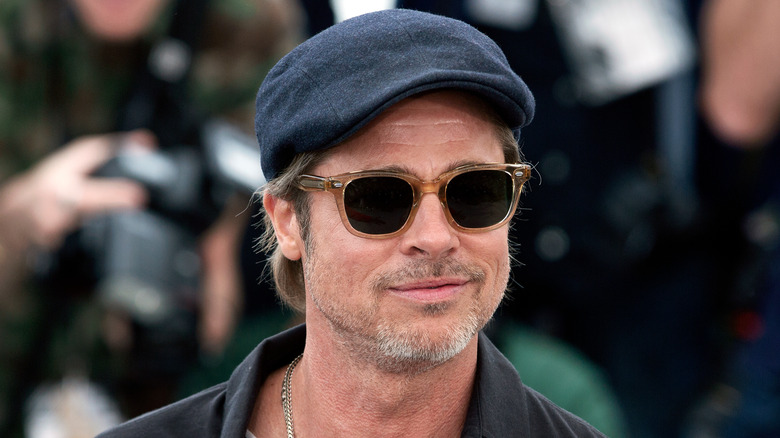 Andrea Raffin/Shutterstock
When he wasn't filming Hollywood movies, Brad Pitt was pulling daddy duty with his two daughters, Zahara and Shiloh Jolie-Pitt.
In 2015, paparazzi caught the proud dad at a soccer game, cheering on his daughters alongside Angelina and other parents. Brad looked just like any regular dad on the sidelines. This wasn't the first time paparazzi caught the A-lister in the middle of daddy duty. Over the years, paparazzi camped outside Zahara's school and caught glimpses of Brad dropping her off and picking her up like a regular dad. Despite their not-so-regular level of fame, their lives still reflected some normalcy. 
Instead of private homeschool lessons, Zahara and the other Jolie-Pitt children attended school – something Brad had reportedly always pushed for. In 2017, the exes agreed that their children would continue to attend traditional schooling. "Brad wants the kids to be in a school setting, and not isolated being homeschooled," a source told Us Weekly.
Zahara witnessed the infamous plane incident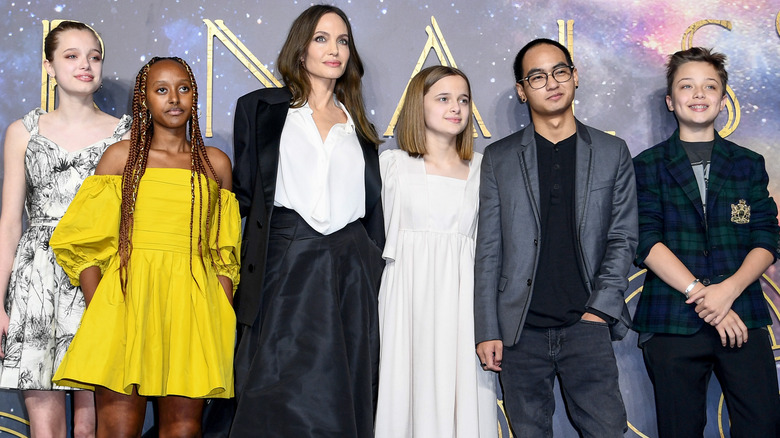 Gareth Cattermole/Getty Images
The world was shocked when Angelina Jolie filed for divorce from Brad Pitt in 2016. Following the news, a statement was released to USA Today, raising eyebrows among fans. "This decision was made for the health of the family," Robert Offer, Angelina's attorney, revealed in the statement. "She will not be commenting at this time, and asks that the family be given their privacy during this difficult time." 
In the divorce filing, Angelina petitioned for primary custody of her and Brad's six children. It was then revealed that Brad was under investigation for child abuse. TMZ reported that just days before Angelina filed for divorce, the family was on a private jet flying from France to California. During the flight, Brad was allegedly drunk and verbally and physically abusive to his children. Though Brad denied the abuse, a source later alleged to Us Weekly that the actor had a physical confrontation with his son Maddox, who stepped in to defend Angelina after Brad's angry outburst. According to Page Six, the Los Angeles County Department of Children and Family Services subsequently began an investigation, and due to the incident occurring on a tarmac in Minnesota, the FBI also became involved.
Family services questioned both Brad and Angelina, as well as interviewed Zahara and her five siblings. Brad was later cleared of the child abuse charges. In 2022, new details from the FBI investigation were revealed by Rolling Stone: Angelina alleged that Pitt grabbed her by the head and lunged at their son Maddox. Angelina recalled feeling worried about her children's safety and reportedly placed Brad in a chokehold.
If you or someone you know may be the victim of child abuse, please contact the Childhelp National Child Abuse Hotline at 1-800-4-A-Child (1-800-422-4453) or contact their live chat services.
Zahara has reportedly taken her mother's side during the divorce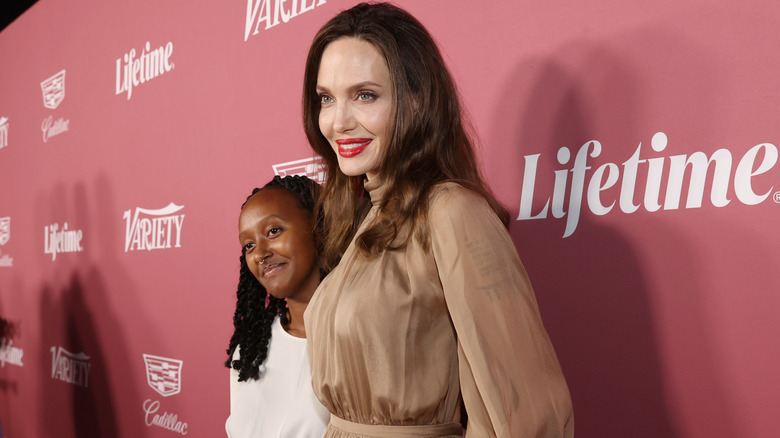 Emma Mcintyre/Getty Images
During a divorce, some children find themselves stuck in the middle. In the case of Angelina Jolie and Brad Pitt's 2016 divorce battle, their six children reportedly felt the need to take sides.
Despite being apart, the two exes reportedly still don't see eye to eye — and neither do the children. In 2022, a source told OK! magazine they have taken different stances. While Shiloh Jolie-Pitt has reportedly remained neutral, her adopted brothers and sister remain loyal to their mother. "Maddox, Pax, and Zahara don't really see both sides of the picture," the source explained. "They're Team Angelina and essentially kicked their dad to the curb years ago." 
In 2021, Maddox made the brave decision to testify against Brad during a custody battle hearing. According to Us Weekly, his testimony revealed his damaged relationship with his father. "He doesn't use Pitt as his last name on documents that aren't legal and instead uses Jolie," a source divulged. '"Maddox wants to legally change his last name to Jolie, which Angelina has said she doesn't support." 
While Zahara, Maddox, and Pax seem set on cutting off their father, Shiloh may still hope the family can mend their relationship. "She's encouraging them to have a relationship with their dad because he's always been there for them, and he's a human being," a source told OK! magazine.
Zahara continued to visit her father during lockdown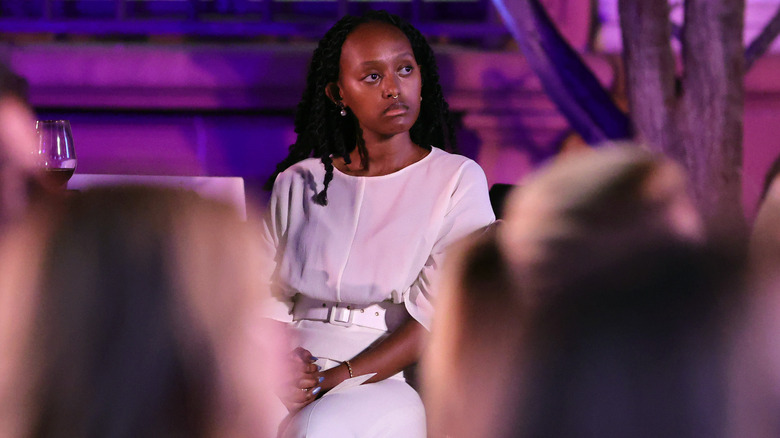 Emma Mcintyre/Getty Images
During the lockdown, the entire world came to a screeching halt. Some long-distance families went months if not years without seeing each other. People all over the world socially distanced themselves for safety and had to find new ways to keep themselves connected and occupied.
For Angelina Jolie and Brad Pitt's children, the lockdown meant all of the kids were reunited under their mother's roof. With Angelina's work placed on pause, it meant she finally got the chance to enjoy extended time with her children.
According to E! News, Zahara and her five siblings, each did their schoolwork from home and enjoyed having family time with each other. Despite staying with Angelina during the lockdown, Zahara and the other Jolie-Pitt children reportedly made sure to keep in touch with her father. "All the kids are home with Angelina but they have continued seeing Brad and go over for their regular visits," a source explained to the outlet in 2020. "They are having a lot of family time and just hanging out together watching movies."