General Hospital's Maurice Benard Offers A Heartfelt Defense Of Nina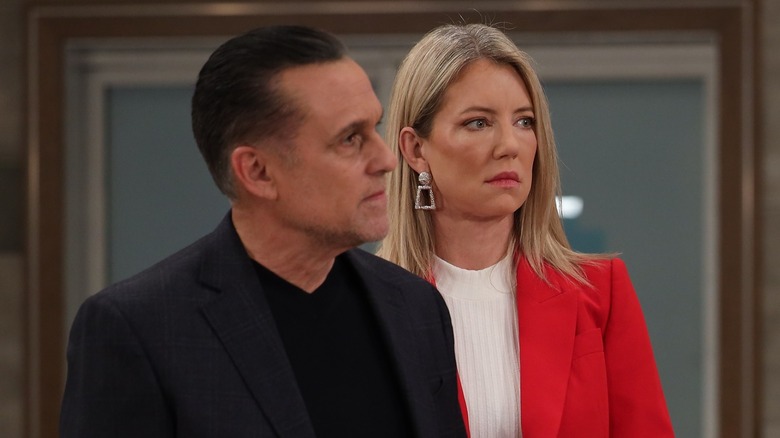 ABC/Christine Bartolucci
The famous feud between Nina Reeves (Cynthia Watros) and Carly Spencer (Laura Wright) has continued on "General Hospital." Although Nina has previously had a psychotic break and engaged in some reprehensible behavior — such as inducing Ava Jerome's (Maura West) labor and stealing her baby — she's been able to redeem herself. While she hasn't forgotten what Nina did, Ava has forgiven her. The continued antipathy between Nina and Willow Tait (Katelyn MacMullen) hasn't helped her cause. Since the truth came out that Nina is Willow's biological mother, Willow has kept her at arms' length, choosing only to discuss her health updates and nothing else.
In a recent episode, Carly and Nina bumped into each other at Wyndemere mansion, and it didn't take long for a confrontation to ensue. Nina is sad that Willow doesn't want her at her wedding to Michael Corinthos (Chad Duell), and blames Carly because she withheld the knowledge of Nina and Willow's relationship until the world knew that Willow was dying from leukemia. Carly tried to justify her actions, laying the blame at Nina's feet for being rotten to Willow for a long time. In Carly's mind, Nina has only changed her opinion about Willow because she knows about their mother/daughter relationship, and feels Nina thinks of Willow as something she owns.
Nina has taken responsibility for her actions, and truly feels bad that she may not get to know her newfound daughter before it's too late.
Fans defended Nina vehemently
On Twitter, a "General Hospital" fan posted a video of Maurice Benard answering the question, "Why is Nina mean?" In it, Benard says, "Why is Nina mean? What do you mean? Nina's mean? I watched the show yesterday. I felt sorry for her. What do you mean she's mean?" He added, "Some people are just incredible, man. I mean she's mean, really? How can she be mean if she seems sweet? She's messed up, I know that. But, Sonny's messed up," and he emphasized, "Carly's messed up! Everybody's messed up, right? But mean? I don't see where the mean is. I don't know, maybe I'm watching a different show." Fans rallied to Nina's defense, with one stating, "No you're not watching a different show! They are!! She is not mean. I could list a handful who are MEAN, NASTY & never pay for their [misdeeds]!"
Another fan agreed, posting several laugh emojis and writing, "Yes Sonny, Carly, Nina and others are messed up!" The viewers gushed over Nina, with one responding, "Nina is a sweetheart and is misunderstood by some, abused by others & beloved to a chosen few. She has made mistakes. Thing is, she owns them. Out loud." Another in agreement replied, "She's super flawed but her heart is very big and very generous." 
"Nina isn't mean! Snarly Spinster is off-the-charts mean!" said a hilarious fan post that was accompanied by a gif of a Doberman pinscher barking.